| | |
| --- | --- |
| | Camelot Readers 2 for 1 Offer... Click on here to find out more!!! |
Dave Prowse - Darth Vader Visited North Sefton
Photographs with thanks to Patrick Trollope - Vamphire.com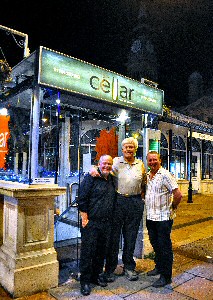 THE Lord of the Sith, visited Merseyside, over 18 August and 19 August 2012 and proved to be a fantastic hit in all the locations he visited. The legend behind the costume, Dave Prowse MBE has himself been a force to be reckoned with thoughout his life and what a life he has had. His appearance here was to promote the 'Official Dave Prowse Autograph' called:- 'Straight From The Force's Mouth', a book that covers many aspects of this actors' life. The book is a fantastic insight into the man himself, looking not at the only story of how he got his defining role which led to the creation of what has been voted "the most iconic and recognised baddy of all times", Lord Vader. But also considers his other achievements. For example he was also a world class heavyweight weightlifting champion, for Britain, in events including the Commonwealth Games and the World Weightlifting Championships! That is not forgetting what he considers to be his most rewarding role, the Green Cross Code Man. The event started at Formby Pool on the Saturday, followed by a signing at Formby Book's, whose owner, Tony Higginson, has been the sponsor behind the actor's visit. Then on Sunday he visited the Flower Show in Southport and ended the event with a very exclusive night in Southport, at The Cellar, Under the Tourist Information Centre, in the very heart of the town. To the lucky ticket holders he revitalised many amazing stories and anecdotes, along with signing copies of memorabilia, photos, and of course giving his autograph. Dave Prowse MBE told us exclusively:- "This has been one of the best book signing trips I have ever had. The people in the hotel, at the events and all around, have been so friendly and even with the poor weather! I have to say your area has captivated me. I would truly like to return, even if it is just for a holiday! Thank you to all the staff at the venues, shows, hotel and to all of you who attended the events. Also a massive thank you to Tony for his fantastic work planning and taking me to and from all the locations. But special thanks has to go to the three Stormtroopers and the girl who played Princess Leia." Here at Southport Reporter, we would like to say officially that:- "It has been a pleasure for us to have met you once again. Thank you for delivering a fantastic series of events over the weekend. We wish you well with your visit to the US and Canada and hope to see you again soon."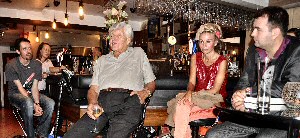 We will be adding some video very soon, taken at the exclusive event in The Cellar. Please enjoy Part 1 of our photograpic coverage by click onto here also do not forget to keep a close eye on our Mersey Reporter Online Shop for ticket booking of other events we are running or working with.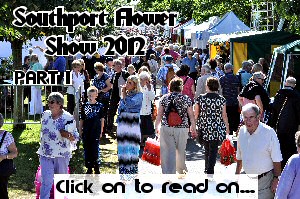 | | | |
| --- | --- | --- |
| | Click on to read on! | Click on to read on! |

KeeP up-2-date
with our free daily news emails. Are you subscribed? Si

g

n

u

p

today

to

our daily email news service via... Formb

y

-

Re

p

orter

.com

.

If you subscribed you can keep in up-to-date with what's going on in and around Merseyside. It is free and we do not send out massive amounts of emails. Also your email is kept under the UK's Data Protection Act, so you can be sure that you will not have problems.