Major development for east Liverpool
FINAL detailed discussions are underway with a developer about a potential facility for a global company which would create over 1,000 jobs in east Liverpool. Liverpool City Mayor Joe Anderson was recently approached by a developer that had identified the council-owned Stonebridge Cross site off the East Lancs Road in Gilmoss as the preferred location for a major new facility. A planning application is due to be submitted at the end of August, and if successful the scheme could be complete by autumn 2013. A consultation is also already getting underway with the local community in order to inform them about the potential proposals. Mayor Joe Anderson said:- "This is a hugely exciting proposal which has the potential to be a real game changer for this part of the city. It will create over a thousand quality jobs on a scale which has not been seen for many decades. They approached me following the media coverage we have had as a business friendly city, and attracted by the speed of decision making that the new Mayoral arrangements can deliver. This is really good news for a part of Liverpool that desperately needs jobs in order to be able to give the local community hope for the future, and will transform the lives of many people." The council remains committed to delivering the original plans for the site which included new homes, retail development and a new St John Bosco school, on alternative land.
Prescot Army Cadets Visit Whiston Fire Station
Photograph by S. I. Nick Wilkinson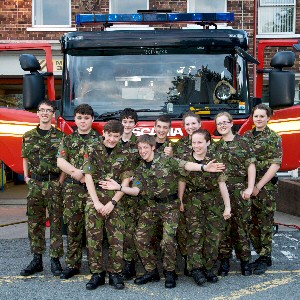 ARMY Cadets from Eaton Street in Prescot have a great time at Whiston Fire Station. They were invited by Ian Wooldrige the Blue Watch Manager. He gave a road safety presentation as part of 'the Whiston Community Safety Plan'. Then the cadets were shown around the fire station and the life saving equipment on the fire tender was demonstrated. All the cadets used the fire tender hose. "It's really interesting," says 17 year old Mat Smith. All the cadets say a big 'Thank You' to the Merseyside Fire & Rescue Service for their hospitality.

CITY'S FOOD BANKS NET SUPPORT FROM JOHN WEST AND THE LIVERPOOL FOOD & DRINK FESTIVAL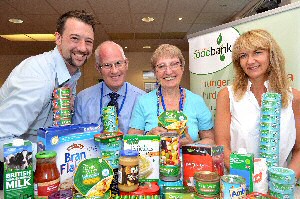 ORGANISERS of the Liverpool Food & Drink Festival are urging visitors to this year's launch weekend in Sefton Park, 1 September to 2 September 2012, to bring along store cupboard items; such as dried pasta, rice and canned foods; in a bid to help raise stock levels for the city's Food Banks.

Festival Director Denise Harris said:- "By just grabbing one item from your cupboard and bringing it along to this year's festival you can really make such a difference to someone. The festival celebrates the fantastic food and drink offering in the city, but we cannot forget that literally a few streets away from us people are starving."

Event sponsor, John West, is planning to match the number of non-perishable food items collected during the Liverpool Food & Drink Festival launch weekend by donating the same quantity of canned fish.

Liverpool currently has 3 Food Banks, run by volunteers, which provide nutritionally balanced emergency food packages to people facing a sudden crisis, such as a delay in receiving welfare benefits, redundancy or personal sickness. Liverpool's Food Banks have helped many people over the last 6 months by providing food packages, which can feed a family for up to 4 days.

Nicola Hawkes, South Liverpool Foodbank Co-ordinator has welcomed the support of the Liverpool Food & Drink Festival and John West. She said:- "Between the three Liverpool Food Banks, we feed an average of 900 people per month so we are continuously looking to replenish our stock. We rely solely on donations from the public and non-perishable food items are always gratefully received."

Nick Bentley, Head of Shopper Marketing at John West, said:- "The Food Bank is a lifeline for many people and we are happy to be able to support the good work they are doing in the local community, particularly as we are a Liverpool-based company. Thousands are expected to attend the Liverpool Food & Drink Festival launch weekend so even if each visitor brings one item we could potentially raise an enormous amount of food to be distributed to those who need it."

The Liverpool Food & Drink Festival runs from 1 September to 8 September 2012, starting with a launch weekend in the heart of Sefton Park, 1 September to 2 September 2012. The open-air festival launch weekend will bring together some of the region's finest local producers, bars, restaurants and cafes. The Sefton Park event will also feature a real ale beer festival, master classes, and celebrity chef demonstrations, as well as wine tasting and street food sampling. To view the Food Bank shopping list of non-perishable food needed to create emergency food packages, visit:- liverpoolfoodanddrinkfestival.co.uk.