Arts exchange project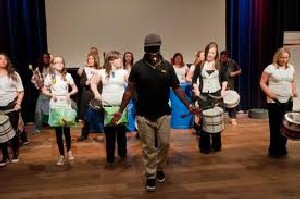 ARTS exchange project sends Liverpool youth to Brazil! On Tuesday, 4 of September 2012, 5 young people from Liverpool and 4 arts practitioners will be heading to Rio de Janeiro, Brazil, for a trip of a lifetime as part of a project called LIVEBrazil:Liverpool, Innovation, Vision, Education. They will spend 10 days in the famous Brazilian city where the next World Cup and Olympics will be held, on a artistic residential with inspiring group Afroreggae, a cultural group who, for the past 20 years has successfully engaged and taken out of drug/gang culture thousands of young people in the Rio de Janeiro favelas (shantytowns).

It all started back in 2010,when Afroreggae themselves spent 1 month in Liverpool in the summer of 2010. Brought by the Everyman and Playhouse and supported by the People's Palace Project, Afroreggae shared their practice in conflict resolution while offering young people positive alternatives to gang violence and drugs.

Upon their departure, Juliana Landim and Ritchie Tunstall (from local community group Batala Liverpool), where invited to support young people from the Anfield Breckside Community Corner (ABCC) who wanted to continue drumming to the Afroreggae and Batala beat.

From one drumming group in Anfield, the initiative expanded to engage young people from different areas (Anfield, Everton, Norris Green) through different activities (dance, costume making, recording/DJ'ing) and has now matured to become LIVEBrazil, a project striving to build stronger communities in Liverpool and Brazil through arts and intercultural exchange. The project is lead by a not for profit organization called BrazUKa- who coordinates the activities developed in partnership with other local groups such as Movema, Batala Liverpool, The Shrewsbury House Community Centre and others.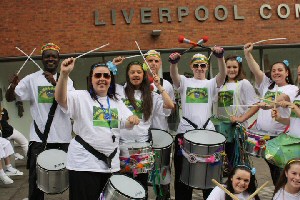 Besides developing local arts programs with the intent of engaging and inspiring young people to use art and culture as a means to fight for social transformation, LIVEBrazil enables young artists to grow personally and professionally through its exchange program, Exchange for Change.

In our first trip, a small group of young leaders and practitioners will experience firsthand how the arts can change and affect positively areas of conflict while taking part in a variety of style of drumming and dance workshops with Afroreggae while immersed in the community of Vigario Geral.

While in Brazil, the group will document and keep a diary of their experience, bringing back to Liverpool what they learned delivering workshops, performances and organizing community meetings where they will be able to share insights, images and sound of what they were part of in Rio deJaneiro.

The group has been fundraising for many months now, holding events such as the Zumba Carnival at Camp and Furnace, the LIVEBrazil Carnival in Liverpool One and applying to many different funding opportunities.

The group is still accepting donations to support them on the trip via their website and once they're back, delivering sessions in and around Liverpool. Sarah Little, young person from Sambabeat/ABCC says:- "This is a dream come true. I can't believe we'll be able to learn from the people who have transformed so many communities in Brazil. We want to bring back all we can to transform positively our communities here in Liverpool too!"

Local Councillors help Launch Hospice Event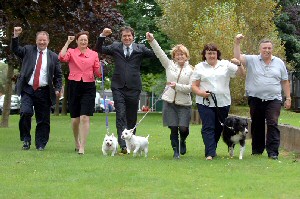 200 dogs and their owners will be putting their best paws forward to raise money for Woodlands Hospice. Walton MP Steve Rotheram joined councillors, dogs and walkers at Woodlands to get a taste of what the 'Woofs and Wellies' sponsored walk on 16 September 2012 will be like. The 5K route through Croxteth Park will take approximately an hour depending on the pace of the dog; and owner. Carole Riley, Communications and Fundraising Manager at the Hospice in Fazakerley said:- "We're expecting a great turn-out for this event, and we were delighted that Mr Rotheram was able to come along to help us launch it. We're aiming to collar several thousand pounds through the walk, and I'd urge dog owners to get their names down soon, as we can't have more than 200 canine entries."

Registration is £5 per dog with each owner being asked to raise a minimum of £40 per dog sponsorship money. A certificate and goody bag will be given for each dog at the end of the walk. Advance registration is essential as entries on the day will not be allowed. There will be staggered start times between:- 11.00 a.m. and 12 noon. Closing date for entries is:- Friday, 7 September 2012. For a registration form and further information, please contact Woodlands Hospice fundraising team on:- 0151 529 2630/2640 or visit their website to download a form. Registration forms are also available from Croxteth Park gift shop, Woodlands Hospice shop on Walton Vale or from the Hospice reception.
Road crash victims remembered
ROADPEACE NW invite those who have been bereaved or injured, together with those who support them, to a special remembrance of Princess Diana and all road crash victims. It will take place on the Rankin Steps of Liverpool's Anglican Cathedral, at 2pm, on Friday, 31 August 2012, the 15th anniversary of the death of Princess Diana. If it is wet, the event will take place in the Lady Chapel of the cathedral. Official guests include the Lord Mayor of Liverpool, other Mayors from the north-west, the Chief Constable of Merseyside Police, representatives of the emergency services and others who support road crash victims. There will be a minute's silence and the release of 5 doves in memory of those who have died on our roads. On average, 5 people die each day on the roads of this country. The daily toll has reduced from 10 to 5 deaths in recent years.
Hospital pharmacist's privilege to volunteer at 2012 Games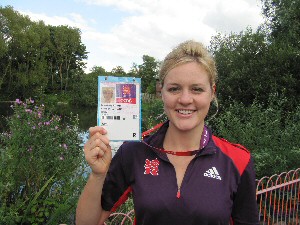 PHARMACIST Laura Hughes was one of 100 volunteer pharmacists picked from more than 2,000 applicants to work with athletes at this month's London 2012 Olympic Games. Laura, 27, took 2 weeks' leave from her job in the pharmacy at Southport and Formby District General Hospital to volunteer in the athletes' village medical centre. "I applied and was interviewed nearly two years ago after seeing an advertisement in the Pharmaceutical Journal asking for Games volunteers but I didn't hear I'd been successful until just before Christmas." said Laura from Swinley in Wigan. Her experience began with 2 training days and courses on doping and anti-doping in sport and the management of common sporting injuries. During the Games, as well as dispensing drugs, Laura helped national team doctors with their accreditation, advised on medical queries, delivered drugs around the Olympic Park and tested the water acidity in the Jacuzzi in the athletes' village. Most prescriptions Laura dispensed were for anti-inflammatories, antibiotics and painkillers but ear drops were also in high demand. "It was also a great privilege to work in the village and at the heart of the Games. It was also a great feeling working with so many other volunteer health professionals, trying to provide athletes with a good service and making sure they were able to give their best for the Games." said Laura.