Vulcan XH558 set to make a spectacular return to the Southport Airshow
Photographs by Dave Chisholm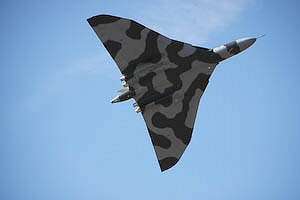 VISITORS to the Southport Airshow on Sunday, 9 September 2012, should expect to experience one of the most powerful and dramatic sights in British aviation; a display by XH558 the World's last flying Vulcan. Subject to the usual caveats of weather and serviceability, this iconic and much loved aircraft is making a much awaited return to the Show. As the 'Vulcan Effect' takes hold of one of the premier resorts in the North West, it's a great opportunity for the people of Southport and the surrounding area, to give her a very special welcome.

She is expected to attract huge crowds and steal the show with the famous howl of her four Olympus jet engines, her startling maneuverability and the sight of her magnificent delta wings climbing almost vertically into the sky. It is particularly fitting that the Vulcan is making a return to the Show in a year when she is celebrating three highly significant anniversaries; the Jubilee of Her Majesty The Queen, the 60th Anniversary of the first ever flight by a Vulcan and the 30th Anniversary of The Falklands Conflict, in which, of course Vulcans played a significant part in helping to liberate the Islands.

Dr Robert Pleming, Vulcan to the Sky Trust (VTST) Chief Executive said:- "I am absolutely delighted that all of our hard work over the last few months has enabled XH558 to make a hugely welcome return to the Airshow circuit during the Summer, and, most importantly, allowed us to make a very special appearance in front of Her Majesty The Queen at Sunderland. This flight was the highlight of our Diamond Jubilee tribute to Her Majesty and indeed every flight we make during this special year will be dedicated to celebrating the Diamond Jubilee of Her Majesty Queen Elizabeth. This is a great opportunity to say a big 'Thank You' to all of our loyal supporters who have stayed with us through thick and thin. We are incredibly grateful for the Vulcan to be appearing once again in the beautiful resort of Southport. Giving people, particularly those who may not have seen her before, the chance to see this iconic aircraft, in such a special year for us all."

To find out more information about the above and the many other ways that you can help to support the Vulcan and to sign
up to receive our free email newsletter please visit:- vulcantothesky.org.
| | | |
| --- | --- | --- |
| | Click on to read on! | Click on to read on! |
Manx Direct

08447 402 038

2 Years Parts & Labour Worranty


Put a brake on your busy life and get a coffee. Have you been in Esquires on Lord Street in Southport? If you have did you try the FREE quiz? If yes, did you win, if not give it a go and you could win a FREE cake and coffee.

KEEP up-2-date
with our free daily news emails. Are you subscribed? Si

g

n

u

p

today

to

our daily email news service via... Formb

y

-

Re

p

orter

.com

.

If you subscribed you can keep in up-to-date with what's going on in and around Merseyside. It is free and we do not send out massive amounts of emails. Also your email is kept under the UK's Data Protection Act, so you can be sure that you will not have problems.