New Chapter for Sea Odyssey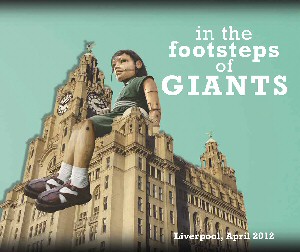 A SPECIAL book capturing Liverpool's most successful ever event has been published. In the footsteps of Giants is a glossy 104 page book re-living Sea Odyssey; Liverpool's unforgettable event which commemorated the centenary of the sinking of the Titanic. Commissioned by Liverpool City Council, the book is full of nearly 150 images, which re-trace the journey of the Little Girl Giant, her Uncle and mischievous dog Xolo as they travelled around the City during 3 very special days in April 2012. The beautiful pictures have been taken by professional and amateur photographers. In May, the City Council urged people who were part of the 800,000 strong crowds to send in stunning pictures they may have taken during the event. Hundreds were received and after weeks of deliberation, the images were whittled down to just 147. To celebrate the publication of the book by Liverpool University Press (LUP), which goes on general sale from Wednesday, 17 October 2012, all the contributors have been invited to a special event at the Town Hall on Tuesday, 17 October 2012, where they will get a first glimpse of their handiwork in print. Liverpool City Council's cabinet member for culture and tourism, Councillor Wendy Simon, said:- "The response to our image request back in May was fantastic, and I know the team were spoiled for choice when it came to selecting images for the final version. There has been a huge amount of anticipation around the release of this book. Six months on and people are still talking about the three giants who took over the City for 3 days, capturing our hearts and our imaginations. In the footsteps of Giants is a wonderful way to experience this unforgettable event all over again and I'm sure it will be a must-buy gift for all those people who welcomed and followed the journey of Liverpool's 3 special visitors in April." The book, which costs £9.99, will be available to buy in the Tourist Information Centres based in St George's Hall and Albert Dock, the Liverpool ONE Information Centre as well as Waterstones Bold Street and Liverpool ONE. National Museums Liverpool will also be selling copies at the shops located in the Walker Art Gallery, Museum of Liverpool, Merseyside Maritime Museum, World Museum and Lady Lever Art Gallery. The book can also be ordered online.

Are you dancing in your street? or does the state of your street give you the hill street blues?
LIVING Streets launched:- "The State of Our Streets Awards" to find the best and worst-kept streets in the UK. Whether you're quietly fuming about cracked and broken pavements or if you love the street where you live, this is the opportunity to make your nomination for the Living Streets' "State of Our Streets Awards". The national charity is inviting the public to upload their photographs or videos of the local streets they love or loathe to find the best and the worst examples of street maintenance in the UK. An independent judging panel will announce the 'winners' of each category in mid-November 2012 and the best overall submission will win a digital camera. Living Streets Chief Executive Tony Armstrong said:- "This is an opportunity for the public to show how important their local area is to them either by highlighting an example of neglect, perhaps a long outstanding repair on their street or a lack of crossing points for pedestrians on a busy road; or by celebrating something which enhances the urban environment and makes walking more enjoyable, maybe a pedestrianised area in their local town, attractive planting on their street or seats which might be a boon for older people. Not only will this give a snap shot of how the UK's streets look, but we hope this will also demonstrate to local authorities that people do care about their streets and they are an important priority for local communities." For further information or to upload your photograph of the part of your local streets you love or hate visit:- livingstreets.org.uk.
Permission is needed for A-boards
BUSINESSES in Liverpool which want to have an advertising A-Board outside their premises are reminded that they need permission to do so. Under a new process, introduced last month, businesses have to obtain consent from the City Council for A-boards. "A number of businesses have already applied for permission but there are those who have not and there may be others who are thinking about having A-Boards. They need to apply as soon as possible. We changed the process for A-boards because they have proliferated, especially in the City centre, in recent years and sometimes they can make it difficult for disabled people and people pushing buggies. The Council has a duty to manage the footways to ensure they are accessible for all users and this is what this process will do. It also makes it very clear to business what they need to do." said Councillor Tim Moore, cabinet member for transport and climate change. The new process on A-boards followed extensive consultation with business representative groups and the Council's Disabled Access Forum, which represents various disabled groups. A framework was produced that enables businesses to use the footway and address the concerns of disabled users by placing 'A' Boards in appropriate locations.
To obtain permission the Council has produced a guidance document - 'A Boards – Permission and Management Guidelines' - together with an application form, these documents can be obtained online or by calling:- 0151 233 300 and ask for 'Highway Development Control'.