Is The Government's rail decision a wasted opportunity?
THE Green Party believe that the Government has wasted a chance to improve rail travel for millions of train users. Transport Secretary Patrick McLoughlin's decision to allow Virgin Rail to continue running the West Coast rail franchise; the country's busiest route; shows a lack of desire to take the simplest route to better rail transport - renationalisation.

Green Party transport spokesman Alan Francis said:- "We're disappointed the government has handed the franchise back to Virgin, as we were when it announced it would hand it to FirstGroup. Privatised rail is failing the people of this country, and the government has wasted a chance to take back one of the most important transport routes in the country, instead handing it back to a firm it has already shown it does not believe runs it properly."

The announcement, which gives the franchise to Virgin for another 9 to 13 months, was made in response to the collapse of the bidding process to run the route until December 2025.

On 3 October 2012, the government was forced to admit it had miscalculated when deciding to hand the franchise to FirstGroup, and reversed its decision.

As a result, the taxpayer must hand £40m to the four firms, including Virgin and FirstGroup, who originally bid to run the West Coast mainline.

Although embarrassing for the government, this is a chance to take the most-used part of the national rail service out of the private sector and return it to state ownership.

In November 2009, the government-owned Directly Operated Railways (DOR) took over the East Coast mainline franchise, after National Express Group failed to finance its operation.

Since then, it has added 19 additional services per weekday, re-introduced direct services between Lincoln and London for the first time in 20 years, and invested £29 million in the East Coast service.

The Green Party believes all UK rail services must be renationalised. Since privatisation, UK rail fares have risen to be the most expensive in Europe, while subsidies paid by the government to rail operators have doubled.

DOR was set up to step in when franchise holders fail, and has proved in the last three years it can operate large rail franchises.

The Green Party believes the government-owned group should take control of the West Coast franchise, as a second step towards the full nationalisation of UK rail services.

Mr Francis said:- "DOR has proved it works. And it exists for situations exactly like this. The franchise should be run by DOR, and as other franchises expire, they should also be brought back into public ownership. Privatisation has failed UK rail users. It's time to end it, and give the railways back to the people who need them."
So what do you, our readers think about the views of the Green Party on this issue? Do you agree or disagree? Let us know by emailing our newsroom to:- news24@southportreporter.com.
Is the UK drug policy in urgent need of review?
THE Green Party has welcomed a report by the UK Drug Policy Commission as a valuable contribution to the debate over the UK's drug policy. The UKDPC report, entitled:- "A Fresh Approach to Drugs", calls for a new evidence based approach to drugs policy which would help individuals and their communities recover from the damage caused by drug misuse; and provide better value for money for the taxpayer. Caroline Lucas, Green Party MP for Brighton Pavilion and member of the All Party Parliamentary Group for Drug Policy Reform said:- "The UK Drug Policy Commission is the latest in a line of respected organisations, including the Global Commission on Drug Policy, to call for a major rethink of drugs policy. There is growing agreement across the scientific, police and legal professions that we need to move away from prohibition of personal use towards an evidence-based, public health approach. Politicians need to recognise the reality that the 'war on drugs' has failed and start afresh. The government should now undertake an urgent review of the 1971 Misuse of Drugs Act, with a full cost benefit analysis and impact assessment to compare its effectiveness in reducing the societal, economic and health costs of drug misuse with alternative approaches." Key recommendations from the report are the reform of how drugs are classified and the setting up of an independent body accountable to Parliament, which has the power to make evidence-based decisions on the control of substances. The report highlights that the government is currently spending £3 billion a year and sentencing 42,000 people annually under a drugs policy that lacks "sufficient coordination" and is often self-defeating. However, UKDPC also praised the success of some government policies, including reducing HIV infections with the needle exchange program; an example of the potential value of reforming society's attitudes towards drugs. Caroline Lucas continued:- "We need a drugs policy based on evidence about what reduces harms, rather than one driven by moral judgments about drug use and drug users. Only then can we hope to improve the treatment of addiction, prevent drug-related crime and protect our communities from the worst effects of drug misuse."

1st Liverpool School to get lifesaving defibrillator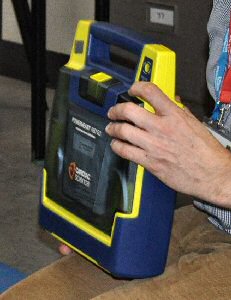 THE roll out of the life saving defibrillators to every primary school in Liverpool has started on Thursday, 18 October 2012. The £100,000 project is believed to be the first scheme of its type in the country and will see the life saving devices fitted in 122 schools over the next academic year, with training also provided to staff...

It follows the death of Oliver King, a pupil at King David High School in Childwall, in March 2011. He died during a swimming lesson from Sudden Arrhythmic Death Syndrome (SADS). His family believe that if a defibrillator had been available, the 12 year old's heart could have been restarted.

It is estimated that 270 children die of a sudden cardiac arrest while at school in the UK every year, and is the same medical condition that struck former Bolton Wanderers footballer Fabrice Muamba last season, forcing his retirement from the game.

The first defibrillators are being fitted at Pinehurst Primary School in Anfield. A special ceremony is being held to mark the occasion attended by Oliver's parents, City leaders, Hollyoaks and Emmerdale actor James Sutton and representatives from Liverpool and Everton Football Clubs. It will also see 122 balloons released to highlight the number of schools benefiting.

The Oliver King Foundation, launched in his memory, aims to get the Government to install defibrillators in all public buildings by 2017. It is also calling for ECG scans to be given to all 14 to 35 year olds so that they can be screened for the potentially fatal condition.
The campaign has already won the backing of Mayor Joe Anderson, comedian Stephen Fry, actress Dame Helen Mirren, Liverpool Heart and Chest Hospital and Merseyside Fire and Rescue Service. Oliver's dad Mark said:- "This is a momentous moment for the Oliver King Foundation and marks the start of a project that will save lives. We must do all we can to raise awareness of SADS and prevent as many deaths as we can. There are no warning signs and it could happen to anyone's child. We need to have defibrillators in all public buildings to make sure that Oliver's death was not in vain."

The purchase of the defibrillators follows a proposal by Liverpool Primary Head Teachers Association which was agreed by the Schools Forum, which comprises head teachers and education officials.
Mayor Anderson said:- "I am really pleased that our primary schools are leading the way by installing defibrillators. The Oliver King Foundation is doing great work highlighting awareness of this issue, and I am 100 percent behind them."

The purchase of the defibrillators follows a proposal by Liverpool Primary Headteachers Association which was agreed by the Schools Forum, which comprises head teachers and education officials.
Councillor Jake Morrison, Patron of The Oliver King Foundation, said:- "Our schools are at the heart of our communities, and this equipment will be of benefit to us all. If this scheme saves one child's live, it will have been worth all the effort."

Stephanie Tasker, Head of Pinehurst Primary School, said:- "We are delighted to be the 1st school to benefit from this scheme. It is really important we raise the profile of this important issue and do all we can to prevent needless deaths."

An e-petition calling on Government to debate the dangers of SAD in the House of Commons has received thousands of signatures, but many more are needed. It can be found by visiting:- epetitions.direct.gov.uk/petitions/29399. For more information about the Oliver King Foundation, visit:- theoliverkingfoundation.co.uk.
Could you save a life? Find out how... Join St John Ambulance Today!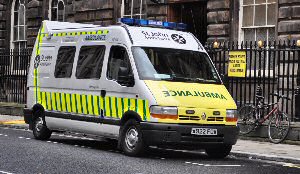 WITH over 1000 members in the Merseyside area, St John Ambulance are best known for their volunteer work at large, professional events, providing first aid cover and community first ain training, but they do far more than that! Many units have doctors and other medical professionals in them, who not only do volunteer work, but also help to train members to very high standards, with the very latest in training. To find out more, why not look at joining and learn how to save a life? It is vital work and most of the hidden work that St John Ambulance does is vital to your community. By joining it not only helps your local area, but also improves your CV! Also you children can join as well. Badgers start at age 5 and run up to aged 10. Cadets stat at age 10 and run up to age 16. Adults members are aged 16 plus.
To find your nearest Unit, call:- 0151 298 28 38 or email:- volunteer@merseyside.sja.org.uk. Also for more information about St Jon ambulance go to:- sja.org.uk.