TRADESMAN'S TOOL HUB FOR SOUTHPORT AS SCREWFIX LAUNCHES NEW STORE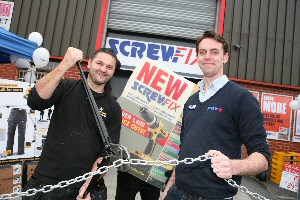 MULTI channel retailer, Screwfix is celebrating after having opened its 1st store in Southport. The new store, located on Old Hall Farm Business Park, has created 13 jobs locally, and will allow tradesmen in the area to conveniently purchase products at a time and place to fit in with their busy schedules. Screwfix store manager, Laurence Lingard-Lane, said:- "This is our 1st store in Southport and it is great news; creating 13 jobs locally and introducing Screwfix to the area. Tradesmen will have much greater access to all the trade essentials they need, which aside from being welcomed by homeowners who rely on Southport's professionals, means they won't have to travel far to reach their nearest Screwfix store."
Meet MOBO moguls!
LEADING music moguls, silver screen supremos and fashionistas are heading to Liverpool as part of an exciting 3 day cultural feast. The City is gearing up to host the internationally renowned MOBO Awards, and to mark the occasion the Council is announcing a brand new free festival running on 28 October 2012, 29 October 2012 and 1 November 2012, aimed at showcasing and championing home-grown talent. Celebrate MOBO will see industry experts from the fields of film, music and fashion take part in three unique events which will highlight the influence diversity has had on the culture of Britain; with a special focus on the role Liverpool has played.
Stars on their way to Liverpool include BBC Radio 1 DJ Dev, acclaimed actor and rapper Ashley Walters, Head of Editorial at MOBO Natalie Shaw and presenter of FLAVA TV Donatella Valentina.

Sunday, 28 October 2012, will see the Celebrate MOBO Industry Academy take place at Parr Street Studio 2. A host of professionals will lead three sessions; Radio, TV, Blogs… How to get into the Industry, I'm a Trendsetter, Breaking Out: From Local to National; talking about their experience of the different industries and giving advice to up and coming talent.

Those leading the different debates include BBC Radio 1's Dev, Music Manger for BBC Radio 1Xtra Laura Lukanz, media consultant and agent Ray Paul and Pierre from urban music and entertainment website GRM Daily.

Following the sessions, which run from midday, there will be special acoustic performances from some of Liverpool's most exciting new acts including MOBO Unsung winner Esco Williams, BBC Radio 1 Xtra Sound of 2012 inductee singer-songwriter KOF, star of BBC1'sThe Voice UK Jay Norton and Chelcee Grime.

On the evening of Monday, 29 October 2012, Celebrate MOBO Black Cinema pays tribute to the individuals behind the success of the growing diversity of the British film industry, and will look at how culture has a direct impact on what audiences see on screen.

Taking place at FACT from 7pm to 10pm, a spotlight will shine on local and regional films, documentaries and music videos which hold up a mirror to Liverpool's impressive black music scene. Hosted by Hollyoaks writer Maurice Bessman, a selection of local short productions will be screened from film makers including Pidgin Productions.
Award winning actor Ashley Walters will also be speaking about his career and will give advice to those wanting to break into the industry.

Film Producer Bea Freeman will also be showing her film Back to the Timepiece, a documentary which focuses on a legendary Liverpool seventies nightclub which was the only venue in the City to play black music.

To round the events off Celebrate MOBO: Debate takes place on Thursday, 1 November 2012, from 6.30pm to 9.30pm at the Museum of Liverpool. With music as the City's most famous export, the debate will look at the history of Liverpool's black music scene, its successes, any barriers which results in the City being under-represented when it comes to this genre of music and what the future holds.

Hosted by actress and presenter Phina Oruche, panellists will include Les Spaine who was one of the most significant British club DJs in the 70s, BBC Radio 1Xtra's DJ Target, Liverpool Sound City's music mogul Dave Pichilingi and Dr Brett Lashua who specialises in popular culture.

All 3 events have limited spaces which will be allocated on a first-come-first-served basis. For full details of the programme and to book your place visit:- itsliverpool.com.

Liverpool City Council's cabinet member for culture and tourism, Councillor Wendy Simon, said:- "We're delighted the MOBO awards are returning to the City for a second time, but this year we wanted to bring an extra dimension to the ceremony. The Celebrate MOBO events are a fantastic opportunity to bring together experts who can inspire and influence the next wave of musicians, filmmakers and designers. The pool of talent in this City is phenomenal and to give people the chance to meet and listen to respected professionals who have already made their mark on the industry is priceless. The 3 different sessions will showcase the very best in contemporary culture, and I'm sure because of the passion for all things creative in this City, there will be a huge amount of demand to take part and engage with all the inspirational figures involved."

Kanya King MBE, founder of MOBO, said:- "I am very proud to announce 'Celebrate MOBO' as it is a dream I have long held to be able to acknowledge the significant impact that urban culture has had not only economically, but also socially and culturally as well as inspiring much of what is fresh and innovative in this country. This festival creates the opportunity for the local community to join with MOBO in celebrating the next generation of creative people, culminating in the glittering extravagance of the MOBO Awards ceremony."

All Celebrate MOBO events have been organised by Liverpool City Council in partnership with FACT, National Museums Liverpool and ACME which looks to develop the creative industry in the region. The events form part of MOBO's vision, ambition and commitment to celebrate and nurture music and culture from a grassroots level.

Actor Ashley Walters said:- "I am very happy to be contributing to the Celebrate MOBO activity in Liverpool. I'm looking forward to talking about my path into the film industry and sharing my experiences and tips to succeed, in the hope of inspiring budding film makers, actors and creatives."

BBC Radio 1 DJ Dev, said:- "I always look forward to coming and working in Liverpool - it's a very creative City and one that always seems to artistically innovate and set trends."

The 17th Annual MOBO Awards take place at the Echo Arena Liverpool on Saturday 3 November 2012.
To book tickets, VIP boxes and corporate tables go online or call the Arena Box Office on:- 0844 8000 400.

David Cameron's hopes for a Paralympic legacy may be short-lived
PEOPLE with disabilities and carers are concerned that wave of positivity will not endure, finds local disability charity Vitalise. In the wake of David Cameron's Conservative Party Conference speech and only five weeks on from the London Paralympics, a new survey of people with disabilities and carers has found that the Paralympic legacy may not be as far-reaching as hoped.

Even though 82% of the people with disabilities and carers surveyed felt that the public was more aware and open-minded towards them as a result of the Paralympics, 40% expressed worries that any positive change would not last.

And as the euphoria of the Games fades, the survey by national disability charity; which runs the Sandpipers respite break centre in Southport; Vitalise has cast clear doubts on whether any profound change in the public's perception of the reality of disability has occurred.

Despite the impact of the Paralympics, 54% of the respondents thought that the public does not have a better understanding of the day to day lives of people with disabilities.

The survey was conducted in September and early October among the people with disabilities and carers who have taken much-needed respite breaks with Vitalise. 65% of the respondents were people with disabilities.

In the light of the findings, Vitalise is urging society as a whole to help sustain the Paralympic legacy by engaging with the day to day lives of people with disabilities and helping them play a much more significant role in society.

Vitalise Chief Executive, Chris Simmonds, said:- "Last week, in a moving reference to his son, David Cameron talked of how, thanks to the Paralympics, 'more people would see the boy and not the wheelchair...' We agree that the Paralympics has helped society view disability in a much more positive light.But the feel good factor may not last forever, and our survey has highlighted the concerns of people with disabilities that they will fade from public view and become invisible to society once again. We must not let that happen. The real work to sustain the Paralympic legacy starts now. Unless we as a society permanently change the way we view and value the capabilities and aspirations of people with disabilities, the true potential of the UK's disabled population may never be realised."

Vitalise's call is being backed by Team GB paralympian and 7/7 survivor Martine Wright, who was recently named the Vitalise Woman of Achievement 2012.

Martine said:- "As someone who only recently acquired the label 'disabled', I have experienced this issue from both sides. I consider myself lucky in the sense that since 2005 I have managed to achieve many of my dreams, but I'm keenly aware that the reality of life for the vast majority of people with disabilities is very different. People with disabilities have huge potential. They want to play a part in society, to make a contribution, but too often they are held back by the negative attitudes of others. The Games have done an enormous amount of good, but until we start thinking in terms of what people with disabilities can do, not what they can't, I'm worried that little will change in the long run."

Commenting on the high profile of people with disabilities in the wake of the Games, one respondent said:- "Para Olympics has made a lot more people realise what can be achieved, a lot of different people have told me they did not realise how much people like myself can do, so there is far greater awareness since the Olympics."

However, many respondents doubted whether the Paralympic 'feel good' factor would have any long-term effects. One respondent commented:- "I would like to think that the understanding and empathy towards people with disabilities would last. Unfortunately I believe that unless you know someone personally or have a disability yourself, there are many people who choose not to engage or understand those who are different."
PI's 10th Birthday Bash
ON Sunday, 21 October 2012, Liverpool's Positive Impact celebrates 10 years of nurturing young Liverpool talent and taking local people from the streets to stardom with a special concert; starting at 7.30pm at the Epstein Theatre, Hanover St, Liverpool. The PI's 10th Birthday Bash will see the Toxteth based youth training and production company celebrating in style, with this one off gig, featuring established names from the Positive Impact stable! Some of these names will be top guest acts and some bright new Positive Impact protégées, who are out to impress. This showcase will take place at the Epstein Theatre, with tickets from £6 to £12.

Giving young people from all backgrounds (and often from disadvantaged areas) a creative outlet, Positive Impact offers these individuals the chance to fulfil their untapped potential. Amongst PI's biggest success stories is the winner of this year's MOBO Unsung Award, Esco Williams. This self-professed 'soul powered nerd' has also been named one of MTV's top 20 Brand New artists for 2012. Joining Esco for the Birthday Bash will be young male vocal harmony group MiC LOWRY. Although only formed in 2011 and ranging in age from 16 to 18, the talented fivesome is already attracting national recognition.

Guest artists Coffee & Cakes For Funerals will join the headlining Positive Impact artists for this concert. Consisting of 4 young men from the Anfield area, their sweet r&b/soul melodies are an unexpected treat. Pop singer/songwriter Chelcee Grimes also joins the bill as a guest artiste.

The 1st half of the evening will be dedicated to showcasing some of the exciting up and coming success stories from the Positive Impact stable. Shining examples of PI's success are 16 year old swing singer Danny Pye who has all the charisma of a young Michael Buble and soul singer Yasmeen Ali, a 16 year old with a range and ability that belies her years. The pressure will be on for these talented up and comers as A+R scouts from top record companies will be in the audience looking for the next breakout talent!

There was also be some top dance talent on offer at the concert, from PI Dancers, showcasing both contemporary and street dance routines and the talented MD Productions will also perform alongside the Positive Impact artists as guest dancers.

Barbara Phillips, Creative Director at Positive Impact said:- "I don't mean to sound corny, but 10 years really have flown! During this time we have produced, and in some cases written and composed several successful musicals and shows not only in Liverpool, but around the country (including a week at Edinburgh Fringe), received a Sony nomination for creating an original radio drama series 'The Grove' broadcast on BBC Merseyside, waved 20 of our young people off to University, mentored and developed young people to take up musical theatre roles whilst also making waves in the music industry; the highlight being Esco Williams receiving a MOBO UnSung Award for 2012. It's been a great year on a personal level too as I won a Merseyside Woman of the Year 2012 Award for Arts & Culture... Looking forward to what we will achieve in the next 10 years!"

Positive Impact helps young people use their spare time constructively, fulfilling their creative potential and opening up a world of opportunity. PI's 10th Birthday Bash will showcase just some of the amazing Liverpool talent this company has to offer.

To book call the Box Office on:- 0844 888 4411 or you can do it online at:- epsteinliverpool.co.uk, these bookings will be subject to booking fee.