CARL SCHOFIELD'S ENCHANTING PIANO
Review and photos by Jane Quinn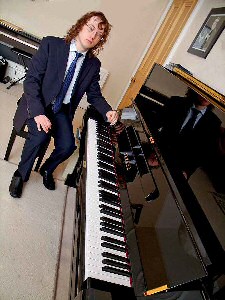 ON 17 October 2012, Carl Schofield mesmerised a packed audience at Christ Church, Lord Street, as he spun his magic on the Steinway, opening the lunch time Mid Week Music concert with The Cuckoo, a traditional British folk song which has been recorded by many diverse performers from around the planet.

Moving swiftly into Chopin's Etude Op 10, No 3, Carl demonstrated a dramatically moving style which encompassed all that is emotive while meeting every technical demand. The combination of passion and technique proved a winner.

The audience remained enthralled as Carl performed compositions by Beethoven, Wendell Keeney and Pasquet before announcing that he would close the programme with one of his favourite pieces, Ballade Op.23, No.1 by Chopin. The next 8 minutes were exhilarating.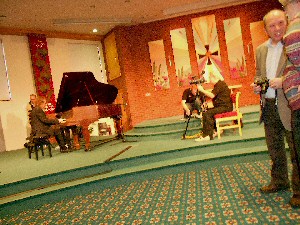 It is indeed a rare performer who can interpret the music with such wondrous technique, moving effortlessly from the calm to the thunderous and back again.

The event was filmed by Rodney Hearth of Heaven Sent Productions and will be released as a DVD following its broadcast on the UK Entertainment Channel.

Carl Schofield has loved the piano from the age of 4 and by age 7 he was a budding pianist. At 14 he was accepted at Chetham's School of Music. After leaving Chetham's Carl attended Leeds College of Music, securing a BA (Hons) Music degree.

Currently recording his first CD, purely pianoforte, planned for release in Spring 2013, Carl is preparing for a related UK tour. Follow all of Carl's news on:- carlschofield.net.

QUINN JONES CALLS TO PEOPLE IN SOUTHPORT TO PICK UP THEIR PHONES FOR CHARITY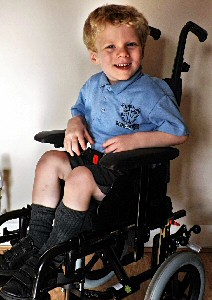 A Southport mum is urging the local community to answer her call for old mobile phones; as part of a fundraising scheme aimed at equipping autistic children with iPads.

Kerry Jones, 37, is calling on people to donate old, unwanted mobile phones, so that she can acquire an iPad for her autistic son Quinn, who has no speech and can't feed or dress himself.

The scheme, run by autism charity Hearts and Minds Challenge, enables families to exchange old mobiles for iPads. Just 165 mobile phones will result in a brand new iPad, and the scheme is open to everyone; you do not need to be a child or a member of Hearts and Minds to take part.

Quinn, aged 3, suffers from global developmental delay, sensory processing disorder and, though he can walk, he needs to use a wheelchair as he can easily become tired. As a result of being born 3 months early, Quinn had chronic lung disease and was oxygen dependant for 7 months; because of this, he also has asthma.

Mum of 2, Kerry, who lives with her husband Mike in Birkdale, said:- "The Hearts and Minds iPad scheme is fantastic because it provides a excellent way for autistic children to communicate, learn and develop new skills. It also raises much-needed funds for the charity, so they can continue to help even more autistic children in the UK. I'd like to encourage anyone who may have old or unwanted mobiles lying around at home to get in contact and help transform someone's life. Quinn is a bright boy and it will make a huge difference as he can get very frustrated when he is not understood."

Hearts and Minds Challenge is a charity dedicated to supporting children and families touched by autism. The organisation, which is supported by Mel Sykes and Keith Duffy, aims to raise the quality of life for individuals and their families affected by the disorder, by ensuring the provision of the highest standards in education, care and support.

To date, the charity's fundraising activity has raised over £500,000 and has helped to educate and support many children and families. Ian McGrath, founder of Hearts and Minds, said:- "This scheme has already helped to transform the lives of 23 families around the UK and we would like to see many more people benefit. The therapeutic benefits of using interactive, easy to use technology, such as an iPad have now been widely recognised and really can make a difference. I'd like to encourage everyone to hand over any old phones to help support Quinn and his family."

If you have any unwanted mobile phones, please contact Kerry on:- crazycowcrafts@gmail.com. For more information, please visit:- heartsandmindschallenge.org.