Housing Development Concerns continue in Sefton, Merseyside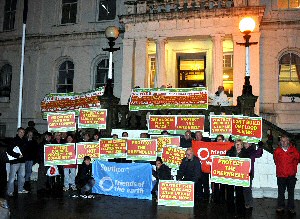 AT Sefton Council's meeting in Southport Town Hall on Thursday, 22 November 2012, representatives of F.R.A.G.O.F.F (Formby Residents Action Group... Opposition From Formby) presented a petition signed by over 4000 local people. At this meeting Sefton Council was castigated for its failure to have a Local Plan ready to protect residents from unwarranted development and erosion of Green Belt land. There is very great anxiety in the area over this issue, as developers, once again, seek to exploit arable land in the area. And this is reflected right across the country, especially as current flooding highlights the foolishness of overdevelopment on flood plains. The general public is aware of the need for affordable houses but is increasing suspicious of the motives of would be providers and those with planning powers; of construction companies, government and of cash strapped local authorities in particular. Are the builders really committed to their mantra of Affordable Housing, or will this be tokenism whilst they build yet more high priced homes in places that jeopardise the environment for others, seeing a quick buck in grabbing erstwhile protected green belt land under relaxed planning rules? We are reminded that whatever transpires in Formby will have repercussions well beyond its boundaries! Are national and local politicians to be trusted or are they grasping, too desperately, for any way to gain revenue regardless of longer term consequences? The damage to the environment resulting from the wrong decisions is likely to be irreversible and our descendants would have many reasons to resent us. Our short term solutions must not be at their expense.

The presentation of the petition was highly confrontational. The petitioners were allowed only a mere 5 minutes to present this at an otherwise wordy meeting, and only a few supporters were able to gain access to the public gallery. The rest engaged in a peaceful but vigorous protest outside the hall. Matters were made worse inside the hall, for few in the public gallery, which was crowded, could properly hear the proceedings on the floor, because speakers did not use their microphones effectively. Calls for information on the procedures were somewhat curtly dismissed and this not unnaturally fuelled the feeling of being ignored.

Many seemed convinced that they were not being given a fair hearing and that Sefton Council had already made its mind up. A minority seemed to equate being consulted with automatically getting their own way but the majority simply feared that no one was really paying attention to residents' views. On the other side members of all political persuasions denied that this was the case and one senior politician pointed out that some people did not understand the need for due process. There may well have been more sympathy for the views of protesters than they realised, but this was not the 1st clash and dialogue proved difficult.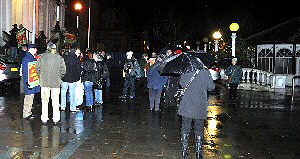 The issues involved in this protest are serious enough, but it appears symptomatic of the frustrations of the general public and their lack of belief that their voices are genuinely considered despite the plethora of public consultations over a wide range of issues. Many feel marginalised, and even that free speech is being eroded. Examples of big businesses, banks and privileged individuals apparently thriving whilst lesser mortals struggle on unheard, only serves to inflame the situation and discontent with representatives and authorities is evident across the board. There is lack of trust, and apathy with regard to elections, all of which leaves us open to possible manipulation by those with a far more malign agenda, as world history painfully illustrates. Let us hope that Sefton can find the sort of leadership to resolve this crisis effectively. Who knows it could even be catching!

F.R.A.G.O.F.F. held a further meeting in Formby on 28 November 2012, and a debate involving F.R.A.G.O.F.F's Chair, Maria Bennet was scheduled on TV, on the same date.

KEEP up-2-date
with our free daily news emails.

Are you subscribed? Si

g

n

u

p

today

to

our daily email news service via... Formb

y

-

Re

p

orter

.com

.

If you subscribed you can keep in up-to-date with what's going on in and around Merseyside. It is free and we do not send out massive amounts of emails. Also your email is kept under the UK's Data Protection Act, so you can be sure that you will not have problems.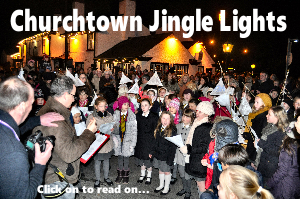 --- MORE NEWS REPORTS BELOW ---
Churchtown Jingle

Lights
"ALCOHOL MINIMUM PRICING - BETTER ENGLAND FREE THAN ENGLAND SOBER" SAYS FREE MARKET AND CIVIL LIBERTIES THINK TANK
StarGazing in St Helens
300 people with cataracts or wet AMD needed for two RNIB research reports
HOMEOWNERS TAKE ACTION TO CUT WINTER CHILLS
Labour Leader Ed Miliband backs campaign for lifesaving Defibrillators in public buildings
Cut your fuel bills by lighting a fire
Measles case confirmed at hospital
Magical Christmas Safari Special - Father Christmas visits Knowsley Safari Park
TGR Motorsport secure sponsorship for

AirAsia

Renault Clio Cup 2013!
Merseyside's Jean Taylor wins national Influencer Award
Buses, trains and tubes head list of bacteria worries ahead of flu season
CCTV APPEAL - ROBBERY, WEST DERBY
MURDER INVESTIGATION LAUNCHED - AINTREE
RE-APPEAL MFH WILLIAM CHORLTON
SAFETY ADVICE FOR MOTORISTS
Beth Tweddle to start Liverpool's Biggest Ever Santa Dash this Sunday in world record challenge
MISSING FROM HOME APPEAL - NORMAN GRIFFITHS, LIVERPOOL
NEW SEASON STARTING IN SOUTHPORT 6-A-SIDE FOOTBALL LEAGUE
British premier stage adaptation comes home to Southport
Parking charges cut
Give the most priceless gift you can this Christmas
Liverpool on the up
Spare a thought for carers this Christmas
CCTV image released of missing Willaston man
Karen Potter Craven Minor JFL
THE BIG ISSUE IN THE NORTH GOES DIGITAL IN LIVERPOOL
OFFICIAL FIGURES SHOW FALL OF 77,000 EMPLOYEES IN PUBLIC SECTOR SINCE 2010 GENERAL ELECTION
FLOODS SHOW THAT WATER IS NOT SCARCE IN UK
Cycling success for city
SJA Christmas Fayre
IF you want some Christmas gifts, take note... St. John Ambulance in Southport are holding a Christmas Fayre in the SJA Ballroom, located on Wright Street, back of Little Theatre, on Sunday, 2 December 2012, from 12 noon until 4pm. So why not drop in as they might just have that Christmas present you are looking for and it is for a very good course!!!

Click on to read on!

Click on to read on!
Manx Direct

08447 402 038

2 Years Parts & Labour Worranty
...HAPPY BIRTHDAY...

Donny Drago Happy Birthday from Abercrombie Kids...

If you have someone you want to say happy birthday to, for free, then use the email address below to send us the names you want us say happy birthday to, and/or a photograph. Email us today!