LIVERPOOL EMPIRE OFFERS SNEAK-PEEK PANTO TREAT AS PART OF FREE FAMILY FUN DAY

ON Saturday, 8 December 2012, the prestigious Empire Theatre is staging a Cinderella themed open day to celebrate the return of pantomime. Following the success of September's Panto Open Day, the theatre is opening its doors once more to give everyone a chance to enjoy a FREE and festive day of entertainment for all the family.
As an extra special treat, visitors will have the exciting opportunity to see a special sneak-peek performance of this year's pantomime Cinderella, followed by the chance to take part in a question and answer session with the cast. The stars of the show will be there, including queen of daytime TV, Coleen Nolan and Atomic Kitten, Liz McClarnon alongside Radio City's, Pete Price. Get there early as seats are limited!
As part of its fun-packed open day, the Empire is giving young people the chance to take part in a free theatre workshop. 8 to 12 year olds are invited to join in a Dance and Drama Workshop alongside industry professionals and younger visitors can experience some festive magic in a Christmas Dance workshop for 5 to 7 year olds.
Workshop numbers are limited and so pre-booking your place is essential. Contact the Liverpool Empire on:- 0151 702 7339 to book your place on a workshop.
There are plenty of other activities throughout the day for all the family to enjoy including a treasure hunt; if you find all of the glass slippers hidden around the theatre you could win a family ticket to see the panto. There's face painting, singing, the chance to dress up in theatre costumes, arts and crafts and lots more.
As an added bonus, 100 lucky visitors will have the chance to take part in a behind the scenes tour, where they will get the opportunity to experience the rarely seen areas of the theatre including on stage and in the dressing rooms. The first 100 people through the door will be given a voucher, which they will be able to redeem for a place on one of 4 tours, scheduled throughout the day.
The theatre will be open from 12.30pm until 4.00pm and those who visit the open day will have access to exclusive special offers on theatre tickets so bring your family and friends along for a day of entertainment that everyone can enjoy.
Cinderella Open Day is on Saturday, 8 December 2012. The doors open at 12.30pm and close at 4pm. Workshop places must be pre-booked. Some activities will invite a suggested charity donation. Money raised will go to The Empire Theatre (Merseyside) Trust LTD Reg. Charity Number:- 1437514, to raise funds for the Creative Learning Department. Tickets are available from the Liverpool Empire Box Office, or by calling:- 0844 871 3017 or online
Open Day Schedule

Time

Activity

12.30

Theatre Opens

12.45

Workshop 1

14.00

Cast performance on stage

15.00

Workshop 2

16.00

Building Closes

* schedule subject to change
Ongoing activities include:-

►

Professional Panto Costume Display

►

Dressing up corner

►

Arts and Crafts

►

Face Painting (suggested charity donation)

►

Show Tune/Christmas Carol Choir

►

Hot food, snacks and drinks will be available from the theatre's Cafe (additional charge)
The 1st 100 visitors to the theatre on the day will receive a voucher, which they will be able to redeem for a place on one of four tours scheduled throughout the day.
Cinderella is at the Liverpool Empire Theatre from Friday, 14 December 2012 to Sunday, 6 January 2013.
Tickets from £10. Tickets are available from the Liverpool Empire Box Office, or by calling:- 0844 871 3017 or online.

Ferns, Fairies and Fairylights "In the Fernery"
Report and photos by L Trollope.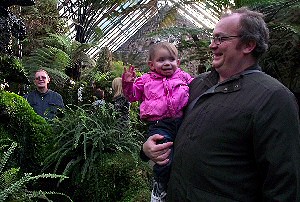 IT'S true! I've found Fairyland; or at least a very credible verisimilitude. When asked to photograph the Botanic Garden's version in Churchtown, I didn't expect to be there long. But I was! I was captivated by their efforts. Situated in the Fernery just beyond the cafe and shop along from the main gate, this adaptation grabs the imagination in a very traditional way and fascinates both young and old alike. The organisers said:- "The fernery has been transformed for Christmas with fairies and fairylights amongst the ferns." It looks to me more like the wee folk and their associates have moved themselves in and made themselves at home. They may be hard to dislodge for, as several people commented:- "they bring the place alive." Peeking out from strategic positions amongst the ferns, around pools and mini-cascades, and even by a wishing well, complete with thoughtfully provided pennies to throw, magical creatures watch their visitors as they linger to invent stories, count the fairies or just to experience the moment. There's always something special about craggy rock, living plants and gently splashing water, especially so with the added attraction of pretty, little lights winking into it. I'm hoping to return for the really special time when it's dark outside and the grottos are illuminated by the fairylights themselves.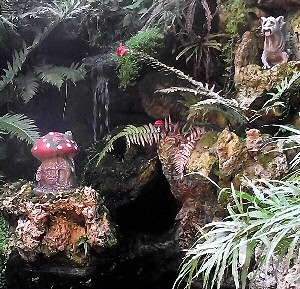 In this modern age of hi- tech, this is a great exercise in simple fun, so do bring the children if you wish, I'm sure they'll love it. But if, like me, you want a bit of nostalgia; good old fashioned spellbinding, come and indulge yourselves. You can even watch other people's kids making their own discoveries of fairies in the garden without the responsibilities!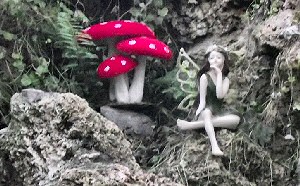 Open Daily 10am to 3.30pm until Christmas Eve, but with extra opening 4.30pm to 6pm on Fridays. It's all free, but donations to the park funds are welcome. Please do come and appreciate the hard work of the folks, Sue, Martin and Gary, who have provided this treasure. Here are a few shots taken on the visit. Oh, and I also encountered Father Christmas by the cafe, and he had to drop in to see the fernery for himself, as the photos show.

Page 1 of 4

If you like the photos, please order them and do not copy them. Keep this site online.... Click on here to find out how you can get you copy of these photos.