A Southport Hotel gets all wrapped for Christmas!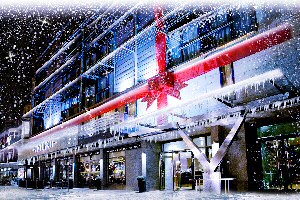 A well known Southport hotel has decided to have its building rapped for Christmas. When their specialist design team come to decorate the hotel not only will the interior be decked out with the very latest in chic decorations, the whole of the exterior of the hotel now has a huge red bow on it!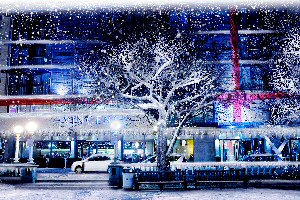 General Manager of the Vincent, Alan Richmond says:- "We wanted to do something special this season to celebrate a tremendous year at the Vincent and to create a real talking point. We have so much planned at the Vincent for Christmas, including our amazing festive menus and entertainment, and we want all of our guests, whether they are here for a meal or a luxury break, to celebrate in style. Our huge red bow is to let everyone know that they are welcome here, and that the Vincent, as always, sets the standard for service, in lavish yet cool surroundings."
So what do our readers think of the decoration? Email us to news24@southportreporter.com with your views on it!
Registration call for Self Assessment newcomers!
HM Revenue and Customs (HMRC) is issuing a call to all Self Assessment newcomers preparing to send a tax return online for the 1st time; make sure you register for HMRC's online services well in advance, so you have plenty of time to file your return. The 31 October 2012 deadline for paper returns for the 2011 to 2012 tax year (6 Apr 2011 to 5 Apr 2012) has now passed, so any outstanding returns must be sent online by 31 January 2013; just a few weeks away. It's important to register for HMRC's online service as early as possible, because it can take up to 7 working days to complete the process, as an Activation Code has to be posted to you. It's easy to register; just visit:- hmrc.gov.uk/signup and follow the instructions. You'll immediately get a User ID and, once you've received the Activation Code in the post, you can activate your account. You can then complete your tax return online. As well as your online tax return, any tax you owe for 2011-12 must also reach HMRC by 31 January 2013. For help and advice on completing a return, visit:- hmrc.gov.uk/sa or call the Self Assessment helpline on:- 0845 9000 444.

Young people in Liverpool prepared for a rewarding career in construction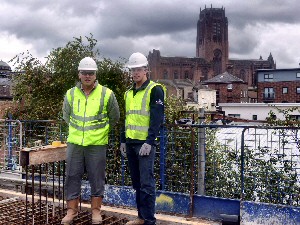 VINCI Construction UK is helping support the communities in which it operates by offering local youth apprenticeships and work experience. The contractor is building upon the pedigree of highly skilled workers within the construction industry by helping to introduce and educate the next generation through 'hands-on' experience of the sector.
Liverpool is a community in which VINCI Construction UK has a long established presence and subsequently has been able to offer local young people the opportunity for apprenticeships and work experience at one of their key projects in Liverpool; East Village, a new 261 room student accommodation block.

Louis Crosbie is undertaking an apprenticeship, and William Morris completed a work experience placement with the East Village scheme, which is being led by the VINCI Construction UK Project Manager, Peter Dodd.

18 year old Louis is completing a 2 year apprenticeship at St Helens College to earn a BTEC National Diploma in Construction and the Built Environment. Additionally, he will gain an NVQ level 3 in Construction Site Supervision. The apprenticeship is conducted through ConstructionSkills and, requires Louis to create a portfolio to demonstrate his progression and the various skills he learns.

William Morris, a Year 11 student from St Edwards College, has also completed a 2 week work experience placement as an Engineer's Assistant. William observed and assisted professional staff across various fields but mostly shadowed Construction Site Managers and Site Engineers. As well as observing the construction process, William learned how to read drawings and use office equipment.

Louis Crosbie, apprentice at East Village, Student Accommodation, said:- "Working with VINCI Construction UK has been a great learning experience and the site team are extremely insightful and helpful. Each day is different, the site team ensure I learn a variety of skills which will help me to successfully earn my National Diploma in Construction and provide me with the experience of how to collaborate with others and work as a team. This experience will provide me with the foundations to flourish in construction."

Peter Dodd, Project Manager, VINCI Construction UK, Building Division; North West, said:- "It has been a delight having Louis and William working alongside the team. They have already proven, through their determination to learn and ability to work with others, that they will do exceptionally well in the construction industry. This industry relies profoundly on a highly skilled workforce, so it is important to regenerate and further develop young people by offering highly-skilled apprenticeships and work experience which will have a direct impact on local employment."