A brand new musical for Liverpool - "Heart & Soul"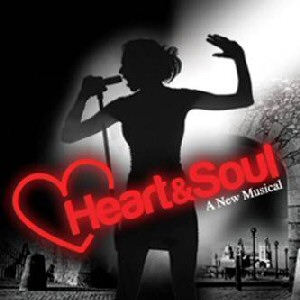 LIVERPOOL'S Applet Music Productions are delighted to announce that Heart and Soul, a brand new musical set in the City, will make its premiere at the Epstein Theatre next March. Running from 13 March 2013 to 16 March 2013, Heart and Soul follows the rollercoaster journey of a young woman's quest for success in the cut-throat music industry, whilst juggling love life and family drama.

This inspirational production is packed with original songs, spanning the genres from motown to rock, dance, ballads and even jazz, entirely written, orchestrated and played by the show's producers, Liverpool duo Maria Cavanagh and Indra Nathaniel of Applet Music Productions.

It's Liverpool in the mid 90's and Cathy Mason, a gifted singer/songwriter, receives another rejection letter from a record company. Disheartened, still living at home with her loving yet unfulfilled mother and recently redundant and bitter father Cathy wonders whether she is destined to perform at dingy pubs and clubs forever, but is determined to make it big. When Cathy's destiny becomes entangled in a love triangle between her childhood sweetheart and a Memphis Record Producer, deceit and betrayal threaten to shatter her dreams.

A talented local cast is confirmed for Heart and Soul - Tricia McTeague (vocalist for Ronan Keating and ITV's The X-Factor) will take on the lead role of 'Cathy' whilst actress and Radio City presenter Claire Simonsen plays Cathy's Mother. Cathy's spirited best friend and backing vocalist Nicky is played by Charlie Griffiths whilst her 2 potential love interests, childhood sweetheart Michael Carlucci and Memphis Record Producer Red Carson are played by Liverpool's own Jay Podmore and Emmerdale's Kivan Dene respectively. The show is being directed by well known local director Sylvie Gatrill.

Set in a time before the fast track routes provided by The Voice and The X Factor changed the music industry, Heart and Soul is an insight into the highs and lows of trying to 'make it' and how constant rejection creates self doubt, leading to disastrous consequences. Heart and Soul explores themes of unrequited love, unfulfilled ambitions, true friendship and the tenderness and love between Mother and Daughter.

Maria Cavanagh and Indra Nathaniel of Applet productions said:- "Heart and Soul has been eighteen months in the making – or much longer when you consider it is based on our own personal experience. We composed the music and lyrics, arranged and recorded it, created the story and script… Set in the 1990s, in Liverpool, before Pop Idol and X Factor, The story of 'Cathy Mason', is loosely based on our own journey, of dealing with broken promises and utter rejection, from a Music Industry that can destroy dreams in an instant."

Featuring 15 original songs including the unforgettable and touching ballads, If I Only Had, Someone and Love Everlasting to the show stopping numbers 'Get Ready', 'You Can Do Anything' and 'Boy From Memphis.' Heart and Soul will leave audiences emotionally drained and excited! Destined for stardom, caught within the traumas of a love triangle that threatens to destroy her dream, can Cathy find love and achieve success? Find out in March at the Epstein Theatre.

'You will only achieve what you truly believe'

The show, "Heart and Soul", takes place from Wednesday, 13 March 2013 to Saturday, 16 March 2013, at:- 2.30pm and 7:30pm Wednesday, Thusday and Saturday and on Friday 5pm and 8.30pm, at the The Epstein Theatre, Hanover House, 85 Hanover Street, Liverpool, L1 3DZ. Box Office:- 0844 888 4411 or online, both subject to booking fee.

World darts champion aims to take on shoppers in Birkenhead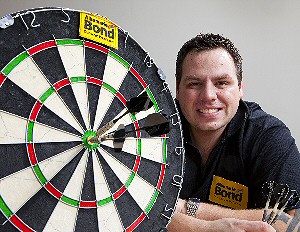 SHARP shooting shoppers in Birkenhead will be aiming for the bullseye when they pit their skills against 2 time world darts champion Adrian Lewis this week. The reigning Professional Darts Corporation (PDC) Ladbroke winner will be at Albermarle Bond pawnbrokers in The Grange and Pyramids Shopping Centre on Thursday evening (Dec 6) to play against customers and sign Christmas cards. Adrian, 27, whose nickname in the sport is 'Jackpot', will be at the oche in the Borough Pavement store from 5.30pm onwards, and after showing off the kind of polished performance which took him to the world title in both 2011 and 2012 he will invite shoppers to throw against him. The special sporting event is coinciding with late night shopping and also a £10m clearance sale being organised by the company, which sponsors Adrian, with top quality new and second-hand jewellery being offered at discounts of up to 50%. There will also be a watch expert in store giving advice on any purchases and free jewellery cleaning.

Jess Sanders, the store assistant manager, said:- "We are absolutely delighted to welcome Adrian to the Birkenhead Albermarle Bond. "We're setting up a darts board and we are sure lots of people will want to come along and meet him; and also try to beat him. I know there are quite a few good darts players in this area so it will be interesting to see if anyone can get the better of him. Our aim is to try to get our customers involved in what promises to be a great night."

Derek Millar, Commercial Director for The Grange and Pyramids Shopping Centre, said:- "We are very practiced at welcoming high profile guests because we are a busy town centre shopping centre and a lot of the stores we have here are selected to host events such as this one. Adrian's visit is sure to encourage lots of people to Birkenhead on Thursday and ensure we are 'on target' for another bumper late night shopping day at The Grange and Pyramids Shopping Centre."

The store will be dressed up for Christmas and Santa will be there to hand out little treats and drinks to customers. Jess added:- "Our £10 Million Clearance Sale involves our branches right across the country. There are thousands of items on offer and we will have a fabulous selection of jewellery at Birkenhead. Everything will be offered at a discount, with the biggest saving being 50%. The most expensive piece we have on sale are diamond cluster earrings which have been reduced by half from £800 to £400. But we also have more affordable pieces from about £30. We are very excited about Christmas because indications are we are about to have our busiest ever year, with takings at the branch up 44 per cent on this time in 2011. That means there's really something to celebrate and Adrian's appearance will certainly help us to do that with our customers."

Adrian, who hails from Stoke-on-Trent, initially made his big breakthrough in 2004, having enjoyed success in the British Teenage Open before qualifying for the UK Open and Las Vegas Desert Classic that summer. He went on to become only the 3rd player in the sport's history, after Eric Bristow and Raymond van Barneveld, to win the world title and retain it the following year. Adrian reached the 2011 final courtesy of victories over Tony Eccles, Mark Dudridge, Robert Thornton, Vincent van der Voort and Mark Webber, winning the match and the championship 7 to 5. He retained the world title by beating Andy Hamilton 7 to 3 in the final and is currently being tipped to win a third successive PDC World Championship title at Alexandra Palace on New Year's Day. For more information about late night shopping at The Grange and Pyramids Shopping Centre where parking is only £2 for the whole day, go to:- grangeandpyramids.co.uk.