STAY AWAY FROM THE FESTIVE SPIRIT IF YOU ARE THINKING OF DRIVING THIS CHRISTMAS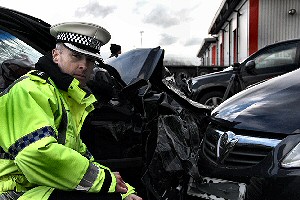 MERSEYSIDE Police Officers are warning drivers not to get behind the wheel this Christmas after indulging in drink or drugs and risk starting the New Year in prison or a mortuary. With an increased number of parties and celebrations in bars, clubs, restaurants and friends' houses during the festive period there is traditionally a spike in the number of people prepared to drive after drinking alcohol or taking drugs. Some 502 motorists have been involved in RTCs this year with 20 of those proving fatal. Merseyside Police will be cracking down on bad driving, in particular those who risk their lives and the lives of others by drink or drug driving, during December in a forcewide enforcement campaign that will see an increased number of officers out on the roads targeting those suspected of breaking the law. Officers will be out in force throughout the month and will be paying particular attention to considered hot spot areas at night and early in the morning to target those risking driving the morning after drinking or taking drugs the night before.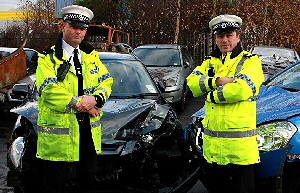 Chief Inspector John Hogan, head of Roads Policing in Merseyside, said:- "Despite the obvious dangers of combining driving with alcohol or drugs, every year there are a number of people who are prepared to flout the law and continue to drive. It only takes one of these people to lose control of their vehicle and kill or seriously injure another person - whether that be a stranger, friend or loved one. My officers will be out in force this festive period targeting these reckless individuals who will feel the full force of the law if we stop them and they are found to be over the legal limit."

Merseyside Police will be naming and shaming on its website those arrested and subsequently charged with drink or drug driving offences this Christmas and New Year period. Chf Insp Hogan added:- "While they represent a small minority of drivers, I cannot stress enough the danger that these people present to themselves and other road users.We are dedicated to reducing the number of people killed or seriously injured on our roads and we have more officers than ever trained to spot the signs displayed by drug impaired drivers. We are committed to not just arresting these drivers but also to educating them. Our officers visit schools and colleges throughout Merseyside to raise awareness of the issue of drink and drug driving and we will continue to work with our road safety partners to provide information on this issue throughout 2013. Our message to drivers is not to drink or take drugs and then drive - plan your evenings out property, use public transport or have a designated non-drinking driver. Alcohol affects everyone differently and can still be in your system many hours after you have drank. Even the smallest amount of alcohol will affect your competence behind the wheel, your ability to judge speed and distance and will slow down your reactions. Anyone whose ability to drive is judged to be impaired by alcohol or drugs may be arrested and face the same penalty as a driver who is over the prescribed limit so I would ask people to consider if the risks are really worth it."

Last year Merseyside Police saw an increase in the number of people driving while under the influence of alcohol and drugs during its December drink and drug drive campaign compared to the previous year. A total of 7,882 drivers were breathalysed by officers during the last festive period with 192 motorists arrested for being over the legal limit or failing to provide a specimen - an increase on the previous year's figures of 7,850 drivers breathalysed and 119 arrested. Out of the 192 motorists over the drink drive limit, 33 were arrested following a road traffic collision with many of those collisions resulting in injury to themselves, other drivers and pedestrians. A total of 10 drivers were arrested on Christmas Day. Officers also stopped a record number of vehicles and performed the highest amount of breath and drug impairment tests to date during December. Of the 69 drug impairment tests conducted by officers 19 arrests were made compared to 33 drivers tested for impairment in 2010, which led to 12 arrests.
Any driver involved in a road traffic collision, or who commits any traffic offence, can expect to be breathalysed and may be required to perform an impairment test. Should they fail these tests the penalties can be severe. In next weeks issue find out about TGR Motorsport's part in the Anti Drink Drive Campaign.

Have a Canine Partners Christmas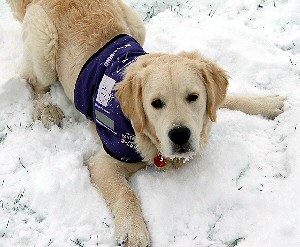 WHETHER you are looking for a wonderful selection of Christmas cards or that unique gift for a loved one, Canine Partners; a charity that provides specially trained assistance dogs for people with physical disabilities; is recommending you visit its online shop. From calendars to cuddly dog toys, tea towels to travel mugs there is a vast array of gifts starting from just £1. Their 2012 Christmas card selection features 18 designs including Snowy Nose, Robin on the Gate, Christmas Moon and Window Shopping. For those looking for a long term gift that goes on giving, there is the Adopt a Puppy Scheme. For just £1 a week your gift recipient will have the opportunity of following a Canine Partners puppy from its initial training right through into its partnership with one of our disabled applicants.

Isabel Campbell, director of fundraising and marketing, comments:- "We have added to our product range, all of which is available via our online shop, as it proves a popular way to buy Christmas presents whilst giving to a good cause. We have a wonderful new puppy calendar this year illustrated with a selection of photos of our puppies in training. We also have an I Love Canine Partners teddy bear, which would make an ideal gift for babies and small children. We value any support the community can give us in changing the lives of people with disabilities and you can either buy online or place your order over the phone. So please let Canine Partners help with your Christmas shopping in the knowledge that you will be helping someone with a disability to benefit from one of our dogs."

Iain Hamill (33) has multiple sclerosis and was the fortunate recipient of Innie in 2010. Iain comments:- "Innie does a raft of physical tasks for me including the majority of fetching and carrying. However, some of the more subtle benefits of having a canine partner are just as important. After I had to retire due to my health, I struggled with my sense of purpose. No longer was I the household breadwinner who went out to work each day, which I found very difficult. Since Innie came into my life I am not just Iain in a wheelchair, I am Iain and Innie; which has given me a new sense of identity."

For further information about how you can support Canine Partners, including recycling your used stamps, please visit:- caninepartners.org.uk or call:- 08456 580480.
48 YEAR OLD MURDERED IN AINTREE, LIVERPOOL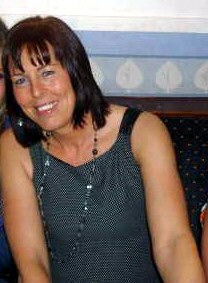 MERSEYSIDE Police Detectives are investigating the murder of Paula Clinton, aged 48, at 4.45pm, on Wednesday, 28 November 2012 following an incident in Aintree. She was pronounced dead at a scene in Rubgy Drive and a A 51 year nold local man who was taken to hospital with neck injuries was arrested on suspicion of murder on Wednesday, and remains in hospital where his condition is not thought to be life threatening. A Home Office post mortem was carried out and has confirmed that Paula Clinton died as a result of multiple stab wounds. A scene remains in place at Felsted Drive at its junction with Rugby Drive and forensic enquiries are on-going in the area alongside house to house enquiries. Detective Chief Inspector John Roberts said:- "Whilst the motive for this incident is unclear, at this stage it appears to have been domestic in nature. I would urge residents in the area, who may have witnessed this incident or who have any information, to come forward and make contact with my officers." Anyone who has any information about this incident is asked to contact:- 0151 777 3011 or Crimestoppers anonymously on:- 0800 555 111.