Thousands of Santaís Dashed to Liverpool for the UKís largest festive fun!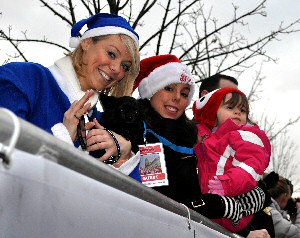 RUNLIVERPOOL staged staged their 8th annual Santa Dash supporting ITVís fundraising appeal on 2 December 2012. 8500 people gathered from all over the UK to participate. Olympic gymnast, Beth Tweddle officially started the race as Liverpool took on Las Vegas once again, for the 'Largest Santa Gathering' in a bid to win the World Santa Dash Challenge. This year Liverpool Santa Dash has partnered with ITVís Text Santa fundraising appeal, which is supporting six UK charities- Age UK, Anthony Nolan, Carers UK, Marie Curie Cancer Care, Together for Short Lives and Whizz-kidz. You can donate to the Text Santa charities using JustTextGiving by Vodafone. Just text SANTA to 70070 (cost £5) and tune into the live show on 21 December 2012.

Liz McClarnon came to show her support dressed in a blue Santa suit ahead of her role in Cinderella this Christmas. A whole host of personalities took part including MP Steve Rotherham, former big brother winner Nikki Graham, pop icon Sonia, Desperate Scouswives cast members, Chris and Mark Johnson White. She, said:- "I'm delighted to be taking part in the Santa Dash this year, itís a fantastic event in Liverpool and I'm really proud to be a part of it. I have been doing lots to encourage people to join in with the Liverpool Santa Dash and raise lots of money for the 6 Text Santa charities. Itís really important to us and Iím ecstatic to be doing this at home. I wanted to be part of it and hey, I had to run in a blue Santa suit!"
Beth Tweddle, said:- "Itís great to be starting the race and see all sorts of people, families and friends, getting into the Christmas spirit. Text Santa is linked up with 6 great charities so Iím pleased that I can help raise the profile of those charities. They do great work and I want to give them as much help as possible."

Hannorah Lee, Age UK said:- "The money being raised through Text Santa is going to be funding services that tackle isolation and loneliness amongst older people. Last year, 500,000 elderly people spend Christmas alone so the money is going to help us make a difference to these people not just at Christmas, but every day."

Mary Campbell, Anthony Nolan said:- "Anthony Nolan run a register of people willing to donate their bone marrow to people with blood cancer. Text Santa will allow us to add thousands of new people to our donor register. Many of those donors will then go on to save lives."
Gavin McGregor, Carers UK:- "Itís Carers UKís second year with Text Santa so we are absolutely delighted to be able to join this event, not only because it raises fantastic amounts of money for the charity, but it will also help us raise awareness of the work Carers UK does."

Brian Curran, Marie Curie Hospital said:- "Marie Curie provides care to people who are terminally ill. We want these people and their families to live as normal a life as possible and Text Santa will help us look after more people."

Steve Rotherham, Liverpool MP, added:- "The Santa Dash is a great event for Liverpool. Itís been a fantastic day in and weíve had a huge turn out."
The Santa Dash is a 5K Festive Fun Run that started in Liverpool in 2004 and has grown in popularity every year. The event is open to runners, joggers and walkers and everyone has to take part in the Santa suit provided, even dogs will take part. There is also a special 1K Mini Dash for under 12s which takes place immediately after the main 5K run which takes place at 11am. In 2005 the Liverpool Santa Dash secured the world record for the largest Santa gathering with a modest 3,921 and in 2011 attracted and impressive 7,411. That total was way short of the 13,000 record achieved by LondonDerry.

Alan Rothwell who created the Santa Dash said:- "Without a doubt this has been the biggest and best Santa Dash weíve hosted. Iím waiting anxiously to hear the final numbers and I hope to be in a position to announce that we have beaten Vegas. Unfortunately we canít claim the Guinness World Record, this year but weíll be in a much stronger position to challenge in 2013. A big thank you to everyone who has taken part."

You can support Text Santa by visiting:- itv.com/textsanta.
If you like the photos, please order them and do not copy them. Keep this site online.... Click on here to find out how you can get you copy of these photos.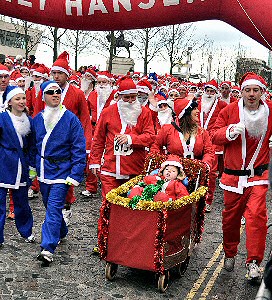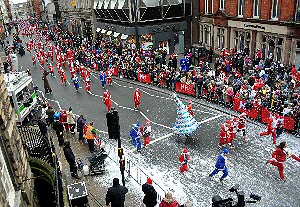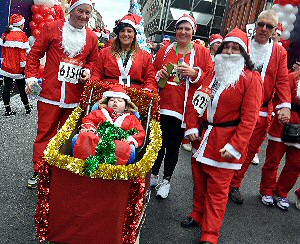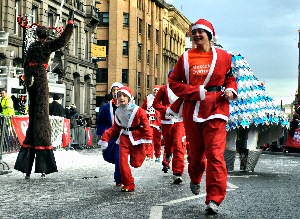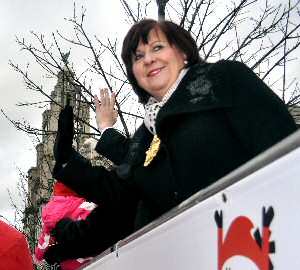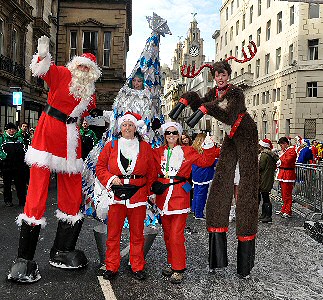 Page 1 of 15