Woodland drop-in session for Sefton residents
SEFTON residents who want to find out more about the woodland management work currently being conducted in Sefton's coastal woodlands can attend a drop-in session on Friday 7 December.

The session will be held at St Luke's Church, on St Luke's Church Road in Formby, from 3pm until 7pm, and will bring together woodland professionals from The Mersey Forest, Natural England, the Natural Trust, and Sefton MBC to answer questions.

The session will also offer residents the opportunity to feedback on the Sefton Coast Woodlands Forest Plan, which will shape the future of the area for the next decade.

The coastal woodlands in Sefton are currently the focus of work to protect the area's red squirrels, and to defend the trees from disease and high winds.

The work mainly includes thinning; the process of removing selected trees to improve the health of the wider woodland and is taking place at Altcar Rifle Range, Ainsdale Sand Dune National Nature Reserve, and Formby Golf Glub.

The work is being coordinated by The Mersey Forest and landowners including The National Trust, Sefton MBC and Natural England, and is set to be completed in the beginning of January.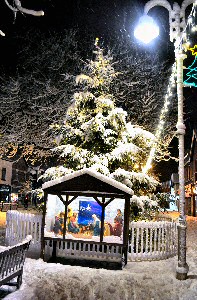 Christmas surprise in next weeks issue!
IN next weeks issue we are having some very interesting surprises for our readers. So take some time off Christmas Shopping and take a look as you must not forget to log on and check next weeks issue out!

Funding brings a warm glow
VULNERABLE residents will be helped to stay safe and warm during the winter after Liverpool City Council has been awarded government funding. It has obtained a grant of just under £300,000 from the Department of Health's 'Warm Homes Healthy People' fund to protect individuals and communities from the effects of severe winter weather due to cold housing.

Liverpool's bid - 'Don't Get Left Out in The Cold' - was developed by the Council's Housing Strategy Team and is the second year in succession that it has been successful in gaining funding and follows the success of the recent winter survival event at St George's Hall. The grant will support a number of schemes including improving insulation and offer help with boiler repairs and central heating insulation. Warm packs will also be delivered to residents across the City.

The Council, through its Housing Strategy, Healthy Homes and Emergency Planning teams will work with partners from Local Solutions; the Fire Support Network, who will assist residents with dementia by removing the dangers associated with the use of unsafe heating and cooking appliances, the British Red Cross, Community Foundations for Merseyside and Age Concern Liverpool and Sefton, who will be visiting vulnerable housebound residents

A key element in the bid was tackling social isolation. Local community and residents groups will be supported to deliver services to help vulnerable residents by calling on them and helping them stay safe during extreme weather.

"We want to make sure everybody who needs it receives support during cold weather. Just by being good neighbours and calling on people who may need help can make a real difference and this funding will help us support groups who do that. We can also make improvements to people's homes to keep them warm. This is a priority for us as fuel poverty is a real issue for a significant number of people in this City. The winter survival campaign has given information, advice and support to a lot of our residents. Now we can provide even more help in making sure our vulnerable residents stay warm and safe this winter." said Councillor Ann O'Byrne, cabinet member for housing.