Will You Send Christmas Texts Rather Than Cards This Year?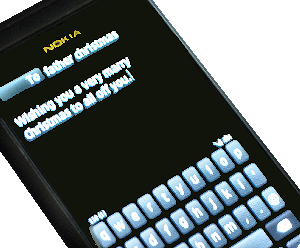 A survey from SecurEnvoy has found that 53% of people admit that they would rather text or instant message their friends than pick up the phone or even meet in person; showing just how relationships are changing. As we approach the holiday season, it seems more likely than ever that your friends will text or instant message you to wish you Merry Christmas or Happy New Year than call, or even meet up in person.

The survey of 1000 people found that women, who have traditionally had a reputation for spending hours chatting on the phone to their friends, are worse offenders than men; with nearly 6 in 10 admitting they prefer to text or instant message their friends, compared to less than half of men. Men, on the other hand, show they are more sociable, with 1 in 4 saying they would pick up the phone to their mates.

Interestingly, there are big variations between the different parts of the UK, with more than 70% in Northern Ireland preferring text. Perhaps disproving its reputation for being an unfriendly place, London came in lowest, having the fewest people (43%) who say they prefer to text their friends rather than phone or meet in person. If you live in Yorkshire and the Humber, you are more likely than anywhere else in the UK to prefer to meet your friends in person, at nearly 1 in 4.

When it comes to age, it is the 25 to 34 age group which relies on technology more than any other to maintain contact with their friends; with less than 10% saying they would prefer to meet in person.

"This year marks the 20th anniversary of the first text message, and it is amazing how fundamental the technology has become to our lives. This survey shows just how texts and instant messages are changing how people interact – if we believe the results perhaps everyone will be sitting at home on New Year's Eve just messaging their friends, rather than being out and celebrating with them in person!" said Andy Kemshall, CTO at SecurEnvoy. "The popularity of texting, and the important role the humble mobile phone plays in our every-day relationships, confirms we at SecurEnvoy see every day. Companies are turning to their employees' mobile phones and using them as two-factor authentication tokens to access data securely and easily while they are out of the office. We see again and again, that people won't be without their phones and that SMS is so commonplace that it makes it the obvious security choice for users, and is something they use with confidence right from the beginning."

What is 2 factor authentication?
► 2 factor authentication (2FA) is a way of verifying a person is who they say they are. It requires the combination of 2 out of 3 possible factors; something you know; so a username, password or PIN; something you have; a credit card or token, and something you are; fingerprint. The combination of a username and password does not constitute 2FA as it is 2 types of the same factor.

► Authentication tokens, first used over 20 years ago, generate a one time passcode (OTP) which can be entered as part of a 2FA process. They are different to PIN numbers, which are static, as they change every time and will expire within a set time. However, unlike the original physical tokens of the 80s, today OTPs can be generated by apps on a smartphone or sent via SMS making their use not only easy, but also practical.

The survey, from SecurEnvoy, was conducted by OnePoll of 1,000 people in the UK. For a video on the history of SMS authentication, visit youtube.

Landlords invited to dip in the Pool
OWNERS of vacant properties in Liverpool are being offered extra support to help them attract new tenants. Liverpool City Council is rolling out a new incentive for landlords from Monday 3 December, giving them the chance to advertise their properties on Property Pool Plus.

The service allows local people who are looking for affordable housing in the area to see what properties are available, and express an interest in selecting a suitable new home. The system is used by Liverpool, Halton, Knowsley, Sefton, and Wirral Councils, and over 20 housing associations, to advertise and let their vacant properties.

Now, by opening up Property Pool Plus to private landlords, the Council hopes to give them a helping hand in letting thousands more people know that their properties are available for rent. It also means residents who are registered on the system will have a wider choice of available accommodation, from both the social and private rented market.

The new incentive – which supports the drive to bring empty homes across Liverpool back into use - is the first to be launched under the Council's '10 Point Pledge' for landlords. The pledge aims to build on the positive relationship the Council has with many landlords while taking a robust stance against the small minority of poor landlords and providing a level playing field for all.

Liverpool City Council's Cabinet Member for Housing, Councillor Ann O'Byrne, said:- "We are fully committed to driving up the quality of Liverpool's private rented sector. To achieve that, it's vital we work closely with landlords, offer them support and create new opportunities which they can take advantage of. Adding private rented properties to Property Pool Plus is a great way of promoting good landlords in the City and helping them find tenants. It will also support our wider plans to tackle the problem of empty and poorly managed properties in Liverpool. We hope this new incentive will prove to be popular with landlords, who will have increased profile for their properties, and with local people, who will have a wider selection of accommodation to choose from when using the Property Pool service."

Properties are advertised on Property Pool Plus every week, with applicants notified what 'priority banding' they are in, based on the urgency of their need to move from their current property. Applicants are invited to make a bid for their chosen property and the system puts them into priority order.

People can access Property Pool Plus in a number of ways, including the website, or by visiting a local housing office or One Stop Shop. They can also submit a bid for a property by calling the 24 hour automated number:- 0300 777 3022, by using the texting service:- 07537 402 602, or through their TV (Virgin Media and Sky customers).

Private landlords who wish to advertise on the system will be asked to ensure their property meets the Council's Landlord Accreditation Standards. All properties will be inspected before being advertised.

Gas Safety and Electrical Installation Reports and Energy Performance certificate relating to the vacant property must also be provided.

Liverpool's 10 Point Pledge is an important part of the City's three-year 'Bringing Empty Homes Back Into Use' programme, which aims to tackle void properties across Liverpool, deal with problem landlords and improve the standard of the City's rented accommodation.

The pledge includes:-
► The adoption of a Liverpool Standard for private rented housing which will set out the minimum standards expected of landlords.
► A free, voluntary register for landlords to encourage better communications with the Council.
► A Citywide landlord accreditation scheme, and 'Scores on the Doors' service which recognise good landlords.
► Incentives for landlords who manage their properties well, including access to renewal funding.
► A dedicated website for landlords and tenants and confidential freephone line where people can report unregistered or poor quality landlords.
► A Landlords Advisory Group comprised of landlords and also lettings and managing agents
► A Rogue Landlords Hit Squad, which will seek out and investigate poor landlords and take appropriate action.