NWAS LAUNCH 'DECK THE WALL WITH STAFF FROM NWAS' ON FACEBOOK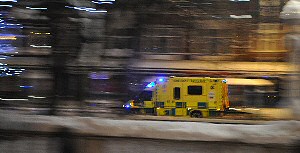 THIS December, the North West Ambulance Service is profiling a number of the many different job roles, both operational and behind the scenes support staff that make up the Service. The Trust wants to give their Facebook followers an insight into the many, varied roles within the Trust.

From 1 December, up to and including Christmas Day, the page will profile 'The Advent Calendar 25' - one member of staff for the 25 days of the advent period; and will give a small insight into their individual role as well as a little personal information and a Christmas tip.

The page regularly receives requests from members of the public asking how they can get involved with the Service, whether it be voluntary or paid. Due to this, we thought it would be a great idea to profile 25 different roles from all over the North West; to show to members of the public how many different types of cogs are needed to keep those ambulance wheels on the road!

Anyone can access the Advent Calendar via our Facebook page:- facebook/nwasofficial. If you Like what we're doing, please 'Like' the page!
CLA welcomes Chancellor's increase of Annual Investment Allowance for machinery
THE Country Land and Business Association (CLA), on 5 December 2012, said the Chancellor's decision to increase the Annual Investment Allowance for plant and machinery 10 fold from £25,000 to £250,000 is great news for the rural economy in the North.

CLA North Regional Director Dorothy Fairburn said:- "This means farmers will be able to claim 100% capital allowances against their earnings on up to a quarter of a million pounds of equipment a year, for the 2 years from January 2013. This could kick-start investment in farm machinery, renewable energy projects and other diversified rural businesses."

Miss Fairburn said she was disappointed the Government continues to fail to recognise that many small rural businesses are not incorporated. She said:- "The Chancellor's reduction in the Corporation Tax rate to 21% is of no use to a sole trader or partnership, the favoured business structures in the countryside. We welcome the introduction of the simpler system of cash-based accounting although the ceiling of £77,000 turnover means that it will be of little use. However, if the threshold were increased, it could be an excellent scheme and make a real difference to rural businesses."

Miss Fairburn said, while it was good news that newly completed properties would not attract rates while empty for the 1st 18 months from October 2013, the Chancellor does not appear to have done anything in his Autumn Statement to help the owners of existing empty business premises, despite the CLA and others making him aware of their plight.

The CLA also supported the Chancellor's cancellation of the fuel tax rise planned for January 2013. She said:- "For rural communities, this is particularly welcome."

See said the broadband upgrades and £10billion house building guarantees for Towns and Cities announced by the Chancellor could increase the urban-rural divide.

Miss Fairburn said rural areas desperately need adequate broadband connections and housing but, once again, the new investment is going to urban, not rural, areas.

She said:- "It is all very well to pour money into cities to give them state-of-the-art broadband but many rural areas still suffer from slow or no broadband. The £10billion support provided to the institutional sector to deliver new house building will not assist rural areas because it will focus on big projects not the small-scale developments needed in rural areas."
North West tax cheats must pay back over £1m
14 people from Merseyside and West Lancashire have been ordered to pay back over £1 million for their part in a £1.2 million tax fraud. The confiscation follows the prosecution of Michael Kitchen, 47, a former administrative officer for HM Revenue & Customs (HMRC), who had diverted £1.2 million in tax payments to his 13 co-defendants. All were sentenced earlier this year at Liverpool Crown Court. Kitchen and 7 others were jailed for a total of 18.5 years, and will serve more time in prison if they do not pay up. 4 others received suspended sentences; but will go to jail if they do not pay within the time specified; the remaining 2 have already paid. Kitchen's job involved allocating payments made by businesses to their Pay As You Earn (PAYE) accounts. An investigation revealed that he had diverted a proportion from 158 payments to the tax accounts of his co-defendants, who were all friends or associates. Ian Horridge, Internal Governance, HMRC, said:- "Kitchen abused his position of trust in a sophisticated and sustained fraud aimed at paying the tax liabilities of his friends and associates. HMRC is committed to the highest level of integrity and we take the strongest possible action against the tiny minority who let us all down by falling short of those standards. We also use confiscations to ensure that people don't benefit financially from their criminal activity. The confiscation orders required all the defendants to pay back their ill-gotten gains, or face jail and still owe the money." Kitchen was dismissed in April 2009, during an internal investigation by HMRC.
CLA welcomes supermarket ombudsman with 'bite' but sounds note of caution
THE Country Land and Business Association (CLA) on 4 December 2012, welcomed confirmation that the new Groceries Code Adjudicator (GCA) will be given the power to fine supermarkets for treating suppliers unfairly. In response to campaigning by the CLA and its industry partners on the issue, the Association said the announcement by Competition Minister Jo Swinson meant farmers and other producers should be able to rely on a supermarket ombudsman with "bite" to enforce the Groceries Code. However, CLA North Regional Director Dorothy Fairburn sounded a note of caution. Dorothy Fairburn said:- "Under this announcement, fines will only be imposed on supermarkets as a 'last resort' and large retailers will be permitted to appeal against fines which would then lead to protracted legal battles. Giving the Adjudicator powers to impose financial penalties on large retailers without having to go through the Secretary of State for approval is an extremely welcome move. Now it is up to Adjudicator to ensure this works in practice and the supermarkets do not ride roughshod over the new system. Supermarkets have got away with unfairly treating suppliers for too long. An ombudsman with bite is really needed to boost economic growth and ensure fair treatment for farmers."

HAVE YOURSELF A HOFFY LITTLE CHRISTMAS
Photographs by Solent.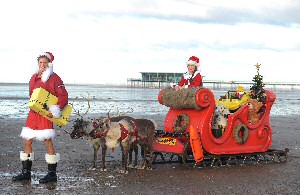 KNIGHT Rider star was in Southport for Nikon given adults the alternative festive photo this week. This was sue to David Hasselhoff topping a poll of nostalgic icons that adults most want a festive picture with this Christmas, following research that says we feel too old to pose with Santa. For kids everywhere, the excitement of Christmas is inextricably linked to the yearly trip to Santa's Grotto for a photo with the great man himself. For adults, however, it's a different story, with the majority (72%) feeling too mature to have a picture with Father Christmas. Some also reported disappointing experiences with festive figures, with over half (52%) having had to pose with an unconvincing or unpleasant Santa, and over a 3rd (39%) having had dealings with a Saint Nic who was too young, too thin, or had food in his beard!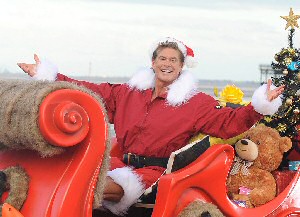 Following the findings, Nikon has made the shot a reality, and put megastar "The Hoff" into an alternative festive photo for adults, in a funny take on the beach scenes that any child of the 80s will know and love from his Baywatch days.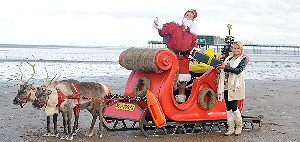 Jeremy Gilbert, spokesperson for Nikon COOLPIX, comments:- "Whilst Father Christmas is a firm photo favourite for children around the world, it seems many adults would rather pass on an opportunity to pose with him, so what better way to give some Christmas cheer back to them than this alternative bit of nostalgia? Adults may be past believing in Santa, but a comeback king like the Hoff can still supply many happy memories from their youth and inspire lots of festive fun."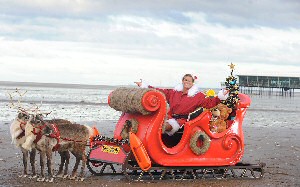 David Hasselhoff, world-renowned actor and singer, said:- "Christmas is my favourite time of the year, and particularly now I'm 'enjoying' some Christmassy UK weather, it's been fun to get involved with this very merry Nikon photo. I am honoured that so many Brits have chosen me as an alternative to Santa. It must be something to do with the red suit. We went to pretty extreme lengths to get this Christmas creation, so I hope people like the picture!"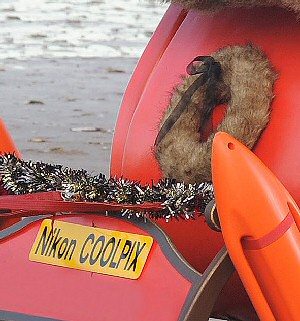 Commenting on the UK's weather, he also said:- "I'm more used to Malibu beach than Southport beach, to be honest, so posing in my shorts by the British seaside in November was quite an experience. I envied the reindeers their coats, I can tell you that much!"
Avid Hoff fan, Angelina Ryan, got the chance to get in the alternate Christmas Photo, courtesy of Nikon COOLPIX.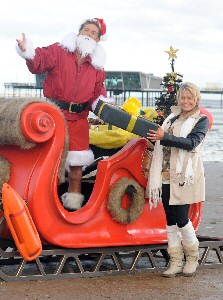 Angelina Ryan, aged 31, admin officer from Blackburn, Lancashire:- "Meeting the Hoff was a dream come true – I've been a massive fan since I saw him running across my screen, saving people in Baywatch all those years ago. And getting to pose with him for my Nikon Alternative Christmas photo was brilliant. A lot better than the standard Santa photo and definitely a shot I'm going to sending to all my friends and family. A very memorable Christmas indeed."