A festive pantomime flop for 'Sleeping Beauty'
Photographs by Ian Fairbrother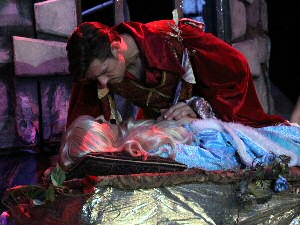 AS the festive season took hold it opened up the start of Panto Season, but the festive cheer for one Panto was to be cut short by what has been 'a true life pantomime' as one of the cast said. The pantomime, as you can see in our photos, had seemed set to be very good, with a high standard of scripts, costumes and many well know faces in the cast, but the real life pantomime started before it opened. The play had already been hit with cancellations blamed on ongoing technical issues which delayed completion of the Christmas Festival site, next to the Liverpool Arena, and now the play and the festival have been cancelled! ACC Liverpool, on 24 December 2012, were informed by the Directors of Core Promotions Ltd, promoters of the Liverpool Christmas Family Festival and Sleeping Beauty pantomime, that Core Promotions Ltd. has ceased trading. So since Christmas all further performances of Sleeping Beauty at The Liverpool Waterfront Big Top have been cancelled and the Liverpool Christmas Family Festival site was closed with immediate effect. Liverpool ACC said: - "All customers who purchased tickets by credit/debit card will receive an automatic refund. A refund will be credited to the card that was used to purchase the tickets. All customers who purchased tickets by cash should contact their point of purchase to receive a cash refund. The Ticket Quarter Box Office can be contacted on:- 0844 8000 410 or email:- customerservice@ticketquarter.co.uk." We have also been told by people connected to the show that that some of the panto cast still have not been paid nor have some of the crew and the support workers. This has yet to be fully confirmed, but if you have been affected, please do let us know. These are some photos of the pantomime cast on the press shoot!
Click on here to see more photos of the show.

KEEP up-2-date
with our free daily news emails.

Are you subscribed? Si

g

n

u

p

today

to

our daily email news service via... Formb

y

-

Re

p

orter

.com

.

If you subscribed you can keep in up-to-date with what's going on in and around Merseyside. It is free and we do not send out massive amounts of emails. Also your email is kept under the UK's Data Protection Act, so you can be sure that you will not have problems.
...HAPPY BIRTHDAY...

Debbie Jordan happy Birthday from SJA
If you have someone you want to say happy birthday to, for free, then use the email address below to send us the names you want us say happy birthday to, and/or a photograph. Email us today!