Is it too soon for Easter eggs to go on sale!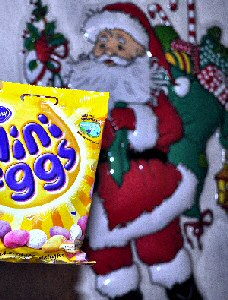 IT was not even the end of the Christmas Holiday when Easter eggs and chocolates came on sale. It is just a month ago when we started our annual moan about Christmas decorations appearing too soon, so are we turning religion in the UK in to a cash cow or are we as some put it:- "planning ahead" and also "helping families to spread the cost of the second biggest seasonal event after Christmas?" Already local churches have said:- "Easter produce turning up prematurely is devaluing the Easter message and it wrong." Easter isn't until the end of March this year, so in these grim post-festive days, do you think supermarkets and shops should sell Easter eggs along with other Easter related presents so early? Do you, like the shops think:- "So what's the problem? Shops wouldn't stock them if they didn't sell!" One of our readers, Bernadette Johnson, commented on our Southport Reporter Facebook Page said:- "These are available all year this day - just got to look, same with cream eggs. Bring back the days when they only came out at Easter and were special." So what do you think? Email us your views to:- news24@southportreporter.com or visit our Facebook Page and let us know on that!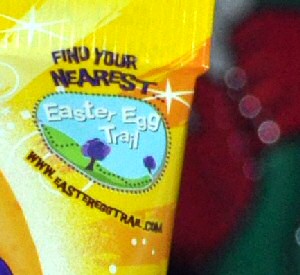 CASH MACHINE THEFT - GULF FILLING STATION, BOOTLE
MERSEYSIDE Police Detectives are still appealing for witnesses after thieves stole a large amount of cash from an ATM in Bootle in the early hours of New Year's Day (1 January 2012). Patrols were called to the Gulf filling station and adjoing Londis store in Dunningsbridge Road shortly before 1am after an employee found the free-standing cash machine had been damaged and cash stolen. A white Mercedes Sprinter van. which is believed to have been stolen from the south Liverpool area, was found abandoned at the scene and the offender or offenders fled on foot. The van and the damaged ATM are being forensically examined and detectives are trawling through CCTV from the garage and the surrounding area to see if the offenders can be traced. They are appealing for anyone who was in the Dunningsbridge Road area shortly after midnight on New Year's Eve going into New Year's Day and who may have seen anyone on foot or in a white van acting suspiciously to come forward. Detective Chief Inspector John Roberts said:- "A large amount of money has been stolen and a local business has been damaged by this theft so we are doing all we can to catch the offenders. There will have been more people still up or out and about between midnight and 1am than usual due to the New Year celebrations and I am sure this incident will have been witnessed by someone. Also, whoever has stolen this money may attract other people's suspicions when they try to spend it. I would appeal to anyone out there with information that could help us to call Sefton CID or Crimestoppers if they prefer to remain anonymous." Call Sefton CID on:- 0151 777 3055 or Crimestoppers on:- 0800 555 111.

Government Ministers refuse to meet Defibrillator campaigners for 2nd time
CAMPAIGNERS were rejected by Health Minister Anna Soubry MP following a letter hand delivered to Number 10 Downing Street by campaigners including Mark King, father of 12 year old Oliver King who tragically died during a swimming lesson at King David High School in Wavertree March 2011. This is the 2nd Government rejection as ex-Health Minister Simons Burns MP refused to meet campaigners earlier on this year.

The letter was delivered on 28 November 2012, following an official Government response to their e-petition. E-petitions receive a response once they reach 10,000 signatures, but still require 100,000 for a debate.

Campaigners including Mark King & Cllr Jake Morrison felt that the Governments response was disappointing, and didn't take in to account what they are calling for, which is to make it mandatory for all schools & public buildings to have lifesaving Defibrillators. The letter to the Prime Minister requested an urgent meeting with a Health Minister to discuss this request.

On the same day campaigners handed a letter to Number 10, The Rt Hon Ed Miliband MP said:- "Access to a defibrillator would save lives. On behalf of the Labour Party, I am happy to support your campaign."

The Oliver King Foundation was set up following the death of Oliver King, a pupil at King David High School in Childwall, in March 2011. He tragically died during a swimming lesson from Sudden Arrhythmic Death Syndrome (SADS). SADS takes the lives of 12 young people aged between 12 to 35 years old EVERY week.

It is estimated that 270 children die of a sudden cardiac arrest while at school in the UK every year, and is the same medical condition that struck former Bolton Wanderers footballer Fabrice Muamba last season, forcing his retirement from the game. In October The Oliver King Foundation handed over the 1st Defibrillator to Pinehurst Primary School, as part of a scheme which will see all 122 Liverpool Primary School's receive this lifesaving equipment as part of a £102,640 project.

Oliver's father Mark King said:- "Once again the Government have just snubbed us. By the end of January 2013 all Liverpool Primary Schools will have Defibrillators. We want to see this right across the Country, but the Government will not speak with us. We're not asking for the world, we just want 30 minutes to sit down and speak with those directly in charge. It would seem that they are just dismissing us as a small campaign, but we now have a great record, all in the name of my son Oliver."

Councillor Jake Morrison, Patron of The Oliver King Foundation & creator of the e-petition, said:- "The response to our meeting request is once again deeply disappointing. On one hand the letter says... "I note that you have also written in similar terms to the Prime Minister; your correspondence has been passed to reply as it is a health related matter...." But it goes on to say:- "As our previous response to your petition outlined, the provision of defibrillators is no longer a responsibility which falls to the Department of health. From February 2007, responsibility for continuing the legacy of the National Defibrillator Programme was devolved to the Ambulance Trusts. It seems that the Minister is trying to dismiss the campaign by suggesting it is not their responsibility. If saving lives is not a matter for the Department of Health then something is deeply wrong. Former Health Secretary Andy Burnham MP backs our campaign for Defibrillators in all schools and public buildings. The current National Defibrillator Programme does not go far enough. We want a mandatory law right across the Country. We have 6 weeks to make the Government really listen. Having 100,000 people on our e-petition will show the Government how much support we actually have. I would urge people to sign the e-petition today!"

The Oliver King Foundation campaign to get Defibrillators in schools and public buildings has already won the support of many organisations including The Liverpool Echo, Liverpool Football Club, Everton Football Club, Fulham Football Club, Liverpool NHS Primary Care Trust, Liverpool City Council and others, including Members of Parliament; Shadow Health Secretary Andy Burnham MP, Shadow Education Secretary Stephen Twigg MP, Liverpool MPs Maria Eagle, Luciana Berger & Steve Rotheram, and Labour Leader The Rt Hon Ed Miliband MP.

For more information about the Oliver King Foundation, can be found on their website.