Lancashire Commissioner to hit the streets in 2013
THE Lancashire's Police and Crime Commissioner (PCC) and his team will be hitting the County's streets this year. Clive Grunshaw will be touring Lancashire, throughout January, to get the views of residents on crime and Policing.

Mr Grunshaw said:- "I am very much looking forward to the tour. This role is about talking to people, listening to concerns and reiterating them to the Police force. The coming year will be about how the community's views can further improve Policing in Lancashire."

From 11 January to 25 January 2013, the Commissioner will host a series of roadshows; giving people the opportunity to meet with him and discuss their views.

The roadshows are in addition to the current survey, launched by Clive Grunshaw in December, asking people about their local Policing priorities and what they expect from the new role.

The Commissioner continued:- "I pledged to get out and about and this is just the start. 2013 will be the year I aim to visit and speak to as many people, organisations, groups and charities as possible. I want to create opportunities for people to talk to me openly. I will be drafting a Police and Crime Plan; outlining what areas of work Lancashire Constabulary should prioritise over the coming years. This plan will not reflect my views; it will reflect the views of the Lancashire community. I need people to get involved in these events and help shape that plan. I urge as many people as possible to come to the events. This is just the first phase of the roadshows, with more planned for later this year."

Those who attend a roadshow will have the option of completing a postcard, asking:- "The one thing I want the PCC to do is...???" and "Which location in your neighbourhood should the Police be focused on?"

The information will be added to the results of the survey, giving the Commissioner a clear view on people's priorities.

The Commissioner and his team can be spotted in each location thanks to a specially-designed van which will be driven across the County as part of the tour.

Please find below a list of the locations and times for each roadshow event:-

► On 11 January 2013, from 10.30am to 12noon, at the Nelson Town Centre and from 1pm to 2.30pm at the Asda, Colne.

► On 15 January 2013, from 10am to 12noon, at the Burnley Town Centre band stand and from 1.30pm to 3pm at the Booths supermarket, Clitheroe

► On 17 January 2013, from 10am to 12noon, at the Community Clean-up event in Kilnhouse ward, Fylde (next to Tesco Express). Please note, this is not a roadshow event, but the Commissioner will be taking part. Also from 1pm to 3pm at the Garstang Market (on the high street).

► On 19 January 2013 from 10am to 1pm at the Flag Market, Preston Town Centre.

► On 22 January 2013 from 9am to 11.30am at the Outside Blackburn Town Hall and from 11.45am to 1.15pm at the Accrington Town Centre.

► On 25 January 2013 from 10am to Noon at the Asda at Clayton Green, Chorley. Also from 1.30pm to 3pm at the Community Safety Partnership event in Skelmersdale at the Concourse Shopping Centre.

"This the 1st in a series of roadshows taking place in 2013. We are in the process of arranging further events in the coming months. " said Lancashire's PCC Press Office.

Campaigners anger at Parliament Defibrillator revelation!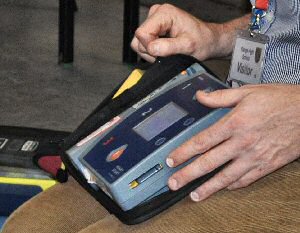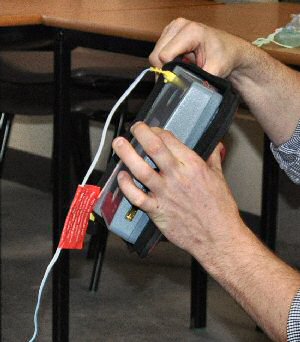 CAMPAIGNERS on 8 January 2012 were left gobsmacked after hearing London Ambulance Service announced on 18 December 2012 that the Houses of Parliament had just received 16 lifesaving Defibrillators, 3 days before Health Minister's refused to meet campaigners for the 2nd time. At the end of November 2012, campaigners including Mark King father of 12 year old Oliver King, and Foundation Patron Councillor Jake Morrison visited Number 10 Downing Street to hand-deliver a letter to the Prime Minister's office, requesting an urgent meeting following the Government's 'snub' of their e-petitions. The same letter had been sent to Health Minister Anna Soubry MP. The Prime Minister's office responded by saying:- "I hope that you will appreciate that the Department of Health is best placed to respond to the matters you raise." This response was followed by an email from Health Minister Anna Soubry's office, who said that:- "the provision of defibrillators is no longer a responsibility which falls to the Department of Health."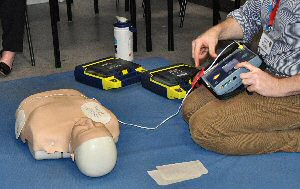 This is the 2nd Government rejection as ex-Health Minister Simons Burns MP refused to meet campaigners earlier on this year. On the same day campaigners handed a letter to Number 10, The Rt Hon Ed Miliband MP said:- "Access to a defibrillator would save lives. On behalf of the Labour Party, I am happy to support your campaign." Oliver's father Mark King said:- "We have worked flat out since January 2012 on this campaign. We have had great announcements including 122 Liverpool Primary Schools getting Defibrillators, and we've had the 2 Government minister rejections, but we have carried on. But it is a smack in the face to see that they are happy to receive 16 Defibrillators, but not discuss with us the rest of the Country. What about our Children. 12 young people die of SADS every week. This is not something that should be brushed away. It would seem that they are just dismissing us as a small campaign, but we now have a great record, all in the name of my son Oliver." Councillor Jake Morrison, Patron of The Oliver King Foundation and creator of the e-petition, said:- "I think it is actually a really good thing that the Houses of Parliament now have 16 Defibrillators. This equipment saves lives, and that is the aim of our e-petition. But what I cannot understand is that there seems to be an attitude of ''this is good enough for MPs but not for the general public.'' This is where people lose faith in politics. Those people who are following our campaign on a day-to-day basis find out that after 2 Government meeting rejections, they then receive 16 Defibrillators from the London Ambulance Service. The Houses of Parliament authorities clearly feel that the staff, Parliamentarians and visitors will benefit from on-site defibrillators. We feel that they will also benefit staff, pupils and passers-by right across the Country. We only want to get our point across that we want a mandatory Defibrillator law, but we are chasing our tails, with the Prime Ministers office telling us the Department of Health should deal with it, and they say they don't. It seems that the Minister is trying to dismiss the campaign by suggesting it is not their responsibility. If saving lives is not a matter for the Department of Health then something is deeply wrong. Former Health Secretary Andy Burnham MP backs our campaign for Defibrillators in all schools and public buildings. The current National Defibrillator Programme does not go far enough. We want a mandatory law right across the Country." For more information about the Oliver King Foundation, visit:- theoliverkingfoundation.co.uk, also we recommend that you read a related report in this issue.