Help lead the way at the at the MBNA Chester Marathon
Photographs by Chester Photographic Society.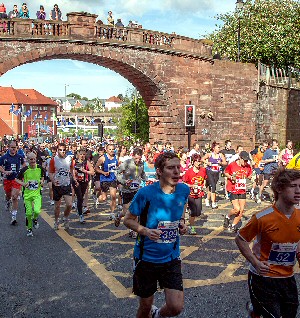 THE organisers of the MBNA Chester Marathon are looking for runners willing to pace entrants at the 26.2 mile race this October.

They are seeking advanced runners who feel comfortable to set the pace for less experienced runners at this year's event, which currently holds the title as the UK's Number One Marathon, as rated by Runner's World.*

Andy White, Joint Race Organiser at Active Leisure Events, said:- "We are looking for runners who are able to pace at finish times from 3hrs to 5hrs, and the thirty minute intervals in-between to lead the way with less experienced runners. The idea is for them to guide those who are less familiar with marathon running through the race at the required pace to achieve their target time. Having Pace Runners in the race will help other competitors enrich their experience – and hopefully maintain the MBNA Chester Marathon's title as the UK's favourite marathon."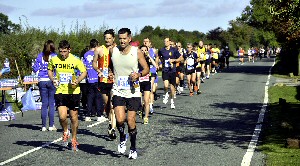 They are looking for 2 Pace Runners for each one of the time slots - 3hrs, 3hrs30, 4hrs, 4hrs30 and 5hrs. In return for helping their fellow runners, those who sign up to be a pace setter at the MBNA Chester Marathon will be kitted out by local triathlon shop, TriActive, receiving a sporting package which includes a vest or short sleeve printed TriActive pace runner t-shirt, shorts and a 25% TriActive discount voucher for their kit until 31 December 2013.

For helping less experienced runners around the course, MBNA Chester Marathon Pace Runners will also receive complimentary entry to the marathon, or a refund if they have already signed up. The pacing slots will be on a 1st come, 1st served basis.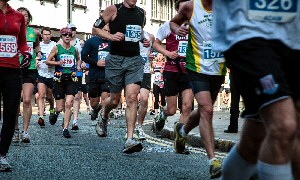 As in previous years, the event organisers have been organising monthly training runs from Total Fitness, Chester, with many of the Pace Runners attending to help under the general guidance of a coach. Andy added:- "We pride ourselves on offering support for our runners, which is part of the reason we were selected as the UK's Number One Marathon earlier this year. We want everyone to make it round the course comfortably, at their own pace, so by offering an option to run alongside an experienced Pace Runner, in addition to providing training runs and seminar sessions in the lead up to the big day, we hope that we can help each one of our entrants to achieve their own personal goals."

Information on the MBNA Chester Marathon and the Training Runs can be found at:- chestermarathon.co.uk. If you are interested in being a pacer for this year's MBNA Chester Marathon, which takes place on Sunday, 6 October 2013, please contact coach, Dave Taylor at:- davet@chestermarathon.co.uk.

* The MBNA Chester Marathon has been named the UK's Number One Marathon for 2012 by Runner's World after receiving 98% positive feedback from runners on their forum, the most popular and well used running forum in Great Britain.
R Charity 1st Annual Football Tournament
LOCAL football teams battled it out to be crowned champions of the 1st annual 'R Footy' 5-a-side tournament, to raise money for 'R Charity'. The event, hosted by Peter Lloyd's Gym saw 15 teams battle it out to be crowned 'R Footy' champions. On a dramatic day, the 'Monday Night Lads' from West Derby managed to see off the rest of the competition to claim the R Footy trophy. Chris Hutton, team captain of Monday Night Lads said:- "We've played together for about 10 years and we've played in a few tournaments together. We were just happy to play and to do our bit for a great cause like the Royal."m Hospital staff, local businesses and other supporters all took part in the event, which managed to raise around £1,000 towards the hospital's new fundraising scheme R Charity. R Charity hopes to raise 10million pounds by 2017 to provide high quality services in the recently approved new Royal with funds going towards supporting specialist areas such as cancer, renal, haematology, stroke and critical care services. As a specialist regional centre for prostate and testicular cancer, the money raised by the tournament will specifically go towards this area. Adrian Clare, supervisor at Peter Lloyd's and co-organiser of the event said:- "It was a great day for all involved, being able to improve the treatment of men's cancers in the region is a great thing to be a part of." The Trust would like to thank all teams for taking part and everybody who donated.

CANNABIS WEEK OF ACTION SCRATCH AND SNIFF WITH CRIMESTOPPERS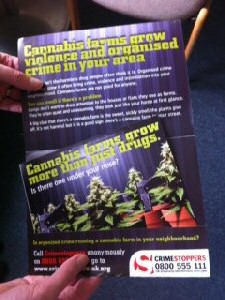 AN innovative way of encouraging the public to spot the tell-tale signs of cannabis farms hidden in their communities was launched by Crimestoppers and Merseyside Police.

Thousands of 'scratch and sniff' cards have been posted through people's doors to mark the start of a week of enforcement action and publiCity by the Police and the independent charity.

The campaign aims to tackle the growing problem of cannabis cultivation in Merseyside and the UK by encouraging people to report suspicious smells and other tell-tale signs to the Police or Crimestoppers.

The number of cannabis farms being discovered by the Police has increased by 15% nationally and between 2010 and 2012, 900 were uncovered on Merseyside; is the 6th highest in the country.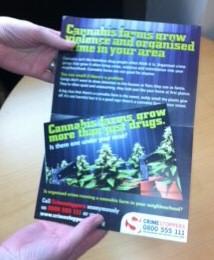 Merseyside Police believes cannabis cultivation is directly linked to organised crime, with disputes between drugs gangs over the crops leading to violence and sometimes even firearms discharges.

Crimestoppers has organised for the 'scratch and sniff' cards to be delivered to homeowners in hotspot areas where the force has uncovered the largest number of cannabis farms recently.

The cards contain an element that replicates the smell of cannabis when the plant is in its growing state. which is a different smell to when it is being smoked.

Neighbourhood officers will be reinforcing the message with a 'pop-up cannabis farm' that shows passers-by what a cannabis factory can look like and gives them a chance to look inside at the kind of equipment commonly used by criminals.
Officers will be on hand to talk to people in more detail about their concerns about drugs in their area and also help them find out more about the harmful side effects of cannabis.

Superintendent Paul White, a senior officer in the force's anti-gun and gang crime Matrix unit, said the public had an important role to play in helping the Police tackle a serious problem.

He said:- "Cannabis is not the harmless drug people think it is. It's the most widely used illegal drug in the UK and it is big business for criminal gangs. Those same gangs are also involved in violence, intimidation and gun crime, which blight the lives of decent, law-abiding people. We are increasingly finding higher numbers of smaller scale cannabis farms set up in houses and flats rather than industrial units. This means that drugs are being grown right amongst us and collectively, the public and the Police need to stand shoulder to shoulder and root these drugs gangs out. The scratch and sniff cards and the 3D pop-up shop are great ways at telling the public what to look out for when they are out and about where they live. A distinct smell, sealed up windows, tampered with electrical wiring, delivery of gardening equipment, visitors at all times of the day and night; these may not seem significant individually but together, this may be a clear sign that a drugs gang is operating on your doorstep. My message to people who have this kind of information is: have the confidence to tell this to Crimestoppers. They are an independent charity, completely separate from the Police, who you can pass information to completely anonymously. They in turn will tell us so that we can take the necessary action against these gangs who are damaging people's lives and our communities."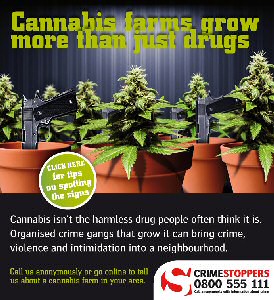 Signs to look out for:-

► Strong and sickly sweet smell.

► Large amounts of cannabis growing equipment.

► Constantly covered or blocked off windows.

► Visitors or deliveries at unsociable hours.

► Strong and constant internal lighting day and night.

► High levels of heat and condensation.

► Constant buzz of ventilation.

► Lots of cables and unusual wiring.