Leasowe Lighthouse brings hope for people around the World!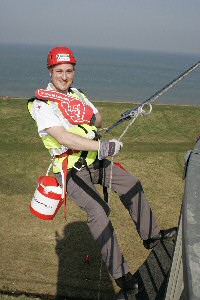 THE British Red Cross are seeking local dare devils to take part in a charity 101ft abseil down Leasowe Lighthouse, in Moreton Wirral, Merseyside. Taking part in The Big Red Drop will give you the opportunity to see amazing views across the Wirral Estuary on Sunday, 28 April 2013, along with making a difference for the World's largest humanitarian organisation.

Senior Community Fundraiser Alexis Fairclough said:- "Come and join us for The Big Red Drop! An incredible abseil down Leasowe Lighthouse. Built in 1763, the lighthouse is believed to be the oldest brick lighthouse in Europe. Leasowe Lighthouse stands in the centre of the North Wirral Coastal Park. It is adjacent to many sites of special scientific and biological interest, making it a natural centre for learning. Ran by volunteers from Friends of Leasowe Lighthouse, you'll be sure of a warm welcome and their volunteers will be there on the day to answer all your questions about this stunning 250 year old landmark, and it's history."

This year marks the 250th anniversary of Leasowe Lighthouse, after climbing 130 steps up 6 floors you'll reach the dizzy height of 101 foot right to the top of the lighthouse. You're next step is take the rope in your hands and abseil down the outside of the lighthouse to land at the base and be greeted by friends, family and of course Red Cross volunteers.

All abseillers will receive a comprehensive fundraising pack, expert fundraising support from your local fundraiser, a post-event certificate and refreshments plus the opportunity to purchase professional photographs of yourself 'going over the edge' The Red Cross is asking people taking part to aim to raise £101, that's just £1 for each foot you'll scale down and pay £10 to register at:- redcross.org.uk/bigreddrop. Participants must be 17yrs or over to take part.

Alexis continued:- "We've held this event last year and raised over £7500 for vulnerable people both here in Merseyside and around the World. The Big Red Drop is a fantastic way to raise money for the Red Cross whilst overcoming your fears. Bring the family, and a picnic and have a day out in the coastal park, walks and views in this area are amazing, visit and see for yourself! On a good day you can even see Blackpool Tower from the top of the lighthouse! By taking part, you'll be amazed at what you've achieved! The money raised from the Big Red Drop will go to Red Cross Week."

Red Cross Week will run over 5 May to 11 May 2013, will be a fundraising and awareness-raising week, to raise funds to support British Red Cross projects, both at home and abroad. All projects bring help to people in crisis; such as those in Wirral and across Merseyside whose lives are disrupted by fire or flooding, people who have no-one to look after them when discharged from hospital, or those affected by disasters.

The Red Cross works in local communities all over the world, responding to crises at a moment's notice and helping people carry on with their daily lives long after a crisis. By taking part in The Big Red Drop and raising money enables the Red Cross bring much needed relief to people in crisis, whoever and wherever they are.

Last year we helped the victims of the Hurricane Sandy, the Syrian conflict and the East Africa food crisis, as well as people in the UK who were stranded in the snow, recovering from a hospital stay or searching for lost loved ones. We trained thousands to save lives through 1st aid and educated young people about humanitarian issues.

The Fire and Emergency Support Service (FESS) of the British Red Cross provide shelter, clothing and assistance to those suffering the effects of domestic fires and similar incidences throughout Wirral and Merseyside. Our team of Red Cross volunteers also work in partnership with the UK Emergency services, providing a wealth of support in a variety of emergency situations.

Alexis ended:- "Looking to the year ahead there are millions of men, women and children who will need our help. I'd like to thank the people of Wirral and Merseyside for remembering the people who depend on the Red Cross' life-saving aid in times of crisis, tragedy and despair, and to everyone for taking part in The Big Red Drop! At Leasowe Lighthouse"

To register please go to:- redcross.org.uk/bigreddrop or call Alexis on:- 0151 702 5061.

Wonderful, Wonderful Copenhagen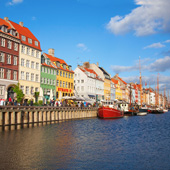 WITH Spring just around the corner, travellers thinking of a short break to somewhere different will soon be able to jet off direct from Liverpool John Lennon Airport (LJLA) to one of Europe's most 'Wonderful' Capital Cities for the 1st time.

Commencing on Friday, 5 April 2013, JLA's newest operator, Norwegian will start their three times weekly service to Copenhagen direct from Liverpool. With a flight time of just 2 hours, passengers can be in the Danish capital from Liverpool in less than the time it takes to reach London by train.

Copenhagen is renowned for its mix of historical and modern architecture, some of the best art museums and for being a multicultural centre with an international atmosphere.

As one of Europe's oldest capital cities it has something for everyone; fairytale-like castles, cobblestone narrow streets, old timbered houses, canals and modern architecture and design. The City has attractions and sights to suit every taste and interest and most within walking distance.

Famous visitor attractions include The Tivoli Gardens; the world's 2nd oldest amusement park, filled with wild rides, green oases, gourmet food, rock concerts; and much more. It is located just a few minutes' walk from City Hall and is very easy to get to. A large expansion of the site with three new rides opens in Spring 2013.

No trip to Copenhagen would be complete without a visit to the world famous statue of The Little Mermaid, located at Langelinje Pier, welcoming visitors to Copenhagen harbour. The story of the Little Mermaid is from Danish writer Hans Christian Andersen's fairytale and this year the statue celebrates its 100th birthday having been donated to the City in 1913.

With flights at convenient times on Fridays, Mondays and Wednesdays, passengers have the added convenience of being able to visit Copenhagen for either a weekend or midweek break.

Robin Tudor, Head of PR for Liverpool John Lennon Airport added:- "Norwegian's new service to Copenhagen is a great addition to the list of European capital cities for the region's travelers to go and visit. The City has so much to offer and with the added convenience of flying from their local airport we expect Copenhagen to be a popular destination from here."

Birgitte Arendsdorf Olsen from Wonderful Copenhagen, The Official Convention, Event and Tourism Organisation for the Capital Region of Denmark, added:- "A new direct route from Liverpool to Copenhagen increases the accessibility from the UK, which is one of our largest international markets in Copenhagen. This gives us a great opportunity to attract tourists and business travelers from the Liverpool area and showcase Copenhagen as a green and culinary capital with inhabitants that have been nominated the happiest people in the world."
Tuneful trio of schools raises money for the Royal
3 schools from South Liverpool are hoping to raise £3,000 for the Royal Liverpool University Hospital by hitting the high notes. Plantation Primary School, Yew Tree Community Primary School and Halewood Centre for Learning are joining together to put on a 'Songs from Disney' concert in order to raise money for the Royal's 'R' Charity. The schools, all of which are based in Halewood, are particularly keen to see the money raised go towards the Teenage and Young Adults Unit at the new Royal which will provide a home from home for young people who need treating at the hospital. The concert is the brainchild of Sharon Davidson, PSHE co-ordinator at Plantation Primary School. Sharon said:- "Last year we organised a charities week to raise money for the Linda McCartney Centre and it was such a success with staff and pupils that we decided to do it again this year. We then thought it would be great if we could team up with other schools to maximise the amount of money raised, so we got in touch with Yew Tree and the Halewood Centre and it all took off from there. We now have 100 children involved in the concert and all three schools holding separate charities weeks to raise money for the Royal later this month. We decided to raise money for the Teenage and Young Adults Unit at the new Royal this year as we wanted a fundraising goal that the children could aim for. Ever since we raised money for the Linda McCartney Centre, we have also been part of the Schools Project and therefore in close contact with the fundraising team at the hospital, so we know what a worthwhile cause the unit is and the huge difference it will make to teenagers and young adults who need to stay at the Royal." The Teenage and Young Adults Unit at the new Royal will not only have individual bedrooms but also a games, computer and study room so that younger patients have a relaxed environment to stay in while they are being treated. The new Royal appeal is currently raising funds for a range of facilities for the unit which include televisions, a PC and printer, a pool table, games consoles and a music system. Songs from Disney takes place on Wednesday, 20 March 2013, at 6:30pm at the Halewood Centre for Learning. Admission is £1 for adults and 50p for children. For more info about R Charity you can visit:- rlbuht.nhs.uk/fundraising or call:- 0151 706 3153.