Music champion to curate new festival!
YAW Owusu has joined the Liverpool International Music Festival team, taking on the role of Music Curator for the overall programme. The ambitious 29 year old is renowned for banging the drum about new music talent in the City, and is the Executive Director of youth culture organisation 'URBEATZ', record label manager of 'Nothin But The Music' and is the Director of creative solutions company 'The Playmaker Group'.

In his new role he will be tasked with shining a spotlight on new, up and coming talent and pulling an inspirational programme together of diverse talent who will perform on the outdoor stages and in indoor venues across the City.

At the same time, Yaw will make sure there is a celebration of the City's musical heritage with acts who recreate the sound of the Beatles and those inspired by the Merseybeat era.

Yaw said:- "As someone who lives in and loves Liverpool, I am very excited to be named Music Curator of the 1st annual Liverpool International Music Festival. The festival will focus on great music, artists and performance and being able to bring my expertise and energy to this project is an honour. We will celebrate both past and present excellence as well as established and emerging artists and music forms. This is a special music and culture festival vision and programme inspired by a very special musical City which I foresee being enjoyed by a wider range of people than ever before."

Yaw, who lives in Orrell Park, has worked with international brands including Sony, Universal, Nike and Radio 1Xtra, as well as artists such as Dizzee Rascal, Damian Marley and Wiley.

He has also worked with the team behind the MOBO's, Liverpool Sound City, Africa Oye, the 02 Academy Liverpool, FACT and Brouhaha Festival.

Liverpool City Council's cabinet member for culture and tourism, Councillor Wendy Simon, said:- "We are delighted that Yaw has joined the team and is a really credible name to programme this event. When we advertised the role, we were looking for someone with an in-depth knowledge of the Liverpool music scene, experience of working on other large-scale projects and a passion for the City; and we have found all this and so much more in Yaw. He will be working with the godfathers of Liverpool's music scene; Bill Heckle and Dave Jones and together we're confident the Liverpool International Music Festival will be a true celebration on music past, present and future."

The Liverpool International Music Festival will take place in August. Celebrations will kick off when music legends Neil Young and Crazy Horse perform at the Echo Arena. During the Bank Holiday weekend, over Friday, 23 May 2013, to Monday, 26 May 2013, there will be 3 outdoor stages; 2 at the Pier Head and 1 at Sefton Park which will see the internationally acclaimed Royal Liverpool Philharmonic Orchestra and chief conductor Vasily Petrenko take to the park stage.

More events with private sector partners will take place throughout August, and following collaboration with local, national and international partners the programme is set to be announced in May 2013. One of the key aspects of the new festival is to give producers in the City the chance to get involved with the event, along with other music organisations who can all work together to put on a diverse programme.
For the latest news about Culture Liverpool, like Culture Liverpool on Facebook or follow Culturelpool on Twitter.

Liverpool jumps for glee as local children's charity gets the spotlight during this year's Comic Relief
MERSEYSIDE based charity and Comic Relief funded project, Stick 'n' Step, last week enjoyed media attention linked in with Comic Relief.

Stick 'n' Step appeared on both BBC North West Tonight and Tony Snell's breakfast show on BBC Radio Merseyside this Red Nose Day, 15 March 2013. Both pieces focused on what Stick 'n' Step does and how the money received from Comic Relief helps.

This focus on Stick 'n' Step came after it was chosen as one of only 2 UK children's charities to feature on this year's live semi-final of Comic Relief does Glee Club which aired on 14 March 2013, on BB1 and CBBC. After successfully winning a 2 year Comic Relief grant fund in 2012 (£15,000 per year), the charity was delighted to hear that it had been shortlisted to be featured as part of this year's Red Nose Day television campaign.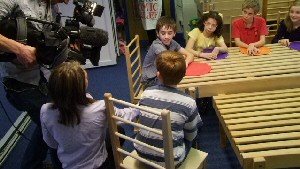 To celebrate its national recognition, Stick 'n' Step held a Comic Relief themed bake-off with its children throughout the week beginning 11 March 2013. The charity welcomed loyal supporter, Rose Rochford of Wallasey who frequently runs fundraising bake sales, to judge the winner of the bake off. It also invited supporters and family members along on Thursday March 14 to sit together and watch its appearance on Comic Relief Does Glee Club.

Public response to the media coverage has been overwhelming, with the charity receiving immediate response from those who saw and heard Stick 'n' Step in the news last week. Instant donations were made to the charity online and words of support were written in the local press, over the phone and through both Facebook and Twitter. One couple even went out of their way to find the centre and walked in off the street with a donation of £100 after hearing about Stick 'n' Step on BBC Radio Merseyside.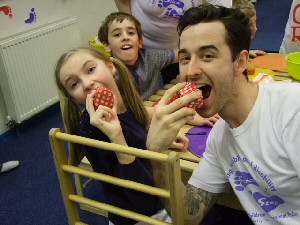 Rob Palmer, Sky Sports TV presenter and a key supporter of the charity, commented:- "This has been such a great opportunity for Stick 'n' Step and for all of the UK to see what fantastic work goes on here. I am so proud and honoured to be part of this exceptional charity, and this recognition is testament to the achievements of everyone involved."

Stick 'n' Step has to fundraise £300,000 a year in order to continue to provide free specialist conductive education and support services to children with cerebral palsy and their families and carers across the North West of England and North Wales. For further information about Stick 'n' Step and how you can help, please visit:- sticknstep.org or alternatively contact Sarah Smithson, Operations Manager on:- 0151 638 0888.