Train named in honour of Harold Wilson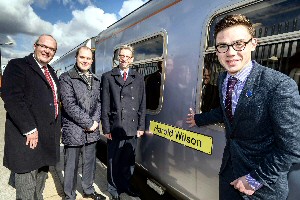 HAROLD Wilson, one of the greatest parliamentarians of our time, has been honoured by Merseytravel and Merseyrail with a train named in his memory.

The event took place at Rock Ferry station, in recognition of Harold Wilson spending a significant part of his early life in Wirral. In the early 1930s he attended Wirral Grammar School for Boys, becoming the schools' 1st Head Boy and in later years met his future wife Mary, then a secretary at Lever Brothers, when he visited Port Sunlight Tennis Club.

After graduating from Oxford, Harold Wilson joined the Labour Party and returned to the north in 1945 when he was elected as MP for Ormskirk, within 2 years becoming the youngest cabinet minister of the 20th century at the age of 31. In 1950 he moved to the new constituency of Huyton, an area he was to serve as MP for the next 33 years, encompassing his time as leader of the Labour Party.

Speaking at the train naming ceremony, Councillor Liam Robinson, Chair of Merseytravel said:- "Throughout his early years as party leader Harold Wilson revelled in his Liverpool connection, which in the age of Beatlemania was a sure fire popular vote winner and it was Wilson who nominated the Fab Four for their MBE's."

Robin Wilson, eldest son of Harold and Mary Wilson, sent his best wishes saying:- "Our family is delighted that one of the Merseyrail fleet of trains is being named after my father. In particular, my mother, now aged 97, sends her best wishes for the occasion. We're very sorry not to be able to join you all today for this exciting event, and hope that it is a resounding success."

Mike Roe, engineering director at Merseyrail, commented:- "Merseytravel's train naming initiative began in 2008 to celebrate the Capital of Culture year. It proved so popular that Merseytravel and Merseyrail have since extended the programme to include people of distinction, such as politicians and sporting heroes, as well as local figures who have contributed to public transport."

Other units named as follows:- 1.Capital of Culture 2. Red Rum 3. Bob Paisley 4. Dixie Dean 5. John Peel 6. Cllr George Howard 7. Cllr Jack Spriggs 8. Operations Inspector Stuart Mason.
'EGGS'CELLENT FUN GUARANTEED AT GRANGE & PYRAMIDS EASTER FUN DAY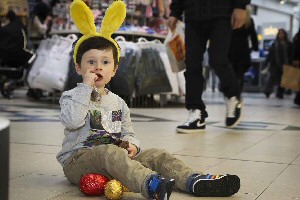 'EGGS'CELLENT fun is guaranteed at a day's worth of free Easter activities with a chance to win prizes at a busy Birkenhead shopping centre. The Easter bunny will be in residence at The Grange and Pyramids Shopping Centre on Wednesday March 27 from 11 am to 3 pm where he will be meeting shoppers and handing out chocolate eggs. There will also be a 'bunny up' station where children will be transformed into the Easter rabbit's whiskered friends with ears and a painted nose. Once transformed, families will be able to take part together in a hunt for Easter eggs by following the clues which will lead them to different stores at the shopping centre. Those taking part will be in with a chance of winning a £100 cash prize or one of a host of other goodies donated by retailers including a portrait session from Max Speilmann worth £50, an Easter bunny from The Card Factory and Easter eggs from Thorntons and WH Smith. Derek Millar, Commercial Director for The Grange and Pyramids Shopping Centre, said:- "As the main shopping centre on the Wirral, we like to make sure we have something going on during the school breaks to entertain the families visiting us. It is all completely free so I would encourage mums and dad to come and make the most of what we have on offer and turn a shopping day with us into a lot of fun. Parking at the centre is only £2 for the whole day and we have a great food court so it really is an opportunity to make the most of a day out over the Easter holidays and not even be too far from home."

Big growth in rail travel for some of Britain's biggest cities despite recession
14 cities, 6 of them among the most populated in Britain, recorded double-digit growth in rail journeys over the last 5 years despite a double dip recession. Figures released by the Association of Train Operating Companies (ATOC) show that 10 of the 14 cities that have seen the highest growth between 2008 and 2012 are outside the south-east.

Reasons for the changes in journey numbers over the 5 years varied between cities:-
► Coventry has seen the biggest overall growth of any City with journeys up 30% in 5 years. Business journeys have jumped 48%

► Commuter journeys into and out of Birmingham have more than doubled in 5 years (103%).

► Milton Keynes registered a 28% rise in the number of leisure trips along with a 37% increase in business journeys to and from the City.

► Plymouth saw commuter journeys increase 38% over the period.

► Ipswich saw a 29% rise in leisure trips.

Between 2008 and 2012, the Government required train companies to increase the average cost of a season ticket by above the rate of inflation every year. Yet as operators have attracted people to travel by train by offering Off-Peak tickets, good value Advance fares and Railcard savings, the average price paid per journey has actually fallen from £5.19 to £ 4.95 in real terms.

According to ATOC's latest figures, over 1.44 billion journeys were made by train last year. After years of declining use, rail travel has grown almost every year since the 1990s, making it more popular now than at any time since the 1920s.

Michael Roberts, Chief Executive of ATOC said:- "When Britain has recorded little or no economic growth, rail has been helping our great cities by connecting people with jobs, services and leisure opportunities.

The last time train travel was this popular was almost 90 years ago when the rail network was around twice the size. Significant investment and an industry focused on attracting more passengers have turned around decades of decline to deliver better stations, more trains and faster services."
Survey reveals gulf in bus passenger satisfaction
PASSENGERS waiting for their bus in some parts of England may be asking themselves why their buses aren't as good as those in Nottingham, Oxfordshire or Devon.

This has been revealed by the latest Bus Passenger Survey (BPS), published by independent watchdog Passenger Focus, which shows that passenger satisfaction with bus services varies widely among different bus operators and local authority areas.

Bus passengers in Nottingham were the most satisfied overall with 92%, while passengers in Milton Keynes were the least satisfied with 73%. Overall satisfaction averaged 84% with a gulf of 19 percentage points between the highest and lowest area scores. Satisfaction with value for money ranged from 30% to 70% across the areas surveyed (averaging 54%).

Anthony Smith, Passenger Focus chief executive, said:- "Each year some 2.3 billion bus journeys are made in England outside of London, meaning that passengers are not satisfied with around 375 million journeys. We hope this report will be a call to action for transport authorities and bus companies to better work together to improve things for passengers. In particular they should closely examine how the high level of passenger satisfaction in places like Nottingham, Oxfordshire and Devon has been achieved, and then look to replicate it."

The BPS surveyed 22,000 bus passengers across 20 areas of England and looked at many factors of passengers' journeys such as punctuality, frequency, helpfulness and attitude of the driver and value for money.

Key findings include:-
► Satisfaction with punctuality ranged from 57% to 83% (averaging 70%.

► The proportion of passengers who said they experienced behaviour that caused them to worry or make them feel uncomfortable during their journey ranged from 4% to 17% (averaging 10%).

► The factors driving passenger satisfaction are broad, but often relate to the bus driver, in particular 'smoothness/freedom from jolting'. The most prevalent drivers of dissatisfaction are 'on-bus journey time', 'safety of the driving', 'smoothness/ freedom from jolting', and 'length of time waited.'