Good Friday Passion
Re-enactment 2013
Photographs by Patrick Trollope.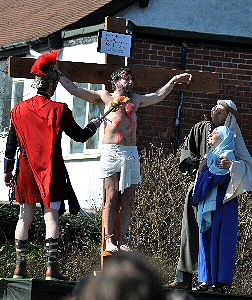 YET again the Churches Together of Formby, Altcar and Hightown, produced a splendid re-enactment of Christ's Passion on Good Friday, 29 March 2013. It gave the many hundreds of folk, who turned up to the Formby Pool Field to witness it, much food for thought. It was very evident that much devotion and energy had gone into the production and fortunately the weather although cold was bright and encouraging, so the congregation were able to appreciate their efforts.

Before the enactment there was a Walk of Witness which began by the Formby War memorial and proceeded to go down Chapel Street to the baths. There followed a short service with the introduction, opening prayer by Paul Nchoroge, the Chairman of Churches Together. Later the Reflection and Prayers were led by Canon John Roberts.

This event has become a firm tradition for Easter in Formby and we hope it will long continue. We hope these photos will help those not present to capture some of the spirit of the day.

Holy Trinity Workshop, the Formby Pool Cafe and several local shops were open for refreshments afterwards. Members of the following churches took part in the event: Formby Christian Fellowship, Formby Methodist Church, Formby United Reform Church, Holy Trinity Church of England (CofE), Redgate CofE, St Ann's Roman Catholic (RC), St Jerome's RC, St Luke's CofE, St Michael's CofE, Our Lady of Compassion Church RC, St Peter's CofE, and St Stephen's CofE.

To see are full photograpic coverage of the re-enactment, please click on here now!
If you attended, please do let us know what you thought of the event by emailing us to:- news24@southportreporter.com.

KEEP up-2-date
with our free daily news emails.

Are you subscribed? Si

g

n

u

p

today

to

our daily email news service via... Formb

y

-

Re

p

orter

.com

.

If you subscribed you can keep in up-to-date with what's going on in and around Merseyside. It is free and we do not send out massive amounts of emails. Also your email is kept under the UK's Data Protection Act, so you can be sure that you will not have problems.