BELOVED CLARA BRINGS CLASSICAL MUSIC HISTORY TO LIFE AT THE ATKINSON THIS JUNE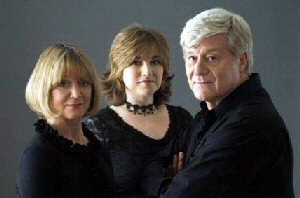 THE intense and complex relationship between Robert Schumann, his wife Clara Schumann and Johannes Brahms; three of the nineteenth century's most prolific musicians, has fascinated generations of music lovers and on 16 June Beloved Clara, an entrancing programme of beautiful music and readings arrives at The Atkinson, Southport. Beloved Clara stars award winning pianist Lucy Parham and two acclaimed actors - Joanna David who has played roles in many TV costume dramas and will appear in the next series of Downton Abbey and Martin Jarvis, a veteran of BBC TV and radio who has also appeared in many Hollywood films.

Delicately bringing their captivating story to life, this showcase memorialises the sometimes turbulent marriage of Robert and Clara, the arrival of 21 year old Johannes Brahms into their household, Robert's decline into mental illness and the deepening relationship between Clara and Brahms.

Born Clara Wieck, Clara Schumann was an extraordinary woman, the first female concert pianist and heralded as 'the next Mozart'. She was also an extraordinarily talented composer and muse to two giants of the Romantic school. In Beloved Clara, her much revered story is told through both music and readings, with each piece of music reflecting the moods of the readings.

The event presents music by Clara and Robert Schumann and Johannes Brahms performed by award winning pianist, Lucy Parham, interspersed with extracts from their own letters and diaries, read by celebrated actors Joanna David and Martin Jarvis. Originally compiled by Lucy Parham and Jessica Duchen, Beloved Clara has since been updated by Lucy and is constantly evolving through contributions from the actors involved.

Beloved Clara has been performed by a number of well known actors all over the UK and Europe since its premiere at the Wigmore Hall Masters Series in 2002, Its US debut took place in Los Angeles in 2008 and was broadcast on national public radio. After returning to Wigmore Hall in 2010, Beloved Clara received a five star review from the Independent.

"Lovely entertainment, flawlessly performed." 5* The Independent
Performance details:-
Beloved Clara
Sunday 16 June
Start: 7.30pm
Tickets: £20 (£15 schools)

HOW TO BOOK
Call on 01704 533 333* or go online
You can also book via the box office at the:-
The Atkinson, Lord Street, Southport, PR8 1DB
*Subject to booking fee.

Southport Sailing Club Open Day 2013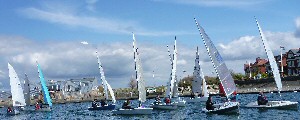 ON Saturday, 4 May 2013, the club opens its doors, from 10am to 4pm, and welcomes anyone who would like to find out more about sailing and racing at Southport Sailing Club. Weather permitting there will be the chance for all visitors to get out on the water with our crews to experience the fun of sailing. Last year we made over 100 runs with our visitors, many of whom decided to join us on the spot.

The club supports all types of sailing activities including: racing, recreational sailing, family social sailing, youth sailing and training. Southport Sailing Club is able to provide RYA approved courses for all ages in both sailing and power boating. The open day is a great opportunity for you to come along and have a taste of sailing in one of our training boats helmed by one of our experienced sailors. If you have been inspired by the Olympics or just fancy trying a new hobby then come along and speak to our members who will be delighted to answer your questions. We have regular sailors from 7 to 70+, sailing is a sport that individuals, couples, or all the family can take part in.

It's a good idea to bring a spare set of clothes and soft soled shoes on the day, something to change into if you get wet, we will provide the windproof clothing and buoyancy aids. As well as getting the chance to get afloat, you will be able to see a display of the different boats typically sailed at Southport SC, used for introducing the complete novice to sailing, through to boats raced and sailed for pleasure on the club's waters. Hot food will be available all day in our Club House where you can relax and talk to other club members and get an insight into the activities of this flourishing sailing club.

No booking is needed. Just turn up on the day between10am to 4pm. For further details please go to the club's website.
Range High School Duke of Edinburgh go for Bronze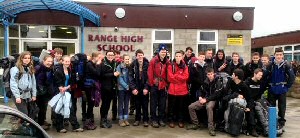 FORMBY'S Range High School Duke of Edinburgh students have set off on their final expedition of their Bronze Award to the Trough of Bowland recently. Accompanied by Mrs Wilson, former Range High Duke of Edinburgh Co-ordinator, 28 students took to the hills after set backs last year, due to extreme weather conditions. Mrs McCarthy, who recently took over the role of D of E Co-ordinator, insists that weather conditions will not prevent future Range students from opportunities to achieve; but adds:- "the safety of our students must always come first."
<![if !vml]>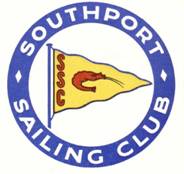 <![endif]>

<![if !vml]>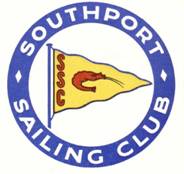 <![endif]>