Funeral for Hillsborough justice campaigner Anne Williams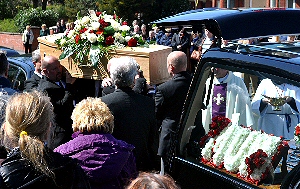 THE funeral for Hillsborough justice campaigner, Anne Williams, took place in Formby, Merseyside, on 29 April 2013. Hundreds of people, many wearing Liverpool and Everton scarves, gathered outside the village church, 'Our Lady of Compassion Church' to bid farewell to her. During the service many stayed outside and listened to the service that was relayed via a PA to those outside.

Anne Williams was born on 6 February 1951 and died on 18 April 2013. For much of her life she had tirelessly fought to clear the names of those who had died at Hillsborough, including her 15 year old son, Kevin Daniel Williams. After losing her battle with bowel cancer at the age of 62, she will now go down in history as an inspiration to those who have to fight injustice.
The service started with the opening hymn, Abide with Me followed by an opening prayer given by Fr Higham. Then a Poem was read out by Stevie Hart, with an address given by both Danny Gordon and Fr Higham. During this point a loud round of applause, in honour of her 24 years of campaigning, by those inside the church could be heard clearly outside. Then the service had another hymn, 'The Lord's My Shepherd', followed by a blessing. The service ended with the hymn, 'May The Choirs of Angels' and a final Prayer. As the coffin departed, the song 'Time to say Goodbye' by Sarah Brightman and Andrea Bocelli was heard.

At the end of the service, as the cortege made its way to Southport, from the Church, a spontaneous round of applause broke out as the coffin passed by. It was a fantastic tribute to a lady who held her ground and won a major victory for justice. To see our full photographic and video coverage, please click on here now.

KEEP up-2-date
with our free daily news emails.

Are you subscribed? Si

g

n

u

p

today

to

our daily email news service via... Formb

y

-

Re

p

orter

.com

.

If you subscribed you can keep in up-to-date with what's going on in and around Merseyside. It is free and we do not send out massive amounts of emails. Also your email is kept under the UK's Data Protection Act, so you can be sure that you will not have problems.
...HAPPY BIRTHDAY...

Jane Willis - Happy Birthday from all the Scare Kingdom Scream Park crew!

Amy Hewitt - Happy Birthday from all of us at Southport Reporter

If you have someone you want to say happy birthday to, for free, then use the email address below to send us the names you want us say happy birthday to, and/or a photograph. Email us today!
| | | |
| --- | --- | --- |
| | Click on to read on! | Click on to read on! |