Bogus Air Ambulance service shut down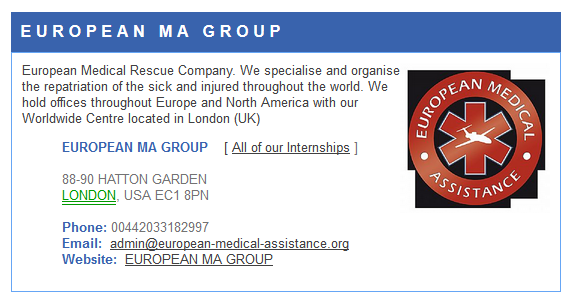 EUROPEAN Medical Assistance (EMA), a company which passed itself off as a worldwide emergency medical assistance provider but had no ability to provide these services, has been wound up in the public interest by the High Court in London, following an investigation by The Insolvency Service.

On its now-defunct website european-medical-assistance.org, the company, which traded as EMA but was registered as Belvinfranks Ltd, claimed it provided 24-hour medical assistance and repatriation services, including by air ambulance, through its English-speaking contact centres based in eight European countries.

The company attracted new business by waiving the requirement for clients to have a medical examination before joining and by providing testimonials from satisfied customers. However it failed to provide documents in support of a single one of these claims or indeed to show that it had carried out any rescue work.

The company also offered internships, mainly to American students, advertising those internships on at least 3 websites:- studentjob.co.uk, internweb.com and 10internship.in. The company took upfront deposits typically around £400 from prospective interns, insisting on payment by Paypal rather than credit card, after which it ceased to communicate with the deposit payer, ignoring calls, emails and requests for refunds. The company has failed to account for those deposit proceeds.

The sole appointed director of the company since incorporation has been a Mark Kerbey and both the company, failed to co-operate with the investigation and failed to produce any documents and information in support of the company's claimed trading activities. Belvinsfranks Limited was incorporated on, 22 August 2011. Its registered office is that of a mail forwarding agent at No. 36, 88 to 90 Hatton Garden, London, EC1N 8PN. The petition to wind up the company was presented in the High Court on 24 April 2013 under the provisions of section 124A of the Insolvency Act 1986 following confidential enquiries by Company Investigations under section 447 of the Companies Act 1985, as amended. 3. Company Investigations, part of the Insolvency Service, carries out confidential enquiries on behalf of the Secretary of State for Business, Innovation & Skills ("BIS").

Commenting on the case, David Hill, an Investigation Supervisor with The Insolvency Service said:- "This company claimed it would help people in their direst need, when they required urgent medical attention. In fact it intended to do nothing of the sort but took people's money in exchange for a sense of reassurance that was utterly unfounded. Furthermore, the company cynically took advantage of young people who were keen to gain experience of helping others. In winding up this company, the Court is sending a strong message that there is no place in the business arena for organisations like this. The Insolvency Service will investigate abuses and close down companies if they are found to be acting against the public interest."
Job Advert:- "Kabab Chef wanted in North Wales"
We are looking for a person who is experienced making Kebabs (Chef). The applicant must have a full driver licence and willing to work 8hr per day, 5 days a week, on a rotation, with weekend shifts being up to 10hrs. Up-to-date food hygiene will be paid by the shop, if accepted, but prefer candidates should have an up to date certificate.
THEFT OF GENERATORS FROM BUSINESS IN KIRKBY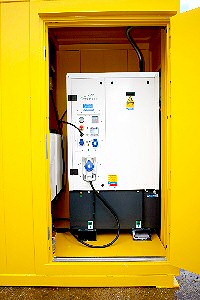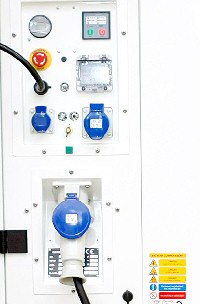 MERSEYSIDE Police are appealing for information after 24 generators were stolen from a business in Knowsley.
The offenders forced a disused gate at the back of the premises in Gores Road on Kirkby industrial estate. They used a forklift truck on the site to remove the generators from portacabins that had been prepared for lease to contractors. Its thought a haulage vehicle may have been used to carry the generators away. No other parts of the site were targeted by the suspects. The generators have been described as Harrington 9 KVA upright generators and are valued at around £6,500 each.
Detective Constable Diane Robson, who is leading the investigation, said:- "These generators are extremely valuable and the theft represents a substantial loss for the company. Anyone who might know anything or who might have seen anything suspicious on the night, is asked to call:- 0151 777 6573 or Crime Stoppers anonymously on:- 0800 555 111."

MOTORISTS URGED TO LOCK THEIR CARS AND REMOVE VALUABLES AFTER THEFTS IN SEFTON
POLICE in South Sefton are reminding motorists not to leave valuables in their cars when parking up. 2 residents in Barberry Crescent, Bootle had a laptop and a purse stolen when their cars - a Peugeot and Mitsubishi - were broken into last Tuesday night. The following night in nearby Park Lane in Netherton, 3 cars were broken into while the owners were in a local gym. A Samsung Notebook was stolen from a Ford Focus, and a HTC phone and Tom Tom sat nav were stolen from a Ford Fiesta. Nothing was stolen from the third car - a Renault Megane. Litherland and Netherton neighbourhood inspector Jim Atherton said:- "Several of the victims had left valuables in their vehicles and one may not have locked their car overnight. These will be have been annoying and frustrating crimes to happen to the owners and car crime remains a prioroty for police in Sefton. In the case of Barberry Crescent, officers patrolling the streets in the early hours have come across these cars having been broken into and alerted the owners. Sadly high value items like expensive lap tops and purses containing alot of cash had been left either on display or in the boot and the offenders have simply smashed a window to get to them. This same method has been used the following night at a gym car park in Netherton and again, people's hard-earned belongings stolen. Each of these crimes is being actively investigated however the chances of them happening could have been minimised if people had taken their belongings with them. Thieves are opportunists and will look for signs that a vehicle contains items that are worth stealing. But people can frustrate them by taking a few very quick and simple steps whenever leave their vehicle for any period of time. Firstly, always lock your car fully and leave it somewhere which is well-lit and, if possible, covered by CCTV cameras. If you have a security alarm, make sure you use it. Secondly, take every item of value with you when you park up - sat navs leave tell-tale suction marks on your windscreen, car adaptors can indicate something valuable in your boot, and cash. And thirdly, register your valuables with the free website Immobilise.com so that if we catch the thief who stole them, we can reunite you with your belongings."
Cancer Research UK announced as lead charity for MBNA Chester Marathon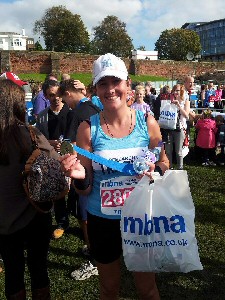 CANCER Research UK has been named as the lead charity for the MBNA Chester Marathon for the 2nd year running and the national charity is looking for runners to support their life-saving research by taking part in the event.

Cancer Research UK pioneers lifesaving research to bring forward the day when all cancers are cured, and is the world's leading cancer charity dedicated to saving lives through research. Their groundbreaking work into the prevention, diagnosis and treatment of cancer has seen survival rates double in the last 40 years.

The charity is looking for runners to help them collectively raise over £25,000 through the MBNA Chester Marathon.

Gary Bansor, from the Cancer Research UK Sports Team commented:- "We are delighted to be the lead charity for the MBNA Chester Marathon again this year. This fantastic event, which is rated so highly by runners, is a vital part of our fundraising efforts, and we hope that with the support of MBNA Chester Marathon entrants, we are able to bring forward the day when all cancers are cured. We'd encourage as many people as possible who are taking part in the race to join the Cancer Research UK team. Every step we make towards beating cancer relies on every pound, every hour and every person, so please join our team and help us beat cancer sooner."

Andy White, Joint Race Organiser of the MBNA Chester Marathon added:- "We are delighted to welcome Cancer Research UK to the MBNA Chester Marathon for the second year running. You can't help but get carried away by the energy that the charity brings to the event."

In 2012, Tracy Daniels took part in the MBNA Chester Marathon to fundraise in memory of her father, who sadly died of lung cancer. "The race was fantastic, and the support from all the Cancer Research UK volunteers made it such a great day. Cancer Research UK is such a worthy cause, so I'd encourage everyone taking part to help fundraise for their research. Every pound helps."

If you would like to take part in the MBNA Chester Marathon for Cancer Research UK then please visit:- cruk.org/sportchallenges or call the Sports Team Hotline on:- 0871 641 2403*.

To find out more about the MBNA Chester Marathon, go to:- chestermarathon.co.uk .

* Calls provided by BT will be charged at up to 6 pence per minute. A call set-up fee of up to 6 pence per call applies to calls from residential lines. Mobile and other providers' costs may vary.