John Lennon Educational Tour Bus to be unveiled!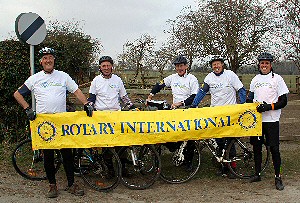 A team of 6 experienced cyclists are travelling from Southport on the west coast of England, to Hornsea on the east in June this year, in aid of the retinitis pigmentosa charity RP Fighting Blindness. The fully self-funded team will follow the Trans Pennine Trail, which is approximately 215 miles long and mainly off-road.
Made up of riders aged between 60 to 69 years old from Doncaster and Huddersfield, the group will pass by many towns and cities along their route including Liverpool, Runcorn, Warrington, Doncaster, Selby and Hull. Supported by a logistical vehicle and a medic, the team will average a travelling distance of just over 40 miles per day.
Ian Lammie, a Rotarian who has the degenerative sight condition retinitis pigmentosa, is part of the trail team and expects to raise in excess of £5,000 for their efforts. "We're very excited to undertake this challenge and have been training hard. As someone with RP myself, I'm very keen to raise awareness of the condition, and assist in the charity's ongoing work."
David Head, Chief Executive at RP Fighting Blindness commented:- "We're always excited to learn about such fundraising activities on our behalf, and wish Ian and his team the very best of luck. RP Fighting Blindness is committed to helping fund research for retinitis pigmentosa, as well as providing ongoing support for those with the condition."

If you wish to sponsor Ian and his team on their coast to coast cycle challenge, please visit:- justgiving.com and enter Ian Lammie under sponsor a friend and follow the links.
APPEAL FOR INFORMATION!
WILTSHIRE Police are appealing for information on the location of Allan Campbell aged 39. Officers are very keen to speak to Allan in relation to a number of canal boat burglaries which have occurred in Wiltshire and other force areas. He is described as white, 6' 2" tall, of proportionate build and has numerous tattoos on his arms, hands, chest and back. A photograph of Allan Campbell is attached. He has no fixed address and is believed to have been in the Warwickshire area recently, but may have moved on. Anyone with information is asked to please contact DC Nick Mackian at Wiltshire Police on:- 101. Or to report information anonymously contact Crimestoppers on:- 0800 555 111.
BTP appeals for help after inappropriate comments directed towards teenager
THE British Transport Police (BTP) are appealing for information after a man made inappropriate comments to a teenager on board a train near to Ainsdale. The incident happened between 8.15pm to 8.30pm on Tuesday, 23 April 2013, as a teenage girl travelled between Burscough Bridge and Southport. Whilst on the train the girl was approached by a man who made inappropriate comments towards her. PC Ian Williamson said:- "The girl was upset by the man's comments and was left shaken by the incident. At no stage did the man threaten the girl, but his comments were unwanted and inappropriate." PC Williamson added:- "I am now calling on the public to assist with the investigation and would ask anyone with information about the incident to come forward. If you can assist the investigation please call the BTP on:- 0800 40 50 40 or Crimestoppers you can also call them anonymously on:- 0800 555 111. In all calls please quote log:- B14/NWA of 26/4/13."
Road traffic collision witness appeal, Crosby
MERSEYSIDE Police are appealing for witness following a road traffic collision in Crosby on Sunday, 21 April 2013, during which an 79 year old man received injuries.

The collision, between a Nissan Micra and Volvo S60, took place at 12.35pm at the junction of Oxford Road and Wellington Street. Both cars stopped at the scene and police attended. The driver and passenger of the Micra were taken to hospital with what were thought to be minor injuries. However the passenger, a 79 year old local man, was later returned to hospital and his condition is now described as critical.

Anyone who witnessed the collision or who has any information is asked to call traffic officers on:- 0151 777 5444 or call Crimestoppers on:- 0800 555 111.
RAIL SERVICE INFORMATION FOR CUSTOMERS - POSSIBLE RMT STRIKE ACTION!
NORTHERN Rail has updated its customers across the north of England following the RMT announcement that it is to ballot its members for strike action.
The RMT is balloting members for strike action over what they have called a 'Breakdown in Industrial Relations'. This refers to seven items, of which 6 are resolved in principle. The only outstanding issue is the use of contracts for revenue protection work at stations.
Northern contracts this work to 2 organisations, one of which has been undertaking these duties, for 13 years, since before the Northern franchise began, the other was introduced on a trial basis in 2012 with a commitment to review progress with the RMT in May this year. Their staff carry out revenue protection duties at stations, ensuring that passengers have a valid ticket.

Adrian Thompson, HR Director, Northern Rail said:- "The RMT has demanded that Northern either sacks or employs the 260 people employed on these contracts. The RMT is claiming that Northern is gradually replacing employees with 'agency staff' a claim that is completely unfounded and untrue. We do not want to put these people out of work. These contracts carry out a vital role, ensuring that passengers have valid tickets and those fares are fully captured to reinvest into building a better railway. The changes the RMT is demanding we make would also potentially breach the rules governing the last 12 months of our franchise agreement."

Northern has 4,900 employees across the north of England. The RMT represents a number of grade groups which include conductors and station and retail employees.

The RMT ballot opens on Tuesday, 7 May 2013 and closes on Monday, 20 May 2013. If there is a vote for strike action then the earliest possible date a strike could take place would be on Monday, 27 May 2013. Customers are being advised to check northernrail.org or follow @northernrailorg on Twitter for the latest information.

Paralympian backs 20th Anniversary Liverpool Chester Liverpool Bike Ride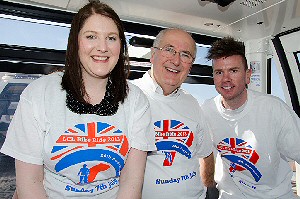 EVER wondered what it would be like to cycle 4 miles under the Mersey, through the Queensway (Birkenhead) Tunnel, silent and traffic free with only the sound of the wind blowing through the tunnels, cyclists happily chattering and your wheels turning? This is the unique experience that thousands of cyclists experience on one day in every year, as part of the L'pool Chester L'pool bike ride.

This year is the 20th Anniversary of this popular event. Rik Waddon, silver medallist at London 2012 Paralympics is on board again to promote and take part in the event and is particularly excited about the 1st ever Family Ride under the Mersey!

The event was officially launched by the organisers Pennine Events, on 30 April 2013, at the PanAm Bar, Albert Docks. Featuring seven routes; the new 6 mile Tunnel Challenge family ride, and a 50 mile Chester Challenge along with the other five popular routes, it is the only event in the UK to feature cycling four miles under a river!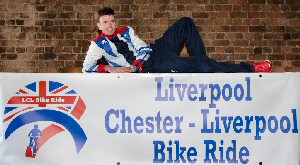 Rik Waddon said:- "I'm very much looking forward to taking part again in the Liverpool to Chester to Liverpool bike ride, particularly as it's the 20th Anniversary celebration! The atmosphere on the day amongst the participants is always great, and will be even more so this year. I'm currently training hard for Rio 2016, but make time in my calendar to support this event as it's such a celebration of cycling and raises money for a very worthwhile charity. I'm delighted that this year we have 2 new routes; for the first time there is the Chester Challenge, which starts and finishes in Chester and is perfect for cyclists not wanting to travel up to Liverpool. There is also the first ever Family Tunnel Ride, which is an exciting addition to the event, as now all the family can take part in the big day! Priced at just £6 this route is a child friendly, traffic-free cycle through the tunnel and back again. This route will be perfect for families, schools and children's groups, giving them a unique opportunity to experience cycling under a river! We also hope that children will choose to be sponsored for their fantastic cycling achievement and raise money for our official charity Claire House children's hospice."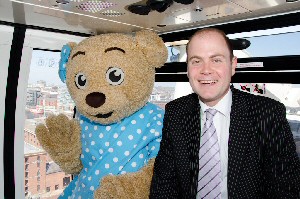 Claire House provides valuable respite care for children up to the age of 23 and their families in Merseyside, Cheshire, West Lancashire and Isle of Man.

Kirsty Simpson, Event Manager of Claire House said:- "This is a magnificent event and we hope that many participants will choose to raise money through sponsorship for Claire House. Small things make a big difference for us. £50 for example can pay for a child to have a tailored play session at Claire House, which brings them such joy in an often difficult time. We want people to know that it is a big achievement to accomplish one of these routes and you can get sponsored for taking part. We would love to see schools, youth groups and families take part in the new Family Tunnel Ride and raise a little bit of money to help support children at Claire House. We really appreciate every penny that is raised."

An event such as this can only take place with the support of our event supporter, one of which is Merseytravel who kindly close the tunnel to traffic on the day.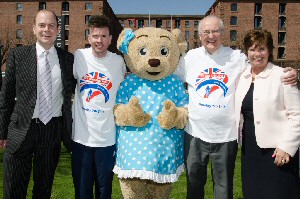 Councillor Liam Robinson, chairman of Merseytravel said:- "Mersey Tunnels are part of life here in Merseyside, and the Liverpool Chester Liverpool Bike Ride is a great opportunity to see them from a different angle. We want to encourage more people to get on their bikes and hope that providing this unique traffic free cycling experience through the Mersey Tunnel, will do just that. To see hundreds of children on their bikes going through the tunnel as part of the new Family Ride, will be an amazing experience for everyone!"

The NHS, a key supporter has woven this event very much in to the City's health and fitness promotion.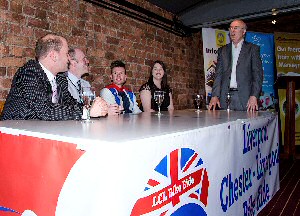 John Marsden, Public Health said:- "The benefits of cycling are well documented, both in improving the physical health as well as mental health of people taking part. People can start to prepare for the event now, and we have cycling clubs and fitness lifestyle centres around Liverpool who can help provide advice and training for the longer routes. However, we are especially looking forward to the new family event; getting whole families and the community, involved in exercise and having fun together in this relaxed gentle route."

The Liverpool Chester Liverpool Bike Ride is also supported by Merseyrail and Liverpool City Council. Last year over 3,500 cyclists took part and the organisers are aiming for around more than 4,000 this year!

To find out more and register to take part in this unique bike ride go to:- liverpoolchesterliverpool.co.uk.