SYNEXUS SEEKING PEOPLE WITH LOWER BACK PAIN IN MERSEYSIDE
SYNEXUS, the world's largest multinational company dedicated to the successful recruitment and running of clinical studies, is currently recruiting people in Merseyside who suffer with lower back pain to take part in a clinical study to assess a new medication for pain relief.

About 8 in 10 people have experienced lower back pain. In most cases, the exact cause of the pain is not clear and painkillers can help until the pain eases. Sometimes the pain can recur and unfortunately some people develop chronic (persistent) pain.

Synexus is conducting a 14 week clinical study evaluating the effect that a new medication has on lower back pain compared to a prescription medication that recently became available. It may be suitable for those who:-

► Are aged 18 to 80.

► Suffer from moderate to severe lower back pain.

► Have been taking prescribed pain medication for their back pain for at least 3 months but are not satisfied with their current treatment.

All participants will be required to complete an electronic diary about their pain each day and visit Synexus' Dedicated Clinical Research Centre in Merseyside every 1 to 2 weeks for review by a Synexus doctor or nurse.

Those who would like to find out more or are interested in participating in this study at Synexus' Merseyside centre should contact:- 0151 550 9951 and quote reference number:- 13389.

There is no obligation for people to participate and if they do decide to take part, their GP will be kept fully informed of their involvement. Patients will be reimbursed for all reasonable travel expenses if they are accepted onto the study.

Synexus has many years experience in conducting a wide range of clinical studies. Each year, thousands of patients take part in clinical studies at Synexus' Dedicated Clinical Research Centres. There are many different studies running at each of the Centres throughout the year including potential treatments for conditions such as osteoporosis, raised cholesterol, insomnia, asthma, diabetes and migraine.

Participating in a Synexus clinical study means patients receive increased medical attention and may benefit from medications that aren't yet generally available to other sufferers of their condition, while making a positive contribution to the health of future generations. For more information about Synexus and the other studies that it is currently conducting visit:- improvinghealth.com.

LETTER TO THE EDITOR:- "JOIN FUNDRAISING WEEK OF DOUGHNUT DELIGHTS!"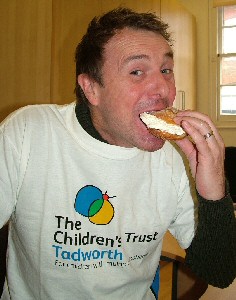 "THE ever popular National Doughnut Week is fast approaching and I would like to make a special appeal to independent craft bakers, food retailers and coffee shops across the UK to get involved in this fun, annual charity event, which takes place from 11 May to 18 May 2013, in aid of The Children's Trust. Each year National Doughnut Week raises money for The Children's Trust, Tadworth, a national charity that provides specialist care for some of the UK's most severely disabled children, and rehabilitation to children with an acquired brain injury. Now in its 22nd year, National Doughnut Week has raised an incredible total of £755,000 for children's charities, with the sale of over 14 million doughnuts. To help us reach a fundraising figure of £25,000 in 2013, we need more independent craft bakers, food retailers and coffee shops to sign-up and help make this the most successful year ever. A percentage from each doughnut sale from participating businesses will be donated to The Children's Trust. The general public can show their support by treating family, friends and work colleagues to a delicious doughnut treat. So, whoever you are, please get involved in this great event and help make a difference to some very special children. For fundraising ideas, doughnut facts, and to register your vote for the UK's favourite doughnut, please visit the official website or Facebook page." Phil Tufnell, Vice-President, The Children's Trust, Tadworth