WORK ABROAD BRITS NOT FULLY PROTECTED FOR ACCIDENTS WARN NORTH WEST LAW FIRM
INSURANCE loopholes and widely varying healthcare schemes are undermining the level of protection for the 80,000 British citizens who leave the country each year looking for work.

Southport-based Fletchers Solicitors, a firm specialising in serious personal injury cases involving British citizens abroad, warns that this shortfall in protection leads to many cases each year where injured workers and their families face an uncertain future.

Ed Fletcher, CEO of Fletchers Solicitors, says:- "We're seeing an increasing number of cases where people suffering serious injury whilst working abroad are put at a disadvantage when it comes to rebuilding their lives. Many workers have no or insufficient medical insurance to cover extensive bills for medical care or their ongoing needs, such as adapting their homes. Normal insurance policies will typically exclude manual work or jobs involving heavy machinery. We've also seen cases where work activities were not protected due to exclusions related to activities classified as extreme sports. 37% will go abroad knowing that they intend to work, but not knowing what kind of work they will eventually take up. So even if they leave the UK believing they are protected, they may not check this cover includes the specific type of work they eventually carry out."

Ed also advises that schemes that exist abroad to protect workers suffering serious accidents can vary enormously in their scope and protection.

"Australia is the number one destination for British people working abroad with over 800,000 UK nationals of working age currently resident in the country. Many perceive Australia to be a very similar society to the UK, with similar levels of state support should things go wrong and in fact the allowances for worker compensation are very good. However, schemes to protect workers having accidents vary from state-to-state. They have very different criteria and limitations and may only cover treatment and care whilst living in Australia. This means that after repatriation to the UK (which also may not be funded), people may be faced with a very uncertain future should an injury require ongoing care or permanent changes to how they live their lives."

For example, Holly Raper, who is 23 year old Holly from Lancashire was working on a farm in Tasmania when a quad bike accident left her with severe head injuries that mean she is still; 1 year on; in a minimally conscious state.

Her insurance policy didn't cover her repatriation, care and treatment because it excluded what it classed as 'manual work' and the use of a quad bike as an extreme sport, despite it being used in the course of her employment.

A Tasmanian state scheme funded her repatriation to the UK instead of her insurer.

Holly's family are now relying on fundraising efforts to raise the money needed to allow them to care for Holly at home. They have currently raised over £24,000 and Holly is being looked after in the Royal Preston Hospital.

From the UK's biggest marathon to the best; entries still open
FOLLOWING one of the UK's biggest sporting events last weekend - the Virgin London Marathon - organisers of the MBNA Chester Marathon want to remind runners that there are still places available in the Autumn race, which was named the UK's Number One Marathon of 2012.

Chris Hulse, Joint Race Organiser from Active Leisure Events, commented:- "Thousands of people took part in the Virgin London Marathon last weekend, and hundreds of thousands more watched as they took on the challenge for their own, personal reasons, demonstrating the ongoing popularity of running as a sport in the UK. As one of the organisers of the UK's current Number 1 Marathon, I want to encourage those who caught the running bug after taking to the streets of London, who are seeking out their next challenge to come and try the MBNA Chester Marathon, a great race in a beautiful setting. Likewise, for those who watched on and felt inspired by Britain's incredible running community, we see people of all ages and abilities cross our start line each year."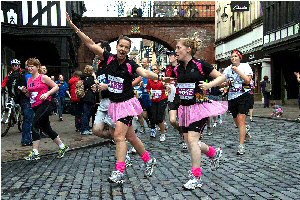 Chris ran his 11th Virgin London Marathon last weekend, to celebrate his 50th birthday, getting round the course in an outstanding 3 hours, 29 minutes and 10 seconds. "I got in to running just before I turned 40, in an endeavour to lose weight. I have since shed seven stone and now try to run at least three to four times a week – it truly is addictive. It's such an accessible and sociable sport, and I am living proof that running a marathon really is something that anyone can do if they set their mind to it".

The MBNA Chester Marathon was established just three years ago, with the fourth running of the event confirmed for Sunday, 6 October 2013. Often referred to as 'the destination marathon', it offers a fast, predominantly flat course through the historic City of Chester and the striking Cheshire countryside. It also crosses into North Wales, making it the UK's only international marathon.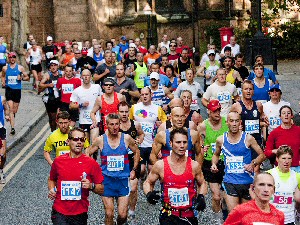 Chris and co-organiser, Andy White, are now looking to grow the marathon over the next three years, with the aim of opening it up to 10,000 runners by 2015. To enter, and for further information, go to the Mathathon's website:- chestermarathon.co.uk.