Golden Lane Housing and Mencap have launched charity bond in Sefton
MENCAP and Golden Lane Housing, 2 charities that support people with a learning disability, have access to a charity housing bond which will allow homes to be bought in Sefton for people with a learning disability.

There are 5461 people with a learning disability in Sefton who could benefit form the charity housing bond. Housing has already been bought in other areas, but there is still bond money is still available for investment.

Just 1 in 3 people with a learning disability currently lives independently, and many struggle to compete on the open market, making it virtually impossible to find housing in areas where there is no suitable social housing available.

Recent Mencap research found that 8 in 10 Councils in England and Wales report a housing shortage for adults with a learning disability in their areas, with 67% stating this has worsened in the last 12 months.

The bond can help enable people to develop their independence, by moving from often inappropriate long stay hospitals into community-based housing close to relatives and support networks. The bond also provides for adaptations to the properties where needed so that it is bespoke to the person's needs.

Mencap will also be able to provide people with quality care and support in their home, known as Supported Living, which will allow people to pick and choose the type of support they have and lead the life they want.

Deb's, who is supported by Mencap in a Supported Living service said:- "My life has changed since living in Supported Living. I learn new stuff every day and can ask if I need help. The best thing for me is that I can really live my life now and have new experiences."

Jan Tregelles, Chief Executive of Mencap said:- "There is a severe housing shortage for people with a learning disability. Following the abuse scandal at Winterbourne View, demand for housing is set to grow further because the Government has committed to return many of the 3,000 people currently in long stay hospitals to their local communities."

People can find out more about the bond and the types of support available in their area, by getting in touch with Mencap Direct, freephone:- 0808 808 1111 or via their website.

Riverside and Lovell launch £8m Liverpool homes scheme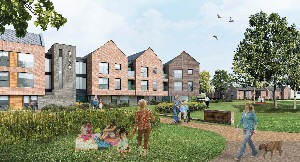 AFFORDABLE housing specialist Lovell, which is based locally in John Street, Birkenhead, is set to start work on an £8 million, 70-home development for social housing provider Riverside, at the site opposite Belle Vale Shopping centre in south-east Liverpool.

The scheme will include 42 apartments for the over-55s, 14 flats for affordable rent, and 12 flats and 2 bungalows for low-cost home ownership.

The new housing at the site off Childwall Valley Road will be completed in December 2014. In addition to creating much-needed new homes, the scheme will give local people opportunities for apprenticeship training through Riverside's Springboard initiative.

Riverside's project manager, Annette Dennett, says:- "The over-55s' scheme will provide a range of housing, from extra care and elderly supported housing, to more independent living. The project is just one element of our much wider programme of regeneration of the Lee Valley area. We want to make sure that the accommodation doesn't feel like an older persons' housing scheme. This is a high-quality complex for people with varying levels of independence."

Lovell regional director Nigel Yates says:- "This scheme will create high-quality extra care homes providing older residents with the opportunity to live independently whilst knowing that help is available should they need it. In addition, it will meet the demand for new affordable homes for rent locally as well as delivering homes for low-cost home ownership, enabling local people to take their first step on to the housing ladder."