White Paper highlights epidemic of children 'legally' drugged
IN a White Paper released on Tuesday, the UK branch of the Citizens Commission on Human Rights (CCHR) highlights the problem in the NHS where psychiatrists are including children and adolescents in the pill-popping bonanza eating away at the already strained NHS budget.

Diagnosing children with the so-called psychiatric condition ADHD (Attention Deficit Hyperactivity Disorder), psychiatrists are prescribing drugs similar to cocaine. These drugs are classified as "Central Nervous System stimulants and other drugs used for ADHD", examples are Ritalin, Concerta and Strattera.

New government statistics, released at the beginning of April 2013, revealed the number of prescription items of this class of drug prescribed last year in England alone exceeded 1 million. NHS spending on these drugs in 2012 cost the taxpayer over £52 million, according to the figures published by the government's Health and Social Care Information Centre (HSCIC). No physical scientific tests however exist to diagnose ADHD as a real medical condition.

Jim Dobbin MP, who is campaigning on behalf of patients addicted to prescribed tranquillisers, is also concerned about the effects of psychiatric drugs on children and adolescents. He commented:- "CCHR's White Paper on ADHD raises an issue that is of great concern to society. We cannot keep drugging our children at such an alarming rate without there being serious detrimental consequences for future generations. I welcome the Paper which highlights the alarming phenomenon of giving children drugs similar to cocaine as a supposed treatment. We need a great deal more awareness of this issue and CCHR has done well to raise the issue to MPs and the general public."

Psychiatrist Dr Allen Frances was Chairperson of the Task Force on the fourth edition of psychiatry's Diagnostic and Statistical Manual of Mental Disorders (DSM-IV) in which ADHD purportedly became a disease. He said:- "These concepts [ADHD] are virtually impossible to define precisely." However, he now says:- "We made mistakes that had terrible consequences."

CCHR's White Paper revealed that NICE guidelines supporting the use of ADHD drugs were based on the recommendations of a Committee whose members had conflicts of interests where almost two thirds of its membership had financial links, personally or professionally, with pharmaceutical companies.

Brian Daniels, national spokesperson for CCHR in the UK said:- "There's no doubt that children can be boisterous, argumentative, and even disruptive. However, psychiatry's fixation on labelling such difficulties as a mental illness or disorder is not only unscientific, but medical fraud. Expensive chemicals given to those falsely diagnosed with ADHD produce stupefying effects that are defined by manufacturers as demonstrably effective. What is actually happening is the child has been drugged, and is exhibiting the effects of a dangerous mind-altering foreign substance in his or her body and brain."

The CCHR UK White Paper details this growing social crisis including details about fabricated psychiatric disorders.

To download the White Paper go to:- cchr.co.uk.

CCHR is an international psychiatric watchdog that has been in the vanguard of patients' rights since it was co-founded in 1969 by members of the Church of Scientology and Dr Thomas Szasz, Professor of Psychiatry Emeritus, to investigate and expose psychiatric violations of human rights.

HEAR GIRL!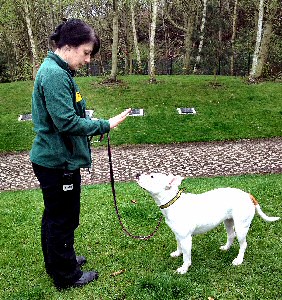 WITH National Deaf Awareness Week starting on the 6 May 2013, staff at Dogs Trust Merseyside have a special four legged friend they will be celebrating.

Cindy, a 2 year old bull terrier from Dogs Trust Merseyside is completely deaf, and learning sign language in the hope to appeal to the public, and encourage someone to give her a home.

Michelle Roughley, training and behavioral advisor at Dogs Trust Merseyside, says:- "Although Cindy can be a little over enthusiastic, she does have a strong sense of smell and responds well to treats, which makes the training easier. We use a flicker training technique, which replaces the sound of a clicker, with a light to mark a command, which is then followed by a reward. We are also teaching her sign language, and she now knows the hand signals for sit, down, recall and thumbs up for good work! She gets very giddy when we give her thumbs up, and she is very pleased with herself!"

Deaf dogs can have a perfectly normal life and can be trained fairly easily once both of you have got the hang of a few basic principles; the most important of which is that you have to train using hand signals instead of verbal commands. In fact, dogs with perfect hearing actually find it easier to learn using hand signals and so being deaf shouldn't be too much of a disadvantage in most situations.

Cindy is very sociable, and loves nothing more than playing in cardboard boxes with everyone, showing her outgoing nature. Ideally, her owners would have trained a deaf dog before, and would need to be patient, in order to carry on her training and teach her more signals. She could live with children over 10 years old as long as they don't mind her bouncy nature!

As she is still a young dog, she would need to be re-homed with someone who is at home most of the day. She does get on with other dogs, but can be a bit over enthusiastic at times so would need another patient dog.

If you can give Cindy a home please contact Dogs Trust Merseyside on:- 0151 480 0660 or drop into the centre at:- Whiston Lane, Liverpool, Merseyside, L36 6HP, UK

Dogs Trust is the UK's largest dog welfare charity and cares for over 16,000 stray and abandoned dogs each year through its network of 18 Rehoming Centres nationwide.

For more information about the charity's work please visit:- dogstrust.org.uk.