BBC Filming on Neville Street, Southport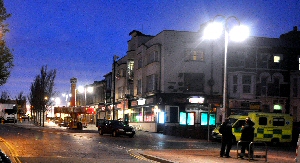 A film crew from Liverpool Academy Productions Ltd. have been filming on Neville Street, Southport, for a new The Jimmy McGovern BBC 1 drama. The drama, going by the working title "Common", is set to be around 90 mins long once completed. We took a look at the filming on Tuesday night with the stabbing and an Ambulance attending scenario took place, outside Leos Bar.
The film has already sparked controversy due to the plot line, along with its views of the UK's controversial Joint Enterprise Law. But some of the controversy so far is down to the "foul and abusive language" that the characters are reported to be using in the drama.
The plot line starts with what we are told are 3 Liverpudlian youths in a car, who later end up at a pizza parlour stabbing and are the group all being charged for murder.
The drama is intended to examine the potential for injustice within the Joint Enterprise or Common Purpose rule. Makers of the film have spent a few days in Southport filming and it will be interesting to see the reaction to drama when it is transmitted later on in 2013, on the BBC 1 channel.

BBC One Controller, Danny Cohen, and Controller of Drama Commissioning, Ben Stephenson, in a joint press statement said that:- "Building on the award winning writer Jimmy McGovern success of his acclaimed dramas, Hillsborough and Dockers, this drama will be just as ambitious and controversial. In the same way as in his dramas Hillsborough and Sunday, he wanted to write this film after talking to the families of those directly affected by the Joint Enterprise Law. We believe it is right for the BBC to give writers such as Jimmy an opportunity to tell a story like this, and to allow the audience to make up their own minds about it."

Jimmy McGovern added just before filming started:- "The Joint Enterprise was first used in Britain's courts a few hundred years ago. It was designed to stop the aristocracy duelling. If one duellist killed another then all involved in that duel (the seconds and the surgeons) were charged with murder. It worked. Britain's aristocrats stopped duelling. Now the law is being used against Britain's youth. If someone dies in a fight and you're involved in any way whatsoever, you could find yourself charged with murder. And, if you do, Heaven help you because the burden of proof required in joint enterprise cases is frighteningly low."
To see our full photographic coverage please click on here now.

What are your views about the shooting of this McGovern's landmark drama in Southport? Email our newsroom to:- news24@southportreporter.com with your views on it..
Our Cookie Pop Up Box
WE are sorry if our cookie warnings are a problem, as we have had a few complaints about it and questions as to why it is required. Sadly since the start of 2013 a new EU Law that requires all websites to show a warning and a link to a page that says what cookies and tracking cookies are and what they do. We are trying to comply with this rule, hence the pop ups about cookies and tracking. We are running a few types to find out the best one for all the web browsers to use, as by law it must show on all systems.

KEEP up-2-d

ate




with our free daily news emails.



Are you subscribed? Si

g

n

u

p

today

to

our daily email news service via... Formb

y

-

Re

p

orter

.com



If you subscribed you can keep in up-to-date with what's going on in and around Merseyside. It is free and we do not send out massive amounts of emails. Also your email is kept under the UK's Data Protection Act, so you can be sure that you will not have problems.
| | | |
| --- | --- | --- |
| | Click on to read on! | Click on to read on! |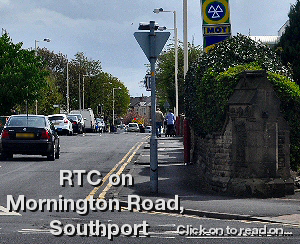 --- MORE NEWS REPORTS BELOW ---

Ladies night at the Royal Clifton



Warning

Due to the nature of the event part of this report is restricted to 18 and above only viewing.
Rising numbers of over 60s facing homelessness
Repairs along southbound M6 in Cheshire completed

RTC

on Mornington Road, Southport
Liverpool Art award dedicated to memory of Liverpool-born artist Joe Bampton
Fear over council tax rises for singletons
FREE family fitness fun
APPEAL FOR MAN FOLLOWING ALLEGED RACIST ABUSE IN SOUTHPORT
Only 3 weeks left to join the Liverpool City Region collective switch!
South Yorkshire Police appeal for help in locating Kamaron Behboubina

Filming

Neville Street Southport
Everton scores with a new app
Euro MP welcomes EU action on potential oil price fixing
North West nursing agency opens new Liverpool office
LOST MEDICATION - BOOTLE
POST OFFICE ROBBERY / ATTEMPT ROBBERY - BOOTLE
Special Mersey Ferry cruises to mark Queen Mary 2 visit
S.A.F.E. Update
Tate Liverpool access project shortlisted for national award
Local charity calls for urgent action on support for carers
Formby Emporium Entrepreneur James Williamson
REDUCED SHAKESPEARE COMPANY® In THE COMPLETE WORKS OF WILLIAM SHAKESPEARE
MARTINI LOUNGE GUARANTEES HOT & STEAMY FORECAST FOR JUNE
Spot a scam – stop a scam
Almost a 3rd of Britons admit to not knowing how to fund later life costs
GREAT DAYS OUT ABOUT PADDLE STEAMER WAVERLEY
City ready for maritime commemorations
Debate on Europe letting British business down
Bat Walk

ON Saturday, 18 May 2013, Gorse Hill Nature Reserve in Aughton near Ormskirk will be holding a bat talk & walk from the Merseyside and West Lancs. Bat Group. The reserve is open on Saturday from 10am to 4pm normally, but due to this event it will be specially open from 7pm to 10pm. Ree Payne, a volunteer at the reserve told us that:- "We have 100 acres of ex-farmland, which we have been converting back to pre-war status over the last 17 years. This has involved planting of trees & hedgerows, creating wildflower meadows & restoring ponds, in order to create much needed habitat for local wildlife. We have been successful in this by attracting back to the area some birds that are on the endangered list, we also have great crested newts in our ponds & a variety of other wildlife from insects, small mammals, birds and raptors. In 2010 we, the North West Ecological Trust who run the reserve, received The Queens' Award for Voluntary Service for our work at Gorse Hill. We are all volunteers & meet twice a week on Wednesdays and Saturdays to work on the reserve doing various tasks. We are a registered charity (N.W.E.T.). Although we have a wonderful core of around 20 volunteers who come up regularly, we are always needing more help us. Your readers are all welcome to come and we look forward to meeting you all. Our address is:- Gorse Hill Nature Reserve, Holly Lane, Aughton, Ormskirk, L39 7HB. We are situated off the main A59 Liverpool – Preston road. For more information please visit:- nwecotrust.org.uk"
...HAPPY BIRTHDAY...
If you have someone you want to say happy birthday to, for free, then use the email address below to send us the names you want us say happy birthday to, and/or a photograph. Email us today!