WE'VE COME A LONG WAY! SEFTON IN ON RECYCLE WEEK 10th ANNIVERSARY CELEBRATIONS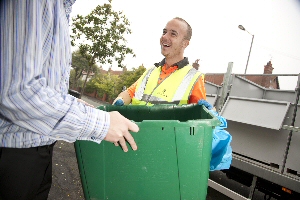 A big 'thank you' to the residents of Sefton. 10 years ago, only 9% of our rubbish was recycled, now it is a whopping 40%. And this week, Sefton Council is throwing its weight behind the 10th anniversary plans for Recycle Week; the national annual event designed to encourage people to recycle even more than ever before.

Cllr. Trish Hardy, Sefton Council's Cabinet Member Communities and Environment, said:- "As a nation, we've come a long way since we first began to take recycling seriously. In Sefton it is the same story as the borough now boasts one of the best recycling rates in Merseyside. Not only is this good news for the environment as it means we're sending less to landfill and making better use of natural resources, it is also hugely important for our economy. The UK recycling sector now generates more than £13 billion a year in sales, employs more than 40,000 people and contributes around £3 billion-worth of additional value each year to the UK economy."

Gail Ormston, Promotions Officer, and Palm Recycling, said:- "However, one of the reasons that Recycle Week is still around is that there's more we can all do to recycle more things, more often;– to capture these valuable resources. An estimated £140m worth of used clothing also ends up in landfill every year in the UK. Aerosols and foil are the two materials that the greatest proportion of people throw away due to lack of knowledge that they are included in the kerbside recycling collection".

Residents can find out what they can recycle in Sefton by using the postcode locator on:- recyclenow.com or by visiting sefton.gov.uk/recycling.
Euro MPs call for fundamental shake up of banks structures
IN a key vote in the European Parliament's Economic and Monetary Affairs Committee, Euro MPs backed fundamental change to the structure of EU banks. Vice Chair of the Economic and Monetary Affairs Committee, Labour Euro MP Arlene McCarthy and the Parliament's draftswoman on the report said:- "Today's vote is a clear message in favour of structural reform of the EU banking sector, by ensuring that banking services that are essential to the real economy are separated from the excessively risky activities of traders and investment bankers. My report identifies key reform principles ensuring depositors and consumers no longer pay for the excessive risks taken by banks with their money. People must be able to access their bank accounts and make payments even when banks fail. In the case of Cyprus, if the essential services had already been separated before the Cypriot banks failed, then depositors would have had access to their bank accounts and essential payment systems would have continued. Real reform must ultimately ensure that the costs of risky trading are not borne by retail customers and depositors. When banks are booking high profits and paying out bonuses they should not benefit from implicit guarantees or subsidies or tax payer bailouts. According to Commission estimates the financial crisis cost EU governments around 1.6 trillion Euros, which represents 13% of EU GDP in state aid, through bailouts of the financial sector. Ultimately when bankers behave badly they should be personally held to account to ensure they pay for actions that have cost the public dear. This vote gives a green light and a strong mandate to the European Commission to come forward with a legislative proposal introducing structural reform across all 27 EU member states in September."

FSB and Liverpool Chamber to join forces hold 'Grow to Export – Export to Grow' event at Accelerate 2013
POTENTIAL and pitfalls of international trade explored following new figures showing increased appetite for exporting among SMEs. The Federation of Small Businesses and the Liverpool Chamber of Commerce are joining forces for the first time to hold an event at which potential small business exporters will receive guidance, information and advice from seasoned experts.

The breakfast event, 'Grow to export – export to grow', will take place at Jurys Inn, Liverpool, on Thursday, 27 June 2013, during Accelerate 2013, the UK's first annual festival dedicated to high growth businesses and driving business growth.

Featuring Wikipedia founder Jimmy Wales as a keynote speaker, Accelerate is the forerunner of next summer's International Festival of Business (IFB) 2014, which will be the biggest showcase of UK exporters for many years.

The joint FSB-Liverpool Chamber event is being run in conjunction with Dave Parrish, author of 'T-Shirts and Suits: A Guide to the Business of Creativity. Panelists will be the Export Network's Paul Gilbert; Denis Sowler, Export Sales Executive at Tithebarn; David Jones, Managing Director of Alphasonics; Arup's Paul Grover; Terry Scott, Mast Group's International Business Manager and Ben Pinnington of Polaris Media Management Ltd.

Latest research on small business exporting
According to the FSB's latest 'Voice of Small Business Index' survey, published on Monday, 17 June and covering the second quarter of 2013, there are encouraging signs of export growth among small businesses. In all, a net balance of 4.3% of firms reported rising exports compared to the previous quarter. This is largest net balance in a full year, but it remains below the balance of 6.9% seen in Q2 2012.

In addition, the share of businesses reporting a decline in exports has fallen to its lowest since Q1 2012, with 22.8% indicating a decrease, down from the share of 24.2% reporting this in the same quarter last year.

These latest findings are an encouraging sign among small exporting businesses, coming at a time when overall UK exports continue to fall back in real terms, contracting quarter-on-quarter in Q1 2013 by 0.8%.

Further, improved export growth performance is expected over the coming three months. A net balance of 15% of small businesses predict an increase in exports in the next quarter, with 10.4% expecting rapid growth of over 5% and 23.6% projecting a slower increase. More information and registration details for the event can be found here Twitter: #Accelerate2013ExportEvent

Elaine Moore, Chairman of FSB Merseyside, said:- "The growth potential of international trade for small businesses is huge and yet far too few embrace export markets at present. Ahead of next year's International Festival for Business we want probe the barriers that exist to successful exporting, whether they are financial or cultural, and to tap the expertise of seasoned exporters in order to provide small businesses with strategies for overcoming these obstacles and minimising risks. Small businesses want to export but need the tools to allow them to do so effectively. We look forward to working with the Liverpool Chamber at Accelerate 2013 to help these firms on their way."

Jenny Stewart, Chief Executive of the Liverpool Chamber of Commerce, said:- "We play a central role in supporting businesses with international trade. From connecting UK businesses with Chambers of Commerce in overseas markets to creating the documentation needed to get goods shipped. Until recently many people still considered exports to be the selling of manufactured goods but the increase in the service sector offer such as insurance, consultancy, training and education has had a significant impact on levels of export activity. There is undoubtedly an appetite overseas for UK professional services expertise, and the Chamber has access to expert advice on the markets and territories you might target. We are delighted to support this event and to encourage companies to explore opportunities for International Trade."

Dave Parrish said:- "I'm looking forward to helping businesses to grow and export, based on my experience as a management consultant working internationally. I've learnt a lot from clients in more than 30 countries around the world and am constantly learning from the businesses I advise and my own experience as an exporter. I'm delighted to be involved in this event and to be associated with Accelerate 2013."