Hotel conversion begins for City landmark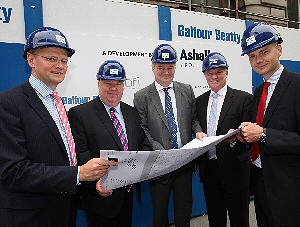 WORK is officially underway on an £18 million project, kick-started by the Council, to transform Liverpool's historic Royal Insurance building into a stunning new hotel.

Mayor of Liverpool, Joe Anderson, visited the building on Monday, 17 June 2013, to mark the start of the 15 month scheme, delivered by Ashall Property Ltd. It will rejuvenate the Grade II* listed building, which has lain empty for 20 years, and had been placed on the National Buildings at Risk Register. Now, the building is looking forward to a bright future, with Starwood Hotels & Resorts Worldwide, Inc. on board to bring their design led Aloft brand to the building; a high-profile 1st for the City.

Liverpool City Council purchased the freehold of the historic landmark, at the corner of North John Street and Dale Street in the City centre, for £1.95 million earlier this year; facilitating £18m of private investment in a project being undertaken by Runcorn based developer Ashall Property.

The Mayor, who was joined by Mark Ashall, Director at Ashall and Colin Bennett, Area Manager UK and Ireland, Starwood Hotels & Resorts, to see the beginning of a new chapter for the famous building, said:- "At a time of inertia in the economy, we are taking the bull by the horns and doing things differently. This deal with Ashall is another great example of how we are targeting our resources creatively to help kick-start development, and investing in assets that bring in new income streams for the Council. The Royal Insurance building has been empty for too long, and its rebirth is great news for our City, for our economy and for our hotel sector. We are protecting our past, as well as investing in our future."

Mark Ashall, Director at Ashall Property Ltd, said:- "Ashall Property is both excited and proud to kick-start the regeneration of such an iconic building which will provide Liverpool with a vibrant, design-led hotel complete with restaurant and meeting space."

Colin Bennett, Area Manager UK & Ireland, Starwood Hotels & Resorts, said:- "We are very excited to debut our 1st Starwood hotel in Liverpool and look forward to working with all our partners to breathe new life into the iconic Royal Insurance Building. Following the success of Aloft London, we see great opportunities to grow our Aloft portfolio across the UK where there is a strong demand for affordable yet stylish, cutting-edge hotel brands."

Jon Adams, Construction MD, Balfour Beatty, said:- "Balfour Beatty is delighted to be involved in the transformation of one of Liverpool's most iconic buildings and look forward to delivering a project that will exceed the expectations of our customer and future guests using the hotel."

The latest figures show that Liverpool's work to bring historic buildings back into use is having a real impact. Only 4% of the City's buildings are now on the at risk register, compared with a national average of around 7%.

Liverpool bucks the retail trend
THE number of vacant shops in Liverpool City centre fell in 2012 - bucking the national trend. That is the finding of the annual review of the City's main retail area, which found the vacancy rate in the 841 units surveyed fell from 13.5%to 12.7% compared to 2011. This compares to a rise nationally. Although 32 units became vacant as businesses closed, another 41 were filled with newcomers. Some 54% of the arrivals were new to the City, while 14% had previously not had a unit in the North West. And at Liverpool ONE; which had 26 million visits in 2012, that is 99% of the 160 shops are occupied.

Highlights include:-

► New businesses on Lord Street

► 11 new retailers at St John's Shopping Centre

► The Upper Floor of Cavern Walks being fully occupied for the 1st time in several years

Mayor Joe Anderson said:- "The City centre is the driver for Liverpool's economy and it is pleasing that it continues to thrive despite the tough economic conditions. Many thousands of people are employed in the shops, restaurants, bars and hotels. Their livelihoods depend on a successful Liverpool City centre. It is vital that we do all we can to attract further investment and organise events which give people a reason to visit Liverpool."

New developments recently completed, or due to complete this year, include:-

► The new Adagio Apart Hotel in the former Lewis's building

► Forever 21 opening a new £20 million store on Church Street

► Marks and Spencer investing £5 million

► A £5 million extension to River Island

► Plans are also in the pipeline to give St John's Shopping Centre a makeover.

Malcolm Kennedy, Cabinet member for regeneration, said:- "This is a reassuring annual health check of our City centre and shows that we are continuing to make good progress in attracting investment and bringing in new businesses. Our City centre is the engine of Liverpool's economy and I am pleased we are continuing to motor ahead, despite tough times."

Max Steinberg, Chief Executive of Liverpool Vision said:- "The importance of a thriving retail area to economic growth is recognised in the City Centre Strategic Investment Framework 2012. The area is identified as 1 of 6 transformational action areas, with a focus on the potential for further investment and improvement in the Williamson Square area. The strength of our retail sector in challenging times bodes well for the future."

Ged Gibbons, Chief Operating Officer for City Central BID, which represents more than 630 businesses in the retail heart of City centre, said:- "It has taken a decade of sheer hard work but Liverpool City centre is now one of the most dynamic in the UK. It speaks volumes that the retail sector is continuing to invest during a recession to a level that few cities in the UK and Europe can match. Liverpool's appeal to both investors and visitors alike still has huge potential as a job creator and we must continue to nurture and develop that over the next 10 years."

Both St John's Shopping Centre and Liverpool ONE both saw an increase in visitors, and there was a 10.3% rise in bus passengers, and car park use was up 1.7%.

Overall footfall fell 6.51% compared to 2011, in line with comparable areas and due to a combination of wet weather, the economic climate and the temporary closure of Liverpool Central station for refurbishment.