SPARKLING SAMBISTAS WILL BATTLE FOR BRAZILICA CARNIVAL QUEEN TITLE AT NEWZ BAR, LIVERPOOL!!!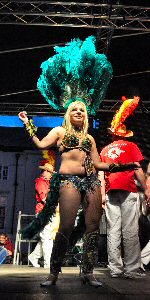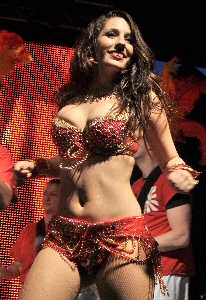 BRAZILIAN dancers from far and wide will battle for samba supremacy at the 2013 Brazilica Carnival Queen Competition which this year takes place at Liverpool's exclusive Newz Bar for the very 1st time. The competition; which the public are invited to attend; happens on the evening of Friday, 19 July 2013, from 7pm, warming the City up for the main Brazilica Carnival Day which takes over Liverpool City Centre the following day, Saturday, 20 July 2013.

The competition which will see each dancer showcase their best routine, most dazzling costume, and of course their sparkling personality and energy.

The dancers in the running for the coveted Carnival Queen title are 2012 London Samba School Queen Yazzmin Newell, Nicola Thomas of Liverpool Samba School and all the way from Brazil, Jaciara Castro who dances for Copenhagen's famous Carioca Samba School and Stael Martins of London's Paraiso Samba School! Other Paraiso Samba School entrants include the UK's Leila Heinel, Nina Appio and Angela Kwakwa.

Whoever is crowned Carnival Queen will be rewarded not only with prestigious title but also a £400 voucher to spend with bespoke carnival costume maker Posto 9. Liverpool's Beauty Bazaar, Harvey Nichols will be awarding the winner with an exclusive luxury beauty hamper as a prize overflowing with products and treatments, as well as providing the make-up looks for the dancers.

Jonathan Maguire, Newz Bar Manager said:- "Newz is famous for hosting some of the biggest parties and high profile events in the UK making it the perfect destination for Brazilica's Carnival Queen 2013. We're proud to partner this prestigious event and we're pulling out all the stops to make sure this is the best Carnival Queen competition yet."

If you do not know where the bar is, it is located on Water St, in Liverpool's City Centre. Please note that a £3 entry on the door will be taken on the door.
Movie Watch:- "The LEGO Movie"
THE

Movie follows Emmet, an ordinary, rules-following, perfectly average LEGO minifigure who is mistakenly identified as the most extraordinary person and the key to saving the world. Emmet (Chris Pratt) is drafted into a fellowship of strangers on an epic quest to stop an evil tyrant, a journey for which he is hopelessly and hilariously underprepared. Will Ferrell, Morgan Freeman, Liam Neeson, Will Arnett, Elizabeth Banks, Nick Offerman and Alison Brie join Chris Pratt to form the cast of the first-ever full length theatrical LEGO movie, the greatest movie ever assembled, which is set to hit cinemas in 14 February 2014. Will this be a block buster?
Cast:- Chris Pratt, Will Ferrell, Morgan Freeman, Liam Neeson, Will Arnett, Elizabeth Banks, Nick Offerman and Alison Brie. Screenplay by:- Dan Hageman, Kevin Hageman, Phil Lord and Chris Miller. Directed by:- Phil Lord, Chris Miller Chris McKay Produced by:- Doug Davison, Stephen Gilchrist, Igor Khait, Roy Lee, Dan Lin, John Powers Middleton, Seanne Wehrenfennig, Jill Wilfert.

Film Review:- "Fast and Furious 6"
Review by Dasha Ibrajeva
FIRST of all, I'd like to say that this type of movies are shot for entertainment purposes only and does not set a goal to demonstrate the laws of physics! Thus, if you have decided to go to the cinema and watch it, don't be a nerd, turn your brain off, sit back and let the mayhem wash all over you. Actually, this was the way I did it, and believe me, it gave me great pleasure and satisfaction!

Few words about the plot...Since completing a successful heist, Dominic Toretto (Vin Diesel) and co are rich and fully enjoy their lives across the world. Or maybe not so "fully" - they still lacking the sense of freedom. Suddenly, appears Agent Hobbs (Dwayne Johnson), who asks the team of road-rage outlaws for help in tracking down a dangerous group, headed by a man named Owen Shaw (Luke Evans). In return, Hobbs promises immunity to the crew and a chance to reunite the entire family, as well as to find Letty (Michelle Rodriguez), beloved of Toretto, who believed to be dead.

Shooting Fast and Furious 6, the director, Justin Lin, decided to make an emphasis on the relationship between the main characters, and focused on the idea of a devoted family and close friendship:- "You don't turn your back on family, even when they do." Each member of the team shows us his or her soul. And, I find it pretty cool that the screenwriter decided to show us the movie from this angle, as this small detail reflects the reverse side of Fast and Furious. After all, no matter how bad road-rage outlaws and thugs they were; they are still humans. They are one family.

Of course, I am sure that many devoted fans of the sequel will make a comment that Fast and Furious is not anymore as it used to be. Franchise about the street racing instantly turned into a real blockbuster with robberies and crime in different countries. But isn't it what makes the movie more exciting and entertaining?

Yes, I agree that there were many inconsistencies in the movie and sometimes the relationship between the main characters simply did not make any sense - A lover with nobleness is ready to sacrifice her relationship with a man in favour of his ex-girlfriend who is miraculously resurrected. Another woman with a tiny baby is letting her husband go into the abyss of chaos and bullets. What is wrong with those women??? Or maybe I am the strange one? But even in general, it seems a bit strange that the "family" willingly and selflessly plunge in a scam for one person, and then after all troubles joyfully celebrate victory and allegedly forget that they lost another member of the same family ... but who cares when it's time to advertise Corona beer. Аnd what about Hobbs? The chief guardian of order, demonstrating "affiliate solidarity", calmly let the villain walk away? No way! And the endless Spanish military airport runway had not been noticed probably only by the most devoted fan of Fast and Furious. But anyway, this is just a fly in the ointment. All the laws of physics and logic are sacrificed for the sake of entertainment, but who cares? Isnít that exactly what the franchise has always aimed to do? Letís face it that these films are not made for the intellectually elite. So if you are a honour of physics, you better leave what you know about the laws of gravity in the lobby.

Summing up, Fast and Furious 6 is all about breathtaking drive, crazy energy, high quality special effects and the best actors. It is a dream of anyone who appreciate high quality blockbusters and has opened up the door to the claim of the best action movie of the year so far.





Fast & Furious 6 the studio appears to have uncovered the secret to satisfying the action crowd, thus our rating is 4 out of 5 traffic lights! Do you agree? Let us know by emailing us to news24@southportreporter.com today!