'Superstar Smile' slipping from public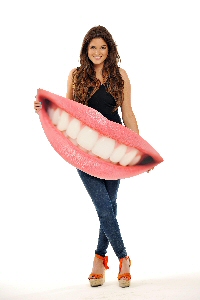 THAT'S according to a research conducted by Wrigley and the British Dental Health Foundation, which shows more than one in three give little thought to their oral health while only 16% admit to consciously avoiding foods and drinks they know to be bad for their teeth. Discoloured teeth (33%) was the biggest reason for people feeling self-conscious about their smile, with fear of food in teeth (20%) and crooked teeth (15%) also troubling respondents.

With today's emphasis on achieving the perfect look, from top to toe, including that big white smile, Wrigley's Extra White has launched the Superstar Smile campaign to coincide with National Smile Month. The initiative encourages people to take a look at their daily oral care habits, knowing that taking care of your teeth means a healthier mouth, which brings a happier smile, unleashing that superstar in us all. So far the campaign has been to Bristol, Birmingham and Manchester, with Superstar Smile heading to Bluewater Shopping Centre in Kent this weekend. National Smile Month is the UK's largest oral health campaign that started on 20 May and ends on 20 June 2013. It aims to educate and raise awareness of important oral health issues, and encourages everyone to follow 3 key messages for good oral health. These are:-

► Brush for 2 minutes, twice a day, using a fluoride toothpaste.
► Cut down on how often you have sugary foods and drinks.
► Visit the dentist regularly, as often as they recommend.

Chief Executive of the British Dental Health Foundation, Dr Nigel Carter OBE, said:- "One thing to consider when you think about oral health is hidden sugars, which are present in so many foods and drinks, including fruit and fruit smoothies. When adopting a healthy diet we also need to include those foods and eating habits that counteract the damaging effects of dietary acids and sugars on the teeth. Remember to choose foods rich in the minerals that help protect the teeth from harmful acids. Calcium rich foods not only promote good bone density in the skeleton, they also affect the quality of bone around the teeth. Adopting the simple dental hygiene habit of chewing sugar-free gum after every eating and drinking occasion is a really good and convenient way of looking after your oral health whilst on the go. Chewing sugar-free gum washes away food debris, helps to neutralises damaging plaque acids and remineralises tooth enamel by stimulating the flow of saliva which helps protect teeth throughout the day."

Face of the 'Superstar Smile' campaign and Made in Chelsea star Alexandra 'Binky' Felstead added:- "I think it's only natural that people have times when they lack self-confidence and can worry about how they look – I certainly have!I've always made sure that I brush my teeth for at least two minutes twice a day and also visit my dentist regularly. But, I also make sure I keep sugar-free gum on me at all times, so I can chew after eating or drinking, on the go and know that my teeth are clean and healthy."

The Ethical Glass brings a touch of class to Liverpool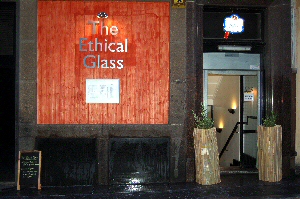 A new bar has opened in Liverpool bringing a fresh approach to nights out. The Ethical Glass prides itself on honestly priced wines, beers and martinis, and allows you to feel ethically good about drinking them as they pass on 5% of all profits to charity.

The quirky cocktail bar on Harrington Street (opposite the Hard Days Night hotel) challenges the perception that cheap cocktails constitute low quality drinks, and conducts business in an honest and philanthropic manner.

Owner Mark said:- "We operate in a different way to the chains. We offer very low prices for a City centre venue, but still use high-end brands in our food and drinks. Our regulars say that this is what makes the bar unique. That, and a warm reception, classy atmosphere and Rat Pack tunes in the air."

The Ethical Glass offers a place to go after work, meet friends, or just a really cool hang out with strong drinks, and quality-over-quantity food. With no sports screens, alcopops or karaoke, you'll be amongst the right crowd in a relaxed ambiance.

Mark continued:- "I wanted to create something different. Providing a personal touch and bringing back the values of the bar tender from the good old days. I want people to know what to expect at The Ethical Glass. We don't use gimmicks, fudged 2-for-1 promotions, pints at £1.70, nor Blossom Hill – just quality brands at honest prices."

The Ethical Glass brings star quality service and is one of the few businesses that chooses to share its success with charitable organisations. Owner Mark claims that wanting to give to charity has always been a personal aim, and comes from having worked in social housing in the past.

On entering the bar you get a warm, homely feeling and an expectation that you won't be met by groups of rowdy drunks on a stag doo. So it's ideal for that after work catch-up drink, a meeting place for a group of friends or a lunch date. And apparently the food platters are getting rave-reviews.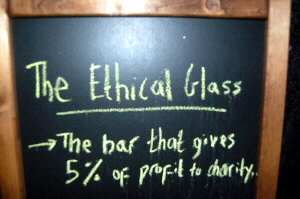 Its clear that in a world all about cost saving and convenience, its refreshing to feel like you're getting value for money without having to sacrifice on style and sophistication. There are enough bar chains around, isn't it nice to go somewhere you've never been before, somewhere where you will enjoy a cocktail in a quirky atmosphere and tell your friends about the next day? The Ethical Glass guarantees you won't be disappointed.