Retired soldier lends his support to National Sarcoma Week campaign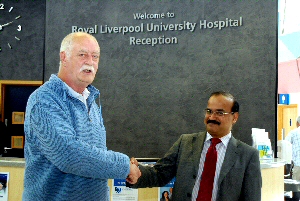 A former soldier, who lost a leg in active service, is supporting the Royal's National Sarcoma Week, 17 June to 23 June 2013, campaign calling on people with potential sarcomas to seek help sooner, with the simple message; if your lump or bump is bigger than a golf ball, see your GP as soon as possible.
Sarcomas are rare cancers that develop in the supporting or connective tissues of the body such as muscle, bone, nerves, cartilage, blood vessels and fat. They may look like simple lumps or bumps and can often be painless and they can increase in size dramatically. As a leading centre for the research and treatment of cancers, The Royal Liverpool University Hospital is the regional centre for sarcoma covering a population of about 4 million people across Merseyside, Cheshire, North Wales, Lancashire and South Cumbria.

Mr Chandrasekar, Consultant in Orthopaedics at the Liverpool Sarcoma Service, said:- "We see over 100 patients with sarcoma a year at the Royal. But all too often we see patients who have waited until their sarcoma has grown and grown, sometimes to the size of a football before they see their GP. This will mean they require extensive surgery, sometimes followed by an intensive course of radiotherapy. Sadly, due to people leaving it so late before they see a GP, around 40 to 50% will die within 5 years. Nevertheless sarcomas are treatable especially when they are diagnosed early and many have been cured, leading a normal life. For every 1cm increase in the size of a sarcoma, the prognosis worsens by 3%, so early diagnosis is key to the survival of the patient. We want to see more people coming to us when the sarcoma is the size of a golf ball and not a football."

One patient who was treated in the nick of time is retired soldier Stephen Ollerhead, 62 from the Chester area. Stephen served in the army for three decades after following his father and grand-father into the forces.

Stephen lost his right leg below the knee in active service overseas and developed a lump in his left thigh a few years later. Stephen said:- "At first I thought the lump in my left leg was due to putting more pressure on it as I got used to using the prosthesis on my right leg."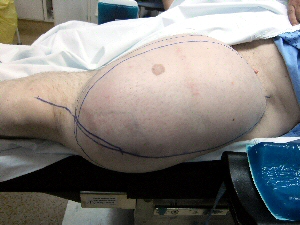 For nearly four years, Stephen tried to ignore the swelling despite it continuing to grow. "Like most men,' Stephen said, 'I thought if I ignore it, it will go away. Although it wasn't painful, it was very uncomfortable. At its worst, my left thigh was as the width of both my thighs as they are now. It was hard to walk, I couldn't turn over in bed and I had to wear, extra-extra-extra large jogging bottoms, but eventually even these were too small and I decided to see my GP."

In less than 2 weeks, Stephen was seen at the Royal, diagnosed with a soft tissue sarcoma and had surgery to remove a 22IIbs sarcoma. Following surgery Stephen was hugely relieved. "Not only was it a weight off my leg, said Stephen, 'it was a huge weight off my mind. It was great to have my independence back and I was amazed at how quickly my recovery was. I could walk the day after my operation with greater ease than with when I had the sarcoma and my treatment by the staff at the Royal has been fantastic."

Stephen's message to anyone suffering in silence with a sarcoma is simple;- 'If you have a lump that is bigger than a golf ball, get to your GP. Don't wait until it's the size of a football."

Local Star Pupil Shortlisted for RHS Award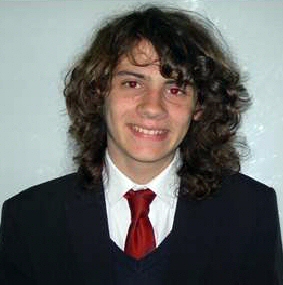 14-year-old Taylor Liddell, from Ridgeway High School, in Merseyside, has made it through to the next round of judging for Royal Horticultural Society (RHS) Young School Gardener of the Year 2013 after being nominated for his enthusiasm, talent and knowledge of horticulture.

Ridgeway High School has been provided with a new digital camcorder, by the RHS and Taylor will now produce a short 5 minute film demonstrating why he should get the Award. Videos will be judged by children's TV star and keen gardener, Dom Wood, Blue Peter gardener, Chris Collins, The Sun's gardening editor, Peter Seabrook and key RHS staff, next month.

Dom, who is currently studying a course at RHS Garden Wisley, said:- "Big congratulations to Taylor for getting this far! It's so encouraging to know there are this many talented young gardeners out there and it's going to be a tough feat judging a winner but I can't wait. RHS Young School Gardener of the Year is really important because it could inspire pupils to pursue a career in horticulture, and as the RHS pointed out in a recent report, there is a huge wealth of jobs out there, from curators to scientists to nurserymen, that will need to be filled in the coming years and I can't think of a more rewarding job than one in horticulture. We'll be announcing the winner at RHS Hampton Court Palace Flower Show 2013 and what better place to celebrate the green-fingered gurus of tomorrow, than at the biggest flower festival on earth."

Teachers from RHS Campaign for School Gardening schools, of which there are over 17,000 across the UK, were asked to nominate pupils by producing a 200 word explanation of why their chosen pupil deserved recognition for their gardening flair.

Senior Science Technician, Mrs Janet Watson, said:- "When gardening club suffered a setback due to staff absence, it was Taylor who requested to complete gardening activities at any opportunity he could such as enrichment days, lunchtimes and after school. This resulted in the reestablishment of a gardening club in school. This is a perfect example of what singles Taylor out from his peers. Taylor has already looked into courses at a local college and is hoping to follow a career in Horticulture. Combining his accumulation of gardening skills and knowledge; Taylor is at the confident stage of being able to support, organise and teach groups of younger pupils who are less able/ new to the activity. He is able to involve new members to the gardening club in a positive, enthusiastic and welcoming manner- thus sharing his passion and inspiring others."

Last year, 11 year old Lucas Hatch, from Suffolk, won the title by impressing judges with his passion, ability and knowledge. He has enjoyed a whirlwind year with visits to RHS Shows and Gardens, newspaper features, radio interviews and recent recognition at an RHS Awards ceremony that's been dubbed the Oscars of Gardening. To watch Lucas talk about his passion for gardening, online.

All last year's category winners have been busy since last year. Toby Owen-Hughes, aged 6 from Knaresborough in North Yorkshire, dazzled teachers with his gardening knowledge on a live Gardeners Question Time and was interviewed by Chris Evans live on BBC Radio 2 during the RHS Chelsea Flower Show 2013. Henry Grubb, a 14 year old 'mini David Attenborough' has started his own gardening blog. Alan Monk (Key Stage 4 winner) aged 16 was interviewed for Growing Communities, an RHS publication. Schools that successfully nominate finalists will receive up to £500 worth of gardening vouchers and tools to develop outdoor projects. The overall winner will get to spend a day at their nearest RHS Garden, working alongside RHS gardeners and receive family tickets to either RHS Flower Show Tatton Park or RHS Hampton Court Palace Flower Show 2014. Runners-up will also get a personal tour of an RHS Garden.