Paralysed man's digital art work on show at hospital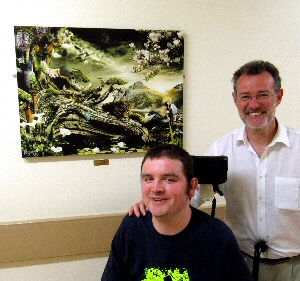 18 images created by a disabled artist are now brightening up the hospital where he was once a patient. Ryan Forshaw, 35, was paralysed from the shoulders down after a fall in 1996, leaving him using a wheelchair and with limited use of his arms.

He had always been interested in art and started digitally manipulating photographs while undergoing rehabilitation at the North West Regional Spinal Injuries Centre at Southport and Formby District General Hospital.

Ryan, who did a course in digital photography at Southport College in 2004, now uses a headset to control his computer and create fantastical digital images from original photographs.

"Taking photographs myself is impossible but I'm too much of a perfectionist to let friends and family take the photos I use in my work. So, I use online image libraries when it comes to finding source images for my manipulations," he said. "When I'm choosing images, I usually have an idea in mind for the sort of photos I need. The most important part to get right is matching the perspective and lighting when compositing an image."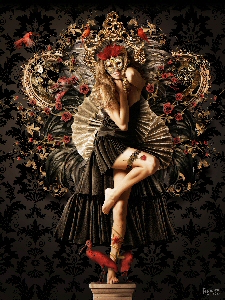 Ryan, who lives in Leigh, near Wigan, now has his own website from which he sells his work, but he also takes commissions with clients often providing their own photographs.

Copies of the canvases on display at Southport hospital are available to order from Ryan who is giving 50% of the profit to the Spinal Injuries Action Group charity which supports patients.

Clinical Director of the Spinal Injuries Centre Dr Clive Glass said:- "Ryan is unusual that he has turned what was part of his rehabilitation into a livelihood. He's a great example of someone who's not letting his disability stopping him achieving. We're delighted to show off Ryan's work and it is very generous of him to give a donation to the Centre from any orders."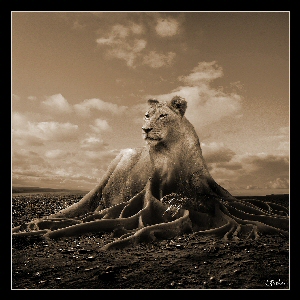 760 RIDERS JOIN MANCHESTER TO LIVERPOOL BIKE RIDE TO SUPPORT NSPCC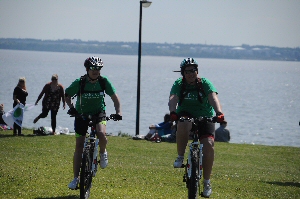 CONGRATULATIONS to all the riders from across the region who joined the NSPCC's Manchester to Liverpool Bike Ride on Sunday, 26 May 2013, to help support vulnerable children. Over 760 riders of all ages, abilities and aspirations took to their saddles and joined the route from Salford Quays Watersports Centre through Manchester via Old Trafford and Stretford, before joining the Trans-Pennine Trail to Otterspool Park in Liverpool. Riders enjoyed either the 39 mile route, or a fantastic new 55 mile road route which was new for this year, for all those riders seeking a challenge.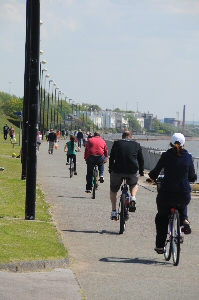 NSPCC volunteers and supporters from across Manchester and Liverpool were out in force to cheer the riders on and offer encouragement along the way.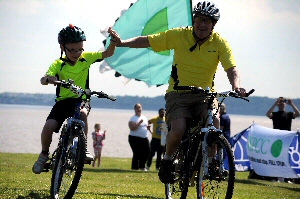 Organisers anticipate the bike ride will raise over £20,000 for the children's charity which will help support it's new ChildLine Schools Service. Particularly focused on nine to 11 year olds, the ChildLine Schools Service aims to help them understand what abuse is, including bullying, how to protect themselves and where to get help and support if needed. The service is led by volunteers who are trained to deliver safeguarding assemblies and interactive workshops in schools.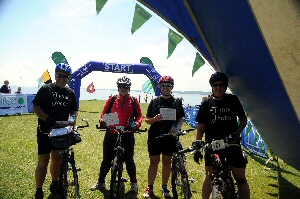 Helen Gazzola, community fundraising manager for the NSPCC, said:- "A big well done to all our fantastic riders who took part in the bike ride. We were delighted to see so many people come and enjoy a fantastic day. There was great atmosphere and we are on target to raise a record amount of money."

If you'd be interested in taking part in a bike challenge for the NSPCC or for further information about supporting the NSPCC locally, please call:- 0844 892 0253 or by email.