Merseyside Set to Dance for the Dreams of the Seriously ill
DANCE for a Dream is set to be a fantastic event set up by The HoneyRose Foundation. The 3 hour Zumbathon and Dance Fitness event is taking place at The Dream sculpture in Bold Forest Park, St. Helens on Saturday, 6 July 2013, at 11:00am. Everyone is invited to the event, giving people of all fitness levels the chance to get fit whilst raising money and awareness for a great cause! The HoneyRose Foundation is a small charity based in St Helens that grants wishes for adults fighting life-threatening illnesses in the UK. All of the money raised for this event will go to making a wish come true for someone fighting a terminal illness. The aim is not just to make the recipient's dream come true, but it is a chance to give their family a chance to spend some quality time together. "We couldn't have found a more suitable, picturesque location in the country as The Dream in St Helens. Dreams are what our charity is all about providing, by buying a ticket and participating, people will be dancing for the dream of a seriously ill adult" explains James Connolly, the marketing and media manager of the charity. Gary Conley, St Helens Cultural Co-ordinator and Dream Project Manager will be there to answer any questions:- 'For me this is what Dream represents. The community coming together for the benefit of the good. At this one event you will experience Culture, Heritage and Health all working together to raise money for the fabulous Honey Rose Foundation and seriously ill adults. Even with my dodgy knees and my Dad like dancing, I'll be so proud to be part of it'. St Helens boxer Martin Murray will be kicking off the event. Martin is currently competing in the middleweight and super middleweight divisions and is taking the time out from training to come and support the charity and all of the events participants. There will also be an amazing opportunity for participants to Win a brand new Mini One or £10,000, thanks to Utilities Warehouse. Tickets for the event cost just £7.50 and are available from The HoneyRose Foundation charity shop, 18 Hall Street, and can also be found online or purchased by calling:- 07838238309. If you are getting involved you can get your sponsor form by contacting the charity or you can set up your own fundraising page by visiting:- JustGiving.com/honeyrose. There are many adults suffering that need your support to give them hope, make them smile and you can make that happen.
Formby High Student Raises £1500 for Charity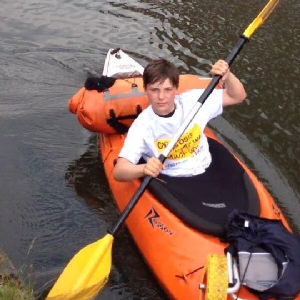 14 year old Jack Cameron-Pimblett recently completed his personal goal of kayaking the length of the Leeds to Liverpool Canal for charity.



Earlier this month he battled through 91 locks, 226 bridges and 2 tunnels to complete his 127 mile journey in five days and three hours, paddling for 21 hours straight on the final day!

Jack set himself a goal of raising £10 per mile for the Cystic Fibrosis Trust, but in the end he raised a fantastic £1500. He said:- "It's a surreal sensation when your mind overcomes your body and you just have the will to carry on."

Jack attends Formby High School and is in Year 9, Head Dominic Mackenzie said:- "The whole school community is incredibly proud of Jack and his exceptional determination to succeed and raise funds for this worthy cause."
Letters to the Editor:- "Mistake on our Film Review page!"
"DEAR Southport Reporter, we love reading your film reviews and found the report about Fast and Furious 6 very interesting and well written. Sadly, we have spotted that the YouTube link is not correct as it shows a video of the trailer for The Purge." Simon Langton.
Editorial reply:- "Thank you Simon, and yes we have spotted that and, we will be correcting it is as soon as we have worked out why the YouTube link is not working correctly. We would like to thank you for your help and request that other readers also let us know should they find an error like this."

Boat builders go back to the future
Photos by Richard Williams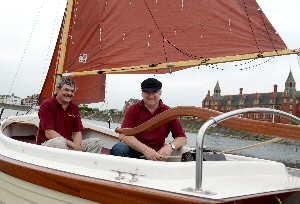 A business consultant whose ancestor sailed with Charles Darwin before taking over the Lancashire coastguard is recreating the North West's traditional salmon fishing boats. Martin Dooley has set up as a boat builder; the trade once practised by his great great grandfather; with his friend Andy Lee-McGurk. And from their new premises in Pool Hey lane, Scarisbrick, they are making a modern version of the whammel fishing boats that a century ago were a common sight on the River Lune and across Morecambe Bay, and until recently were still being used. The pair, who run Character Boats, will be unveiling their latest version of the long keel, clinker style boats; the 17ft long Weekender; at the All Wales Boat Show.

The event, 24 July to 28 July 2013, will be split between Conwy and Deganwy Quay marinas, with visitors ferried across the River Conwy from one harbour side to the other. There will be a range of craft on show, plus the chance to try out some of the equipment on sale, along with a variety of events and entertainment. Organised by boating enthusiast Kit Farmer and his wife Davina Carey-Evans, the event aims to help Wales grab a bigger share of the marine industry that generates around £3 billion in the UK every year. Davina said:- "We are delighted that Character Boats have chose the All-Wales Boat Show as the ideal place to launch the Weekender. They are doing a fantastic job in reviving the spirit of the traditional whammel fishing boats and I am sure that they will cause quite a stir at the show."

Martin said:- "The Weekender was developed from the working salmon fishing boats of the early 1900s, large numbers of these fished Morecambe Bay off the North West Coast and they were also raced by enthusiastic crews under their regatta rig. Our versions can easily be loaded onto a trailer, and are suitable for estuary sailing. It's a distinctive traditional craft with glass fibre hull and cockpit mouldings fitted out in hand crafted hardwoods, with a traditional rig of distinctive tan sails. The long shallow keel and offers stability and good sailing performance, allowing them to sail well in shallow waters. Their protective stainless steel keel banding enables them to be launched from, and sailed on to, a beach without damage. The ballast in the keel gives them better stability than a similar sized dinghy so there is no need to sit out over the side when sailing. The commercial background of the craft with their seaworthy hulls and full built in buoyancy has left a legacy of safety and sailing efficiency, allowing the experienced skipper to accommodate varying skill levels with the crew."

The 56 year old comes from a long line of links with the sea. "My great-great-grandfather, John Johns, was an able seaman aboard The Beagle with Charles Darwin – I've got his sea-chest. He went on to captain a ship in the Royal Navy during the Opium Wars with China and he later came back to the UK when was put in charge of the coastguard, along this coast and down to Hoylake and Rhyl. And his father was also a boat-builder, in Devon and Cornwall, though I've not yet found out much about him. I've been sailing since I was 5, boats are really in my blood. I own my own boat as well, Tao, a 26ft wooden sailing boat, which is moored at Beaumaris, Anglesey. That's my escape from life."

Martin, who lives Aughton with his occupational therapist wife Mary and their three children, and is also a consultant advising small and medium sized companies on how to succeed, while dad-of-three Andy, 48, works with homeless young people and lives in Crosby with his wife Karen, a youth worker.

Martin added:- "As I am a consultant with the Government's Manufacturing Advisory Service I am flexible when I work, and Andy works evening and weekends, as we build the boats to order. It's a small business but the model works very well, as we have other interests to keep us afloat. We looking forward to exhibiting our Weekender at the All Wales Boat Show, as it's a chance to meet a whole range people and explain to them at first hand the background to the boat, and its benefits, out of the water. Plus I am looking forward to seeing all the other boats on show, and sampling some of the Welsh produce."

Andy also has a link to his nautical heritage; the tools that he uses at Character Boats were left to him by his maternal grandfather Len Brown, a carpenter on sailing ships around the world. Andy, aged 48 said:- "He worked for the Blue Funnel Line and was on board the ships, rather than working in the yards. He was away much of the time, as an on-board wood worker. I was only eight when he died, but he left me his wood working tools."

His dad John, from Belfast, was also a seafarer, working as a cook and chief steward on bulk carriers sailing to and from Australia. Andy previously worked with the Ocean Youth Club in Merseyside, taking youngsters on sailing trips and was an instructor on the Drake Fellowship's Spirit of Liverpool ship. He was also a sailing instructor with Sefton Youth Services. Davina added:- "The boat show is a celebratory festival of all water-based activities promises to dazzle with the very best in boating, with an amazing array of watersports and incredible outdoor activities plus wonderful leisure opportunities. There will be yachts fit for millionaires, the tallest ship ever to have sailed into the harbour at Conwy, hand-crafted traditional boats such as coracles, plus the chance to try your hand at everything from paddle-boarding and sail boats to diving. For landlubbers, there are stunning luxury cars to admire, mouth-watering food and wine from Wales to sample and mock-rock faces to tackle. You can also take a ride across the River Conwy, from one marina to another or stroll along the coastal path between the 2, to get a view of the historic waterfronts and the line-up of boats; with plenty on offer to buy."