RNLI Lifeguards on Formby beach involved in multi-agency rescues as temperatures soar
Photographs by Patrick Trollope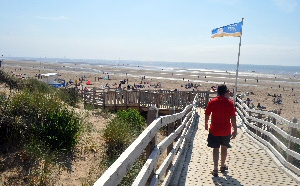 ROYAL National Lifeboat Institution (RNLI) lifeguards had a very busy afternoon on Sunday, 7 July 2013, when they were involved in 2 multi-agency rescues on Formby Beach, as people flocked to the seaside to enjoy the hot weather.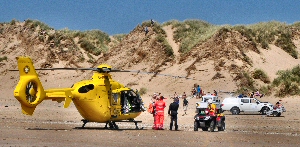 The 1st incident occurred at 2.30pm when the charity's lifeguards went to the aid of a pregnant woman who was suffering from burns to her feet, after stepping on sand where a disposable barbecue had been located.

RNLI senior lifeguard Ryan Jennings and lifeguard supervisor Pete Rooney, gave oxygen to the 29 year old, as she was being sick and had a high breathing rate.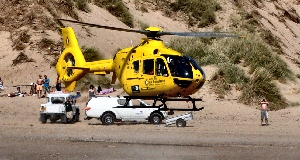 They cooled the lady's feet with water and wrapped them in burn bags before requesting the assistance of the Air Ambulance and the Coastguard Rescue Team.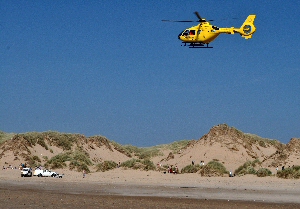 10 minutes later the lifeguards were called to assist a man who had fractured his ankle after jumping off a sand dune. The lifeguards stabilised the man and also kept an eye on the pregnant lady.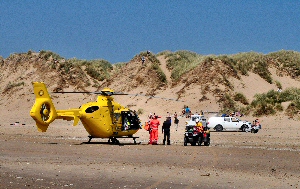 RNLI lifeguard Alex Bowden cleared a space on the beach to enable the North West Air Ambulance to land and it was decided that the injured man should be flown to hospital.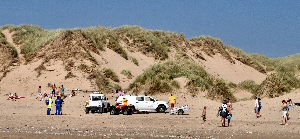 Crosby Coastguard Rescue Team and Sefton Coast and Countryside Rangers assisted in transporting the pregnant lady to Ainsdale, where she was treated by waiting paramedics.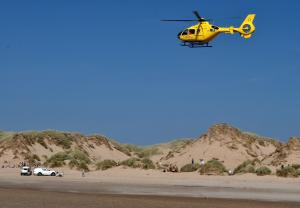 Pete Rooney, RNLI lifeguard supervisor said:- "Both casualties received swift and effective treatment which is testament to the seamless teamwork demonstrated by the agencies involved. We wish both casualties a quick recovery and urge people to visit a lifeguarded beach and to swim between the red and yellow flags."

Parking problems block Emergency services as temperatures soar
Photographs by Patrick Trollope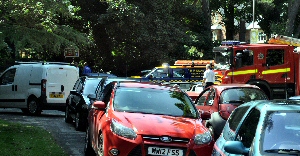 ANOTHER very busy Sunday, as climbing temperatures bought out tourists from all over the North West to Formby Point once again. In other years this has not been a major issue, but now new restrictions on parking around the Freshfield National Trust Squirrel Reserve have moved the parking madness down the road. This time it delayed the deployment of emergency services to several incidents that happened on 7 July 2013, on the beach. As you can see the Fire Engine was hampered by the parking problems. Also many residents again complained of not being able to get cars in and out of the houses as illegal and dangerous parking recurred. Police, as you can see below did try and take some action, and we have been told that some motorists were issued with fixed parking fines. Sadly, the worry is that as the summer holidays and the August bank holiday come ever closer, this issue will become even more of a danger. We would like to know your views on this parking issue and ask for residents who are affected, in any of the areas on Merseyside's coastline, to air their views as how this can be resolved. Last week we spoke to Formby Councillor Nina Killen about it. If you have not seen the video, you can see our link to the other reports about this issue and this video via this link. If you have any views on this matter, please email us to:- news24@southportreporter.com.