STRAWBERRY TEA FUNDRAISER
A hardworking volunteer organised a Strawberry Tea afternoon which raised £920 for a local cancer charity. On Wednesday, 17 July 2013, Lady Captain of Hillside Golf Club, Jan Maund, hosted the event to raise funds for her nominated charity, the Southport Committee of North West Cancer Research (NWCR). She organised the event in conjunction with Olive Cutts, the Committee's Chair, who is also a member of the golf club. On the day 118 ladies attended the event at the golf club and the group were entertained by singer Julie A Scott who performed classic songs including Nessun Dorma, You'll Never Walk Alone and Climb Every Mountain. Guests also had the opportunity to enter a raffle which added to the fundraising total. Olive Cutts, Chair of the Southport Committee said:- "It is extremely kind of the Lady Captain to support our charity and throughout the year she has hosted a number of wonderful events which have contributed to our fundraising total. The Strawberry Tea made for a very popular and entertaining afternoon." Anne Jackson, Chief Executive of NWCR said:- "I would like to thank Lady Captain Jan Maund for organising this Strawberry Tea. The guests had a lovely afternoon and they raised a fantastic amount on behalf of the committee. Money raised in the region is used to fund innovative cancer research projects in the area, including University of Liverpool as well as the Universities of Bangor and Lancaster." North West Cancer Research Incorporating Clatterbridge Cancer Research is made up of a merger between North West Cancer Research Fund and Clatterbridge Cancer Research. For more information about the charity please visit them online.
SUMMER FETE A STUNNING SUCCESS FOR SOUTHPORT CARE HOME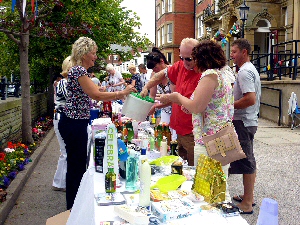 A combination of exceptionally warm weather, plenty of family attractions and the generosity of local residents helped Alexandra House, local Care centre for automotive industry charity BEN, raise over £1,600 at its annual Summer Fete on Saturday, 20 July 2013. Despite the Level 3 heatwave hundreds enjoyed the fun, food and feathered attraction of an Owl display whilst the refreshments tent kept everyone suitably hydrated! Jan Habeck, Care Centre Matron commented:- "Another successful and happy fundraising event for Alexandra House. As ever the raffle and tombolas proved very popular and, I'm sure, will have raised the most money on the day. I am grateful that our fete is always so well supported and that, once again, we shall be able to purchase much-needed nursing equipment to maintain our high standards." If you would like more information on the Alexandra House facility or find ways in which you can help, please contact Jan Habeck on:- 01704 543715.
CCTV released following racially-aggravated incident on board train – West Midlands/Liverpool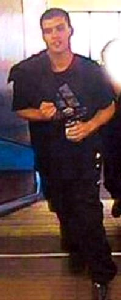 CAN you help identify this man? British Transport Police (BTP) Officers are appealing for the public's help to identify a man they would like to speak to in connection with an incident which took place on a train between Wolverhampton and Smethwick Galton Bridge ral stations in the West Midlands. Officers have released this CCTV image of a man they believe will have information which can assist the investigation into the incident.

Investigating officer, PC Shani Plumb, said:- "On Wednesday, 12 June 2013, a male passenger boarded the 07:25hrs Wolverhampton to Birmingham New Street service at Wolverhampton and abused a number of passengers and the train manager, including making a number of racist remarks. When the train reached Smethwick Galton Bridge, he pulled the emergency chord, forcing the train to stop before he forced the doors open and exited the train. We believe the man boarded an earlier train at Liverpool Lime Street and was asked to leave that service at Crewe by train staff. However, he re-boarded the train and got off at Wolverhampton before catching a later train on board which the offences are alleged to have taken place. Enquiries to trace the man have been ongoing, but we have yet to locate him. I would now like to ask for help to identify them man in this photograph as I believe he will have information which can help the investigation."

Anyone who knows the man's identity is asked to contact British Transport Police on Freefone:- 0800 40 50 40, or text:- 61016. Alternatively, you can call the independent charity Crimestoppers on:- 0800 555 111. In all calls, please quote incident reference:- B4/WWA of 26/07/13.
APPEAL FOR INFORMATION - SEXUAL ASSAULT - LITHERLAND
MERSEYSIDE Police are appealing for information following an allegation of sexual assault, in Litherland on Tuesday, 14 May 2013. At about 5.30pm a teenage girl and her male friend were walking along a path known locally as the 'Cinder Path' which cuts through 'Bootle Municipal Golf Course' from Dunnings Bridge Road. As they walked 2 teenage boys approached them and talked to the girl and her friend. It is alleged that a short time later the 2 teenage boys sexually assaulted the girl before leaving the area. The girl made her way home and the matter was reported to the Police a short time later. 2 males, both aged 14, have been arrested in connection with the incident. They have been questioned and released on Police Bail pending further enquiries. DC Cathy Hudson from Merseyside Police's Unity Team, said:- "The area would have been busy at this time. I would appeal for anyone who may have witnessed this incident or know any information about it to contact us. In particular we believe a man may have witnessed the incident and spoken to the friend of the girl at the time. The man is described as being white, approximately 25 years of age, medium build with a shaven balding head. He was wearing a tracksuit with dark grey sleeves. He had dark facial stubble and spoke with a local accent. He is not believed to be involved and we would urge this man to come forward. Any information about this incident is vital to our investigation. I would like to reassure the community that this type of incident is very rare and I am appealing for local people to come forward if they can help the investigation." Anyone who may have witnessed the incident or anyone with information is asked to contact Merseyside Police on:- 0151 777 1382 or Crimestoppers on:- 0800 555 111.

Community comes together to celebrate 'good will' partnership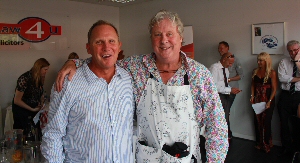 A Merseyside based solicitors, Law 4 U, celebrated the start of its partnership with local children's charity Stick 'n' Step with a launch event at its new offices in Claughton early in July 2013.

As part of its support to Stick 'n' Step, Law 4 U is offering potential customers free Wills throughout September 2013. Customers benefiting from the free Will service will be invited to make a donation to Stick 'n' Step or remember them in a legacy instead.

Law 4 U extended its goodwill gesture to the neighbouring community, with a selection of local businesses invited along to promote themselves at the event. The night included fizz and personalised cupcakes and neighbouring restaurant, Village Tandoori, provided an Indian buffet. In addition, guests were treated to a lavish chocolate fountain provided by new business venture, Just Melt. The evening concluded with a very entertaining introduction to wine from local wine merchant, Charlie Walmsley ('Charlie the Wine').

The launch coincided with the charity's recent announcement of Sky Sports TV presenter, Rob Palmer being named as its official ambassador. Rob's business relationship with Law 4 U was instrumental in its decision to support Stick 'n' Step and he made his first appearance as the charity's ambassador at this event.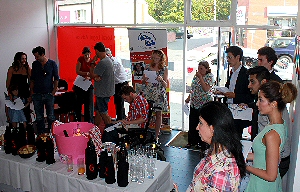 Amongst those in attendance at the celebration was Rob Palmer's son, Ellis, who was one of the 1st children to benefit from sessions at Stick 'n' Step after its inception in 2002. Ellis was invited to share his story with those in attendance about how Stick 'n' Step helped him manage his cerebral palsy.

Commented Ellis Palmer:- "Having cerebral palsy means that your body has to be taught simple tasks that come naturally to others, this is where Stick 'n' Step helped me. Whilst attending sessions I was taught how to put on my socks and shoes and much more. I am now studying Spanish and Politics and living independently at Birmingham University thanks to the life skills that Stick 'n' Step helped me develop during my early years. I am actively involved in current affairs and have recently become the representative for disabled students at the University which means I am the voice for over 3,000 disabled students."

Steve Hale, Co-Director of Law 4 U, explained:- "We are pleased to be supporting Stick 'n' Step. The combination of the amazing work that it does and its close location to our new offices made it an obvious choice for us. We aim to help generate greater awareness in the community of the work Stick 'n' Step does with children that have cerebral palsy. As a starting point, we are looking to promote the charity via our website, office literature and through our free Will campaign, which runs throughout September. We will provide the Will and invite clients to make a donation to the charity."

Kerry Roe-Ely, Community and Events Fundraiser at Stick 'n' Step added:- "We are so thrilled that Law 4 U has chosen us as its charity of the year and we enjoyed celebrating the start of this partnership at the launch party. Personal and corporate sponsorship and support is so important to helping us to continue to help the children who visit our centre."

For further information about corporate sponsorship or partnerships with Stick 'n' Step and how you can get involved, please visit:- sticknstep.org.
Classic comedy with a new twisʇ!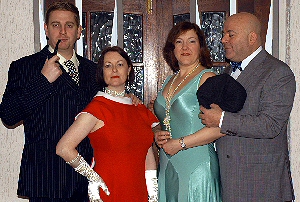 NOEL Coward's classic comedy "Private Lives" is to be staged in Runcorn with a new twist. Newly formed group Consensus Touring Theatre will present the play at The Brindley Theatre, on Friday, 13 September 2013. Curtain will be going up at:- 7.30pm. The play concerns a divorced couple who go on honeymoon with their new spouses only to find, to their horror, that their former spouses are staying in the same hotel; in the next bedroom. It was 1st performed in 1931, with Coward starring in it himself, alongside Gertrude Lawrence. Later productions have involved such stars as Elizabeth Taylor and Richard Burton, Vivien Leigh and Lawrence Oliver. Consensus Touring Theatre has been started by a number of experienced amateur actors and is an experimental group in that, instead of having a sole director taking the helm, the members of the cast all share the directing role. Founder member Philip Wade said:- "Our ethos is to breakaway and steer to a new principle, so that all involved are to play a role in enriching and embellishing the piece as we go along. This principle, we feel, has not only been feasible but very refreshing to us as performers. Maybe, in the future, other performers would consider and sample the same philosophy?" Since staging the play in many Theatres in around the Northwest, we feel we are now coming home performing it at the Brindley for the very last time. We hope that the audience will enjoy the play as much as we have enjoyed performing it Tickets available from the Brindley Box Office, also by calling:- 0151 907 8360 or you can go online.