Right royal welcome for MS Queen Elizabeth!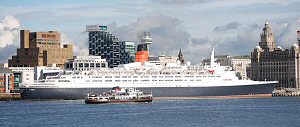 ON Tuesday, 6 August 2013, MS Queen Elizabeth, the newest of Cunard's luxury liners, will be visiting Liverpool as part of her "Around the British Isles" tour and Mersey Ferries will be offering a right royal welcome!

River Explorer Cruises will operate between 10am and 3pm, and will have a Blue Badge Guide on board, giving live commentary and information. Morning and evening commuter services will run as usual.

Queen Elizabeth is the newest Cunard luxury liner, named in 2010 by Her Majesty the Queen. Recalling the rich heritage of the first Cunarder to bear the name, her elegance and modern features have won her many accolades and made her a firm favourite with her passengers, she is sure to draw in the crowds.

Mersey Ferries will operate a Farewell Cruise to coincide with The Queen Elizabeth's departure from Liverpool at 6.30pm. Lasting approximately 1½ hours, the cruise will give passengers a great view of The Queen Elizabeth as she sails away from port, with live on board Blue Badge Guide commentary.

The Cruise leaves Seacombe at 5.45pm, Liverpool Pier Head at 6pm, returning to Liverpool at 7.30pm and Seacombe at 7.45pm. Tickets priced Adult £12, Child £6, Family (2 Adults and 2 Children) £30 are available in advance from all Mersey Ferries Terminals, merseyferries.co.uk or by calling the booking office on:- 0151 330 1444.
SPONSORS MAKE FREE HEALTHY EATING WORKSHOPS AVAILABLE TO MERSEYSIDE CHILDREN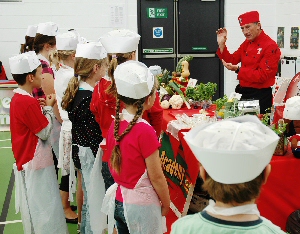 ON Monday, 29 July, Junior Chefs' Academy launched the 1st in a 3 week series of free healthy eating workshops for children in Merseyside, thanks to a new sponsorship agreement with One Vision Housing and the building repair and maintenance specialist, Sustainable Group (UK) Ltd.

The 2 organisations are jointly funding the fun packed food education sessions, which enable children aged from 4 to 14 to develop valuable food skills and to understand the links between health, fitness and nutrition.

The workshops last 2 hours each and are being held on Mondays at Caradoc Community Hall in Seaforth, and on Tuesdays at Ford Lane Community Centre in Litherland. There will be one session each morning, starting at 10am, and 1 each afternoon, starting at 2pm.

Based in Wirral, Junior Chefs' Academy is the country's leading provider of practical food education workshops for community groups and primary school children. Dedicated to promoting awareness about the importance of eating well, it welcomes any opportunity to spread the healthy eating message, as head chef Paul Cooper explains.

"We try to reach children at an early age in order to give them a real enthusiasm for choosing and preparing properly nutritious foods. If we can do that, then we can help them to live much healthier lives and to gain skills that will be really valuable to them in terms of both their daily lives and possibly their future careers. We've got a real passion for getting this message across and that's why we're so grateful and so delighted that two of the region's major employers have decided to work together to make these workshops free for local kids. It's a generous and forward looking decision that I hope will have lasting benefits for the whole community." says Paul.

Speaking on behalf of One Vision Housing, Louise Williams, Community Development Manager said:- "The health and wellbeing of our residents is very important to us and we are always looking for new and innovative ways to work with them to enhance their knowledge and offer them opportunities to learn new skills. This project is a great way of educating our residents in how to prepare healthy nutritious food whilst bringing families together and having fun!"

The other sponsor is Sustainable Group (UK), which is a long standing supporter of Junior Chefs' Academy and which was pleased to agree to the joint sponsorship deal.

"Like Junior Chefs' Academy and One Vision, Sustainable Group is keenly committed to improving the quality of life for people in the communities where we work. As ever, we're very happy and very proud to be supporting Paul and his team, who are absolutely excellent at what they do. In a very engaging and entertaining way, they give children a real enthusiasm for healthy food and help them to understand how to prepare it, where it comes from and how it can help to keep them fit and well." said managing director Gary Lawson.

At the beginning of the Autumn school term, One Vision Housing and Sustainable Group (UK) will also be sponsoring 5 days of free food education workshops for primary schools in the Sefton area. More information about the Junior Chefs' Academy workshops can be found by visiting the company's website.

Discover nature's home this summer at RSPB Marshside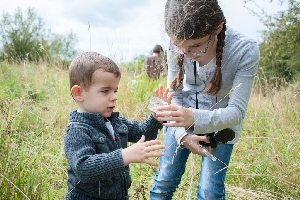 SUMMER is a fantastic time to get closer to nature and this August will be no exception as RSPB Marshside invites everyone to take part in a variety of exciting wildlife activities.

From joining a Saltmarsh Safari to learning how to attract nature into your own garden, people of all ages are encouraged to discover the amazing wildlife on their doorstep.

Alex Pigott, Reserve Warden at RSPB Marshside, said:- "With the launch of the RSPB's new campaign, Giving Nature a Home, these events are a great way for people to find out what creatures live in the area and how everyone can give nature a helping hand in their own gardens or outdoor space."

The activities begin on Sunday, 4 August 2013, with Tidal Time Travel; a free guided walk around the RSPB reserve at Marshside. Participants can step back in time with the help of the North Meols Civic Society to uncover the rich coastal history of the area. The walk starts at 10am, at the historic fog bell on Marshside Road.

A Saltmarsh Safari on 18 August 2013, is the perfect opportunity to discover more about the amazing habitat and the fantastic creatures that have made their home at the reserve, from prehistoric looking bugs to wonderful waders. The event runs from 10 am-12 noon and is priced at £2 for RSPB members, £4 for non-RSPB members. Under 18s are free. Booking is essential.

Families can enjoy a day of activities from 10am to 3pm on Thursday, 22 August 2013, at a special Giving Nature a Home event. From building bug boxes to carrying out mini beast hunts or getting creative with free crafts, there will be plenty to do at this family fun day; alongside the chance to pick up tips on how to give nature a home. Entrance to the reserve is free; however there will be a charge for some activities.

Anthony Carr, Volunteer Intern at RSPB Marshside, said:- "This will be a great opportunity for families to come and take part in activities to see how they can give nature a home, no matter where they live. Even the smallest actions can make a big difference."

To help reserve staff to create homes for nature, a Make Hay if the Sun Shines event will be held on Sunday, 25 August 2013, offering people to chance to help build hay stacks for some of the reserve's smaller residents. The event is free and will run from 10am to 3pm.

Alex added:- "Hay stacks, just like compost heaps, are a great way to provide shelter and a home for many different mini beasts and small mammals. This event is another great way to support the RSPB's campaign and help to give nature a home."

All events are taking place at RSPB Marshside, Southport. For more full details about these events and how to book, please visit:- rspb.org.uk/marshside. For more information on Giving Nature a Home please visit rspb.org.uk/homes.
Popular Park Pedaloes Return
PEDALOES are returning to Sefton Park in time for the school summer holiday. A fleet of 6 pedaloes will be available for hire at the Park's lake throughout the holidays. Pedaloes were introduced to the park last year (2012), the 1st time boating had taken place there for many years. "The pedaloes proved to be a very popular addition to Sefton Park's attractions last summer so we were very pleased that we could bring them back this summer. We want to make our parks and green spaces full of life and animation and the pedaloes are a great way of doing that. And, if we have the same hot weather we have enjoyed in the last few weeks, what better way will there be of cooling off than taking a pedaloe trip on the lake!" said Councillor Peter Mitchell, Mayoral Lead on Parks and Open Spaces. The pedaloes are operated by the charity Local Solutions and they cost £5 per vessel to hire.
Southport's FREE Open Top Tour Service every Sunday throughout the summer n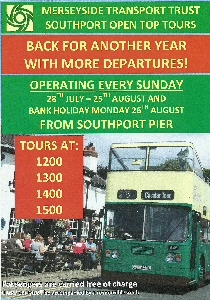 THE Merseyside Transport Trust will be in Southport operating a FREE Open Top Tour Service every Sunday throughout the summer until 25 August 2013, with an additional day on Bank Holiday Monday, 26 August 2013. The service will be FREE and the traditional Southport Open Top Buses now owned, preserved & restored by Merseyside Transport Trust will be operating the service. The bus crews are all volunteers. The MTT is an non-profit making organisation with the sole aim of preserving Merseyside's Transport heritage for future generations to enjoy. The hourly service will operate from the usual Open Top Tour Bus Stop by the Carousel end of the Pier. Please visit our website for details of our vehicle collection, forthcoming events, membership & vehicle sponsorship at:- mttrust.co.uk.