LIVERPOOL PRIDE IS THIS SATURDAY – MARCH ROUTE ANNOUNCED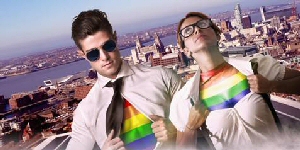 THE final countdown is well and truly on as Liverpool gets ready for a super charged Liverpool Pride this Saturday, 3 August 2013! Superheroes from the LGBT community and beyond will come together for a day of music, fun and community spirit (costumes optional but encouraged), which takes off with a colourful and vibrant march through the streets of Liverpool City Centre. Those wishing to participate in the march should pre-register here.

Those marching are asked to gather at Liverpool's iconic St. George's Plateau from 11am on Saturday, where speeches will be made before the parade takes flight at:- 12 noon.

It will process along Lime Street before taking in Queen Square Bus Station and Whitechapel, then making its way along Lord Street and North John Street, turning down James Street, crossing The Strand over Mann Island and landing in front of the Waterfront Stage at the Pier Head, where the afternoon's entertainment will begin.

The Waterfront Stage at the Pier Head is hosted by radio personality Jay Hynd, who along with celebrity guests such as Geordie Shore's Jay Gardner and the Hollyoaks cast will introduce top music acts such as X Factor star Amelia Lily, kings of 70s/80s kitsch Black Lace, smash hit 90s dance act Baby D and the touring cast of the West End musical Rent. Over 50,000 people are expected to attend the main Pride site which will also play host to a number of bars and stalls.

Stanley St will be home to a second stage, hosted by Paul German alongside Desperate Scousewives' Amanda Harrington and Layla Flaherty, introducing a fantastic showcase of local up and coming talent throughout the day.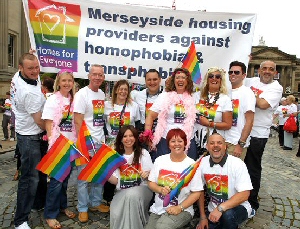 9 to 5 The Musical, which is running at the Liverpool Empire until Saturday, 3 August 2013, is the official theatre partner of Liverpool Pride 2013, and a special discounted ticket is available to Pride attendees (quote 'Pride' when booking). For more information online.

In a new and improved security measure for 2013, both Liverpool Pride stage sites will be fenced whilst remaining completely free to attend.

James Davies, Liverpool Pride Festival Manager said:- "With just days to go until this year's Pride we're anticipating record numbers! We hope people embrace the superhero theme and really have fun with it - Liverpool Pride is all about creating a safe, friendly environment for all and our new safety and security measures for 2013 will ensure an even better atmosphere than the last 3 years."

Jay Hynd, Waterfront Stage Host said:- "With only a few days to go I am super excited to be hosting this year's main stage at Liverpool Pride. It's a festival that is getting bigger, better and more colourful each year. I'm really looking forward to introducing the likes of Baby D, the cast of Rent and Amelia Lily to a 50,000 strong crowd of superheroes! See you there from 1pm – and don't forget your costume, Batman."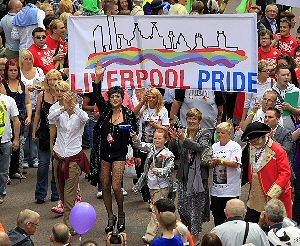 Throughout July and August, Liverpool Pride will also be presenting a collection of unique stories captured on film; ranging from in-depth authentic documentary to comedy from beyond the stars; at venues across Merseyside.
Many of the films will be screened at FACT (Foundation for Art and Creative Technology) Liverpool, including She Said Boom: The Story of Fifth Column, Future My Love, Desert Hearts, I Want Your Love, The Invisibles and Any Day Now. Other film screenings will be hosted a little further afield at the Crosby Plaza with the hilarious Co-dependent Lesbian Space Alien Seeks Same and The Light, New Brighton showing Vito and The Journey. More information on each film can be found online.
A2Z Bare and Cafe are to hold a new talent event

EVERYTHING is full steam ahead now for a brand new talent event in Liverpool. A2Z Bar and Café, in Liverpool 1, by the Hilton Hotel and the Albert Dock, has already got a few acts already confirmed and more in the pipeline. "A2Z as more than a café; as an attractive, relaxed nightspot where people can start their nights off with good food, good drink and good music. We want to show the people of Liverpool that it is not just a greasy spoon café, but a cool, nightspot, at the heart of the City. we are also hopping to promote some new talent in the process..." said Chris Hine, Events Manager. This Open Mic. Night takes place on 17 August 2013, from 7pm. Entry £2, and for information or to take part contact the venue via email or via calling:- 0151 227 4925. You can also find them on Twitter as A2Z_Cafe and on Facebook ...THIS IS AN ADVERT...

Groups set to benefit from Commissioner's Community Action Fund
A local football club, the county's neighbourhood watch scheme and a domestic abuse charity are among 5 organisations celebrating a cash boost from Lancashire Police and Crime Commissioner's Community Action Fund. Clive Grunshaw said he was "delighted" to be able to allocate more than £5,000 to the projects, which will help some of the county's most vulnerable people and support efforts to reduce anti-social behaviour.

The successful projects are:-
► Penwortham Community Club, Penwortham - £360

► Lancashire Neighbourhood Watch Forum, county-wide - £800

► Sahara in Preston, Preston - £1,500

► Mill Hill Football Club, Blackburn - £1,000

► Lancashire Council of Mosques, county-wide - £1,800

The Commissioner said:- "I am delighted to be able to offer funding to these organisations to help run some very worthwhile projects and contribute to their long-term success. These applications very clearly demonstrate the variety of different ways money from the Community Action Fund can be used for the benefit of the community; whether that is to buy equipment for a sports team, help keep youngsters off the streets this summer or fund seminars that will have long-term benefits for the community. The fund is designed to help projects which address the priorities listed in my Police and Crime Plan, and I am confident the money handed out to these groups will make a difference to the communities they serve."

The Lancashire Council of Mosques has been allocated £1,800 towards its initiative to run two seminars focusing on child protection in Supplementary Islamic Schools. It is hoped the first seminar, to be run in Preston next month, will reach up to 300 mosque teachers. Ismaeel Nakhuda, Lancashire Council of Mosques' general manager, said:- "The events will be held in conjunction with Lancashire County Council and Lancashire Constabulary and will focus on the roles and responsibilities of the schools and promote good practice. The speakers will include local imans, so it's a very grass-roots initiative. Having their involvement sends out a very strong message that this is money which is being used in an excellent fashion to help the community with safeguarding at a grass-roots level."

A grant of £360 is heading to Penwortham Community Club to help fund summer activities aimed at 13-19-year-olds from the Kingsfold Drive area. Steve Caswell, from the club, said:- "We've had problems in the past with big groups of young people meeting in the park, so we want to give them something more constructive to do over the summer holidays. We are going to run a treasure hunt for 13 to 19 year olds all over Penwortham and we will be asking them to attend various. The money is predominantly to buy prizes and it will definitely make a difference."

In Blackburn, Mill Hill Football Club is going to put its £1,000 grant toward a new tractor mower to keep its pitches; used by dozens of youngsters and adults every week; in tip-top condition. Peter Fryer, who made the application, said:- "It is quite a deprived area and there's not a lot for young people to do, so the club makes quite a difference. We have the ground on a long-term lease and about 150-160 children use the facilities, and there are 2 disabled teams and the senior teams as well."

Sahara in Preston provides support and advice services for women from the Asian community who have been affected by domestic violence and abuse. The charity has been given £1,500 to allow it to provide 75 counselling sessions over 12 months as part of its Making a Difference project, and centre manager Zafar Coupland said:- "We are delighted the Police and Crime Commissioner is supporting this very worthwhile project which will greatly assist women who are the victims of domestic violence."

The final organisation to benefit is the Lancashire Neighbourhood Watch Forum, which will receive a £800 toward the running costs of a conference at Lancashire Police Headquarters to re-launch the county scheme.

Robert Warren said:- "At the present time we have over 1,600 co-ordinators across Lancashire covering in the region of 70,000 domestic properties and Neighbourhood Watch is expanding thanks to Rural Watch, Farm Watch and Business Watch. This is why we are re-launching, so we can include all these and be more proactive in helping to make Lancashire a safer, more secure place to live and work."
Liverpool Pride Parade - City Centre – Saturday, 3 August 2013 - Travel Information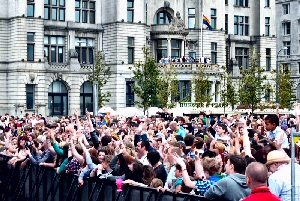 THERE will be road closures and some temporary bus stops in and around Liverpool City Centre on Saturday, 3 August 2013, to allow for this year's Pride Parade. The parade starts at noon, taking a route via Lime Street, St Georges Place, Queen Square Bus Station, Whitechapel, Lord Street, James Street, Mann Island and The Pier Head. Road closures between approximately 11:15am to 1pm at Lime Street, Queen Square Bus Station and Sir Thomas Street bus stops and between approximately 11:15am to 1:30pm at Lord Street, North John Street, James Street and Mann Island. The parade will cross The Strand over a period of approximately 30 minutes from around 12.30pm.
Banners show love for parks
LIVERPOOL children have been showing they love the City's parks. To mark Love Parks Week, they have been taking part in a competition to design banners to be placed around Sefton Park. Hundreds of entries from more than 40 schools were received. The theme of the competition was active play 50 of the best designs will be made into banners which will be on show around the Community Services Zone in the park at the Liverpool International Music Festival over the August Bank Holiday week-end. The zone will also have a heart-shaped labyrinth and there will be a number of activities, including pedaloes on the lake, a zip wire and dance. "The children have really used their imagination with their designs. It shows that we have a lot of very talented and creative children who really love their parks. There are going to be 10 of 1000's of people in Sefton Park for the festival and I am sure they will appreciate the work the children have created; it will be a great display." said Councillor Peter Mitchell, mayoral lead on Parks and Open Spaces. Love Parks Week is a national celebration of Parks, coordinated by Keep Britain Tidy, and runs until 4 August 2013.