BOOTLE MAN ARRESTED FOR CYBER ATTACKS AGAINST BANK AND COUNCIL WEBSITES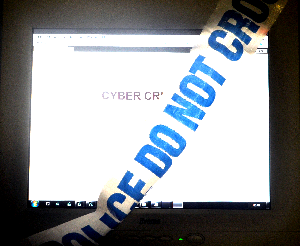 A 50 year old man was arrested on suspicion of offences under Section 3 of the Computer Misuse Act (1990) by Officers from the e-crime unit at 'Titan', the North West Regional Organised Crime Unit, at a house in Farmer Place.
Computer and other equipment was seized as part of an on going investigation by the regional e-crime unit, the Serious Organised Crime Agency (SOCA) Cyber department and the Police Central e-Crime unit (PCeU), into attacks on several websites earlier this month and June.
The man has since been released on Police Bail pending further enquiries.

This arrest comes after 2 separate 'denial of service' attacks were launched against the customer facing websites of 2 multi national banks, over 7 July and 8 July 2013. The attacks disrupted the websites for around 40 minutes on each evening.

The previous month, a Council website in the North of England had been disrupted for 2 hours, over 1 afternoon, using the same tactic. 2 days earlier, on 7 June 2013, a website provider for an advisory service providing advice about family court matters was attacked. The server was flooded with hostile traffic which blocked genuine users of the site for 4 hours.

The organisations in all 4 cases have suffered as a result of customers or service users being unable to access their websites, financial losses from getting IT specialists to rectify the problem, and reputational damage.

Detective Chief Inspector Janet Hudson, who leads the North West's e-crime unit, which is part of TITAN, the regional organised crime unit, said:- "This arrest is the result of a highly complex, but fast developing investigation by specialist investigators both here in the North West and elsewhere in the UK. 4 large organisations have suffered as a result of these cyber attacks with the services they provide badly affected for lengthy periods. These attacks caused worry and concern; no one knew how long they would last or if the damage could be repaired. This is the impact of cyber crime; it is not a victimless crime. It affects real people with real businesses and this arrest shows the Police and other agencies can and will take action against suspected offenders."

CCTV images released following burglary at Southport Station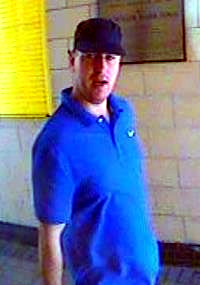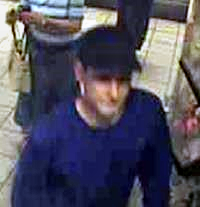 THE British Transport Police (BTP) have released these 2 CCTV images of men detectives would like to speak to following a burglary at Southport rail station. At around 1.20pm, on Wednesday, 10 July 2013, 2 men entered the booking office, which is also an M2Go shop, at the station and, while 1 remained in the shop, the other went into the rear office and stole a quantity of cash from the safe. DC Mark Douglas said:- "We believe the men arrived at the station, via train, shortly before the offence and, after taking the cash, calmly walked out of the station via the car park. This was a remarkably brazen burglary carried out in the middle of the day at a busy station, shop and booking office. Having followed a number of lines of enquiry we have isolated the images of two men who we believe may have key information in relation to the incident and are now calling on anyone who recognises them to come forward. Similarly we'd like to hear from anyone with any further information about the burglary."

If you recognise the men, or can assist the investigation in any way, please call British Transport Police on:- 0800 40 50 40 or Crimestoppers, anonymously, on:- 0800 555 111.

In all calls please quote:- log B7/NWA of 26/7/13.
11 ARRESTED FOLLOWING EXECUTION OF WARRANTS FOR FIREARMS AND MONEY LAUNDERING OFFENCES
MERSEYSIDE Police Detectives arrested 11 people (9 men and 2 women) for various offences including firearms offences and money laundering on Wednesday, 31 July, 2013. Officers made the arrests following the execution of 5 warrants, executed under Firearms and Drugs Acts, at addresses in Garston, Liverpool City Centre, Moreton, Wirral and Childwall. Those arrested are a 24 year old man from Liverpool City Centre, a 32 year old man from Wirral, a 24 year old from Garston, a 51 year old woman from Garston, 2 20 year old men from Garston, a 22 year old man from Liverpool City Centre and a 24 year old man from Old Swan, a 51 year old man from Childwall, a 23 year old man from Liverpool City Centre and a 19 year old woman from Liverpool City Centre. During the searches of the properties officers recovered a substantial amount of cash at three properties (estimated to be in the region of between £15,000 and £20,000). They have also recovered significant quantities of what is believed to be Class A drugs from a number of the addresses. From the Garston address officers seized cannabis with an estimated street value of £10,000. Detective Inspector Mark Kameen, said:- "We are relentless in our pursuit of those involved in gun crime and will act on all information provided to us in relation to firearms. Information from the public is vital for us in the fight against gun crime and I would appeal to anyone who has information about where guns are being stored, or who is using them to call Crimestoppers anonymously." Those arrested have been taken to Police Stations across Merseyside where they will be interviewed by detectives.