First look at new Archbishop Blanch High School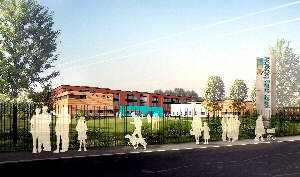 THE first image has been released of the new £16 million Archbishop Blanch High School in Liverpool; set to be the centrepiece of the ongoing regeneration of Wavertree.

Consultation is underway on plans to move the school from its cramped buildings on Mount Vernon Road near the City centre to a new purpose built site on Earle Road, off Smithdown Road in Picton. The site has been earmarked because it is in close proximity to the existing school and has good transport links. It will educate 900 girls aged 11 to 16 and have a mixed 6th form.

Archbishop Blanch is one of at least 12 schools being rebuilt under the Mayor's Investment Plan for Schools; devised as a rescue package following the scrapping of Wave 6 of Liverpool's Building Schools for the Future (BSF) project.
Mayor Joe Anderson said:- "The new Archbishop Blanch High School is a really exciting scheme which will be a catalyst for strengthening the local community and supporting local businesses. It will make a huge difference to Picton and underpin the improvements that are being made. The pupils and staff desperately need a new building to replace their existing facilities, which are in need of major investment and updating. This is part of my vision to make sure all pupils are taught in top quality buildings and get the best education."

The area is going through significant transition to bring forward high quality housing which will complement the new school. Plans are in the pipeline for investment in new houses to the north of the site by developers Bellway, while new and/or refurbished properties will also be delivered through one of the Council's housing partners to the east of the site at Tunstall Road and Garrick Street.

Neighbouring Lodge Lane continues to benefit from commercial and residential investment interest and the area is also home to the modern Picton Medical and Children's Centre on Earle Road. The new complex will include on-site sports fields so the school can, for the 1st time, have its own pitches to deliver outdoor activities for pupils.

Headteacher Jane Griffiths said:- "We are delighted at the pace with which this exciting scheme is coming together. The vision for the area where the school will be relocated is fantastic, and will allow us to build on the quality education for our students. We are all greatly excited by having the chance to plan a new building from the ground up, enabling us to create a brilliant, modern learning environment for our students."

Subject to planning consent, construction work is expected to start in late 2014, with the school being completed in 2016. A previous plan to move to a site on Jericho Lane in Otterspool was withdrawn following concerns over traffic.

The City Council is committed to making sure that as much of the contract spend as possible goes to local firms to boost employment and training opportunities for local people. Hundreds of apprenticeships are also being created.
Southport Comedy Festival 2013 - Are you ready?
THE Southport Comedy Festival is running from 17 October to 26 October 2013. This year's Southport Comedy Festival has a truly international flavour with over 40 comedians from all over the globe (Malawi, Ireland, Canada, Scotland, Iran, Germany) descending on our lovely seaside town for 10 days of hilarity. "We are using some great venues this year including The Atkinson, Southport Pier, Ramada Plaza Hotel, Bold Hotel and the brand new Genting Club There are so many different styles of comedy on offer from totally adult alternative to squeaky clean for senior citizens plus the return of the children's comedy festival, so please turn off your TV's and come and have a laugh." said Southport Tourism Department. For more information visit:- southportcomedyfestival.com.

INTERNATIONAL TOURISTS HAIL 'BEAUTIFUL' LIVERPOOL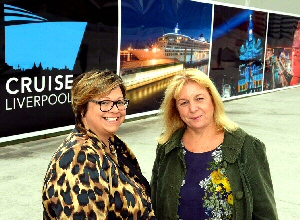 LIVERPOOL is continuing to cement itself as a visitor destination with 98% of the City's cruise visitors saying they would recommend the City to their friends.

The survey was commissioned by Peel Group; which owns the land where the cruise terminal is situated; in order to better understand visitors' impressions of the City. Some 97% of international tourists surveyed said they would make a return trip to Liverpool should they visit the UK again. A 3rd of those said they expected the City to resemble a post-industrial port and were surprised by how modern, dynamic and attractive the City actually was.

Many tourists described the City as 'beautiful' and 'stunning' and 'attractive'. The mixture of older historic buildings, such as the Three Graces and the Town Hall, and newer contemporary structures such as Mann Island and the Liverpool Museum, left a positive impression on those visiting the City.

The most visited attractions by those surveyed were the Anglican and Metropolitan Cathedrals, Cavern Club, Beatles Museum and Maritime Museum, which is currently running an exhibition to mark the centenary of the sinking of the Titanic. The City's retail district, especially shopping destination Liverpool One, also proved popular.

The people of Liverpool were described as 'friendly', 'gracious' and 'hospitable' with many tourists having received assistance from members of the public with finding places in the City – although the Scouse accent was described as difficult to understand at times.

Sara Wilde-McKeown, chairman of Liverpool City Region's Visitor Economy Board, said:- "As a snapshot of visitor perceptions, this is hugely encouraging for the City. It confirms that our most valuable assets are not just our amazing heritage and our cultural offer, but also the warmth and openness of ordinary people living and working here."

The survey; conducted amongst passengers returning to the Celebrity Infinity and Crystal Serenity cruise ships this year; comes ahead of a critical year for the City's tourism business visitor ambitions.

Next year, Liverpool plays host to the International Festival for Business 2014, when some 250,000 delegates are expected to attend more than 100 events in the City region during June and July.

Ms Wilde-McKeown said:- "Our reputation is one which we must build upon and cement over the next few years and the findings of surveys like this stand us in good stead as we seek to attract hundreds of thousands of extra visitors next year during the International Festival for Business."

Liverpool City Council's Cabinet Member for culture and tourism, Councillor Wendy Simon, said:- "We're delighted with the results of this survey and it goes to show that tourists receive an outstanding level if hospitality that they don't find in other UK cities. We know that Liverpool is a key destination for international tourists and have seen the number of cruise ships visiting Liverpool rise ten-fold since the terminal opened in 2007 and the numbers are projected to grow. This has wider benefits for Liverpool as the growing numbers of tourists boosts the local economy, with each visitor currently spending an average of £70 in the City during their day trips. We already have a record number of cruise liners visiting Liverpool in 2014 for both transit and turnaround vessels and the quality of the visitor experience helps drive our status as a world class destination."

Ian Pollitt, development investment surveyor at Peel Group, said:-"The cruise business will be important to Peel's and Liverpool's ambitions over the coming years and we wanted to sample visitors' impressions to get a feel for how perceptions of Liverpool are changing. It's hugely encouraging to see that so many visitors would visit again and would recommend Liverpool to a friend. It confirms that the City is making huge progress in its tourism offer."