The British Musical Fireworks Championships 2013 was a Blast!!!!!
Photograph by Patrick Trollope.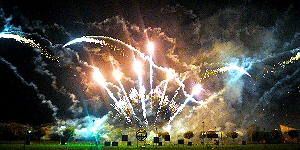 WELL what a weekend of explosive delights at this year's The British Musical Fireworks Championship in Southport, which was held over 4 October to 6 October 2013. With some of the country's top pyrotechnic teams competing it is always a breathtaking experience and this year's did not disappoint. Record crowds flocked into the resort to see the magical weekend's displays that 7 teams had rigged and prepped to light up the skies; the tension was electric... On Friday Komodo night and Pyroartistry... On Saturday, Sirotechnics, Jonathans Fireworks and Sandling Fireworks and ending the weekend's displays on Sunday, Fuse Fireworks and finally Dragon Fireworks, all of whom delivering safe and extremely effective displays that dazzled the audiences in the packed out park.. With flashes and bangs over head and on the ground, the new location of the competition in Victoria Park, home of the Southport Flower Show, made an interesting change from the traditional location, which was at the Marine Lake in Kings Gardens. Even though the park's grass did not have the reflections that the water offered, the new challenges of the site brought some new features to the competitors and gave the teams many interesting options that they could not have had on the Lakeside firing site.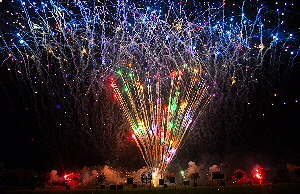 This year, all the teams did an amazing job of synchronising their displays to the music, with the resulting top 3 being so good, it was hard for spectators to decide who was best! "We would have hated to be the judges." one member of the public told me following Sunday night's sparkling displays... Oddly, this year the public could be judges as well as, for the first time, the public could also vote. But sadly, those with Windows Phones could not take part, as the application that allowed the public to vote was only for iPhone and Android users. The results will be announced very soon of the "Public's Choice", and we will post them on here very soon! But winning the judges' votes and getting the title of Winner of the prestigious industry title of UK BMFC Champions 2013, we can reveal was Sirotechnics, with the defending title holder Komodo coming in at 2nd place and in 3rd place was FUSE. Well done to all 7 teams for lighting up the sky and making many magical memories for us all... But that was not all, as all three nights had 3 fantastic bands playing, 'All Jokes Aside' on Friday and Saturday, 'The Rockabilly Rebels' and 'TITORS iNSiGNiA' on Sunday. It will be interesting to see what happens next year and if this year was anything to go by you definitely don't want to miss it! To find out more about the event, go to the BMFC's website and VisitSouthport.com If you did attend, please do let us know what you thought of this magical event... Email us to:- news24@southportreporter.com and tell us what you think!
Click on here to see Part 1 of our photographic coverage of this fantastic event.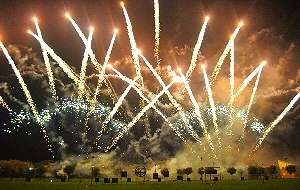 Editor's note:- "We have had a few reports about "Unnecessary road closures at the end of the displays." Sadly, they were not unnecessary as the roads had debris on them that could easily puncture tires, as one worker found out. Also even though the public displays had finished, if any unfired fireworks had to be set off, the area had to be kept clear."
...HAPPY BIRTHDAY...
If you have someone you want to say happy birthday to, for free, then use the email address below to send us the names you want us say happy birthday to, and/or a photograph. Email us today!

KEEP up-2-d

ate




with our free daily news emails.

Are you subscribed? Si

g

n

u

p

today

to

our daily email news service via... Formb

y

-

Re

p

orter

.com



If you subscribed you can keep in up-to-date with what's going on in and around Merseyside. It is free and we do not send out massive amounts of emails. Also your email is kept under the UK's Data Protection Act, so you can be sure that you will not have problems.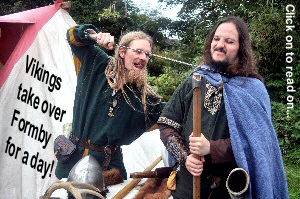 --- MORE NEWS REPORTS BELOW ---

Radio City's Rosie's FUNdraising Friday
Ricky's ready for emergencies
World class tango artist Martín Alvarado to perform in Liverpool
MENSA OFFERS FREE PERSONALITY PROFILE WITH IQ TEST IN SOUTHPORT
Pudsey Bear opens new charity shop in Crosby
Volunteers accept patient invitation to Come Dine with Me
Law Society warns Justice Select Committee that criminal legal aid fee changes pose "significant risks"
Charities call on Lords to stop postcode lottery on leaving care
Cambridge Ward Conservative Councillor Surgeries
CHEMICAL FIRM SENTENCED OVER BURSCOUGH EXPLOSION
50th ANNIVERSARY TOUR
New EU rules to ensure fracking safety - Davies
FLU CLINICS HELP VULNERABLE PEOPLE IN FORMBY PREPARE FOR WINTER
New funding available for local groups in Liverpool, St Helens, Knowsley, Sefton and Wirral
New hospital link service announced
Lessons from Auschwitz
Radical change to skills funding to be showcased at FSB's Small Business Summit
Royal recognition for signing choir
Customer Forums – come along and have your say!
Hospital worker's twin role helping road accident victim
NO PAY RISE FOR NHS STAFF WILL BE THE FINAL STRAW THAT LEAD TO CALLS FOR INDUSTRIAL ACTION
Gary Barlow - Since I Saw You Last - The Tour 2014
Karen Potter Craven Minor JFL
Guide Dogs Liverpool visit John Lennon Airport
Landlords asked to combat anti-social behaviour
Time for Clegg to stand up to Cameron on cars
British Musical Fireworks Championships 2013 - Photo Report

Part 1

The Future of Rail Fares
Messi, Ronaldo, Rooney, Gerrard & Baines to visit Southport on Saturday, 19 October 2013
Your vote can secure £3,000 for local children's charity
INTERNATIONAL TOURISTS HAIL 'BEAUTIFUL' LIVERPOOL
Bus Users UK opposes plans to scrap Liverpool bus lanes
ACTIVE KIDS INVESTS £435,715 IN LIVERPOOL'S YOUNG STARS OF THE FUTURE
Celebrating 10 years of wheelchair services
Southport Comedy Festival 2013 - Are you ready?
GMB WELCOMES NEW REPORT CALLING FOR PARLIAMENT TO ACT TO LOWER PUB RENTS TO STOP LOCAL PUBS CLOSING
Farther of 2 killed in crash on A565 Formby By-pass
CCTV IMAGE APPEAL - CROSBY ROAD SOUTH, SEAFORTH, SEFTON
CAMERA BURGLARY - CHURCH STREET - SOUTHPORT
MEP backs call for better breast implant checks
UNIQUE 'GIVING IN TO GIFT' FESTIVAL ANNOUNCED FOR LIVERPOOL

Vikings

take over Formby for a day!
First look at new Archbishop Blanch High School
LIVERPOOL City COUNCIL SIGNS £15.9 MILLION CONTRACT TO BRING SUPERFAST BROADBAND TO 43,000 MERSEYSIDE BUSINESSES AND HOMES

| | | |
| --- | --- | --- |
| | Click on to read on! | Click on to read on! |
B.O.A. 70th Anniversary DVD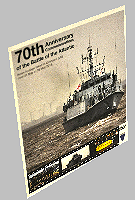 THE video footage we have taken at the 70th BOA events this year in Liverpool has now been fully edited is available to buy, on a DVD, from our Online Shop, on Mersey Reporter very soon.
For each DVD sold, £3.00 will go to the Liverpool's Lord Mayor's Charity Appeal. (Registered Charity No. 229539)
At this stage we can only do UK postage options, but if you are outside the UK, you can still order copies, but only by emailing us to:- news24@merseyreporter.com with your FULL address and we will get back to you with a postage cost and a payment link, should you wish to continue.