LIVERPOOL City COUNCIL SIGNS £15.9 MILLION CONTRACT TO BRING SUPERFAST BROADBAND TO 43,000 MERSEYSIDE BUSINESSES AND HOMES
FIBRE broadband could be extended to up to 98% of Merseyside businesses and homes within the next 3 years, following a multi-million pound partnership project between Merseyside Local Authorities and BT.

Merseyside Connected; a partnership of 5 Councils led by Liverpool City Council; builds on BT's on-going commercial fibre deployment across the Liverpool City Region, and aims to provide a high speed broadband network to an additional 43,000 premises in the area. This means the vast majority of Merseyside; around 634,000 homes and businesses; could have access to fibre broadband by the end of July 2016.

The Merseyside Connected project will also support the Council partnership's aim to focus on enabling superfast broadband to small and medium enterprises and help boost the local economy. The 3 year deployment will begin with a period of planning and surveying, before Openreach, BT's local network business, starts work on the ground in summer 2014.

BT has been chosen to partner with Liverpool City Council; along with Knowsley, St Helens, Sefton and Wirral Councils - following an extensive and thorough procurement process. BT is contributing £6 million towards the overall cost of deployment in "non-commercial" areas while European funding (ERDF) is contributing £4.4 million, with £5.46 million coming from the Government's Broadband Delivery UK (BDUK) fund.

Mayor of Liverpool and Chair of Liverpool City Region Cabinet, Joe Anderson, said:- "The internet is a huge part of everyday life and it is vital that we do not get left behind if we are to compete effectively with the rest of the UK. This investment in infrastructure will make a big difference to businesses and households across the City Region. I am delighted we have been able to sign this deal with BT which means they can crack on with installing the latest technology."

Culture Minister Ed Vaizey said:- "This £15.9m project will deliver an incredible transformation in broadband speeds for thousands of homes and businesses across Merseyside. It will be instrumental in driving growth, boosting the local economy, and achieving the Government's objective of reaching 95% of all UK premises by 2017."

Bill Murphy, managing director NGA for BT, added:- "Access to high speed broadband is rapidly becoming a key ingredient for economic growth and a fast and reliable broadband service is as important as good road and rail links for businesses in the modern day. It is also a major determining factor in where businesses decide to locate. Fibre broadband opens up a whole raft of leading-edge software and applications that could benefit business; allowing them to work more efficiently, for people to work when and where they want, to expand their business offering and connect with customers, not just locally, but all over the world."

For local businesses, the fibre network will underpin the introduction of many new services and applications. Big business applications driven by new 'cloud' services will be within the reach of enterprises of all sizes. Computer back up, storage and processing will be faster, and the use of high-quality videoconferencing will become a viable possibility.

Further benefits of faster broadband include users being able to use multiple bandwidth-hungry applications at the same time, and send and receive large amounts of data much more quickly and efficiently. This will make things like gaming, watching BBC i-Player or downloading films and music much quicker and without annoying 'buffering' or screen freeze.

New fibre services are set to transform the way consumers use the internet, from the simple sharing of pictures and video to enjoying the growing boom in entertainment services available online. It will also open up a host of new learning and development opportunities.

Engineers for Openreach, BT's local network business, will build the new fibre infrastructure. Fibre to the Cabinet will be the main technology deployed. This can deliver wholesale downstream speeds of up to 80Mbps, and upstream speeds of up to 20Mbps. Fibre to the Premises technology; delivering ultra-fast wholesale speeds of up to 330Mbps – may become available in certain areas and may be available on demand throughout the whole of the fibre footprint in due course should local businesses want the ultra-fast speeds it offers*.

The new fibre network will be open to all communications providers on an equivalent basis**. Households and businesses in Merseyside will therefore benefit from a highly competitive market, bringing greater choice and affordable prices from a wide range of service providers. It will also boost the competitiveness of local businesses, helping them to find new customers and operate more efficiently, whilst opening up a host of new learning and development opportunities for households.

Cllr Phil Davies, Merseyside Representative on the North West European Regional Development Fund Local Management Committee said:- "Superfast broadband will help local businesses improve performance and create and safeguard jobs. It will provide a major boost to the Merseyside economy and the North West European Regional Development Fund programme is pleased to be supporting it financially."
Extra notes:-
*80Mbps and 330Mbps are wholesale speeds. Internet Service Providers (ISPs) may use different speeds in their advertising. Individual line speeds will depend on network infrastructure and the service chosen by the ISP. Openreach has started to make FTTP on demand available in its fibre footprint. Openreach will levy an installation charge but it will be up to service providers to decide whether they pass that onto businesses or consumers wishing to take advantage of the product.

** Wholesale access means that BT must make its broadband infrastructure available to Internet Service Providers to market a range of competitive packages to customers. There are more than 80 service providers currently offering or using fibre services over BT's network. Households and businesses in the project area will therefore benefit from a highly competitive market, bringing greater choice and affordable prices from a wide range of service providers..

ACTIVE KIDS INVESTS £435,715 IN LIVERPOOL'S YOUNG STARS OF THE FUTURE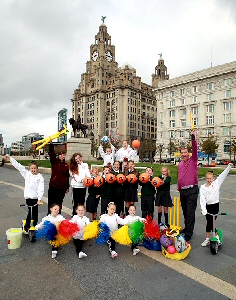 AS over 400 schools, groups and clubs across Liverpool prepare to receive their deliveries of new sport and leisure equipment from Active Kids, Sainsbury's has announced that since the scheme began in 2005, a massive £435,715 worth of kit has been invested across the City.

Global superstar and Sainsbury's Active Kids ambassador, David Beckham said:- "I'm passionate about inspiring kids to try a new sport and that's exactly what Active Kids is all about - encouraging kids to try, and hopefully really enjoy, something new. Well done to all those schools, groups and clubs in Liverpool for taking part this year and I hope they enjoy their new equipment."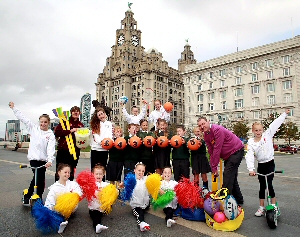 It has been the region's primary schools that have been leading the way in amassing Active Kids vouchers with Great Crosby Primary School, one of Liverpool's top collecting organisations, accumulating over 25,700 vouchers which is being exchanged for equipment from the Active Kids catalogue this week.

Pat Speed, head teacher at the Great Crosby Primary School said:- "The Active Kids scheme is a great way to engage the teachers, parents and extended family of our students to get behind a project to support the school with vital sports and leisure equipment that we would otherwise have to take out of our school budget. We have been overwhelmed by the response and can't thank everyone, including Sainsbury's, enough."

Pat continues:- "The scheme has helped us teach the benefits of a healthier more active lifestyle to hundreds of children over the last few years and we're really looking forward to getting active with this year's equipment."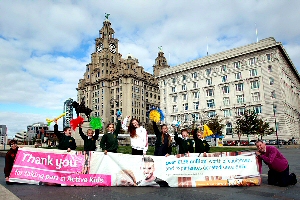 Sainsbury's customers across Liverpool have collected vouchers in-store between 30 January and 22 May 2013, earning 1 voucher for every £10 spent.

The huge amount of equipment that has, and continues to be, invested into Liverpool has made a real difference in supporting better sports provision for young people across the City.

Councillor Stephen Munby, Liverpool's Cabinet Member for Neighbourhoods, said:- "In Liverpool we have thousands of world class sporting clubs, schools and schemes to get young and enthusiastic sportspeople out and active. The support from great projects like Sainsbury's Active Kids provides these organisations with vital equipment to run coaching sessions and activities giving everyone across the City opportunities to take part. We are so proud that the region has reached this huge figure of investment from the Active Kids scheme. It would be great for even more clubs and schools across the region to get involved to continue this investment in our future sporting talent."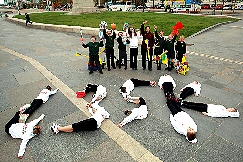 The Sainsbury's scheme has seen a surge in interest for sporting equipment and experiences following last summer's Olympic Games with nearly 52,000 schools, clubs and organisations across the country now benefiting from their membership to Sainsbury's Active Kids. This year alone, the scheme has delivered over £13 million worth of equipment and experiences to schools, clubs and organisations, an increase of £5 million on the previous year. A staggering £136 million worth of equipment and experiences has been donated to schools, groups and clubs across the UK since it launched in 2005.