Radical change to skills funding to be showcased at FSB's Small Business Summit
LIVERPOOL City Region Skills for Growth Bank puts employers in control of public grant for skills training that businesses need.

Liverpool City Region's new Skills for Growth Bank, which uniquely gives business owners control over the funding and design of skills training, is to be showcased at the first Small Business Summit held by the Federation of Small Businesses.

The Skills for Growth Bank is a new £32 million venture providing investments of between £1,000 and £1 million for employers in the Liverpool City Region to use alongside their own training budgets to boost workforce skills and productivity.

Unlike traditional public funding for skills the new idea, backed by the Liverpool City Region Local Enterprise Partnership (LEP), places local businesses in charge of the purse strings and enables them to decide and buy what skills their employees, apprentices and even jobseekers need.

It will give businesses full control to invest in the skills their workplaces need to grow. In addition, it is intended that the bank will help 6,000 local people into work and create as many as 4,000 apprenticeships.

The Skills for Growth Bank will be showcased during a skills funding presentation at the FSB's Summit, which is being held at Liverpool John Moores University's (LJMU's) John Lennon Art and Design Building on Wednesday, 23 October 2013, from 8.30am to 5.30pm.

Elaine Moore, Chairman of FSB Merseyside, West Cheshire and Wigan, said:- "In addition to addressing the barriers businesses face the FSB's Small Business Summit has been designed to help entrepreneurs find solutions to their problems. Business owners often struggle to recruit staff with the specific skills sets they need – Liverpool City Region' s Skills for Growth bank tackles this challenge head-on, giving employers direct control over the funding and design of training programmes in a unique way that compliments their existing skills development work."

Asif Hamid, Chief Executive of The Contact Company, led on the original proposal to Government. He said:- "As Vice-Chair of the Local Enterprise Partnership, I meet employers all the time who say that one of the big things holding back their growth potential is being able to get the right set of skills into their businesses. So we have created the Skills for Growth Bank so that they can take charge of public skills funding and ensure that young people leaving school, people looking for work and those already in their business can have world-class skills training that helps their business grow."

Other sessions under the event's 'finance and funding' strand will include the psychology of money management by the FSB's Liverpool branch Chairman Brian Sweeney, tax protection courtesy of Steve Mullard of Abbey Legal Services and presenting to banks and investors by Funding Store's Nick Montague.

The summit will also include a 'sales and marketing' theme, with workshops and presentations such as LJMU's fundamentals of marketing, PR and the news agenda delivered by the FSB's Head of Media Liesl Smith and BBC Newsreader Maxine Mawhinney, support for manufacturers from the Manufacturing Advisory Service (MAS) and an export markets panel chaired by Dave Parrish, author of 'T-Shirts and Suits.'

The final strand, 'Business Development,' will feature a session on business growth courtesy of 'Be Your Own Guru' author Olivia Stefanino and entrepreneur Noel Guilford, lessons in innovation from Andy Fewtrell of the Up and Under Group, business support from Andy Harrison of the Government's department of Business, Innovation and Skills (BIS) - and a presentation on graduate skills for growth and LJMU's World of Work programme from the university's Terry Dray.

Mike Southon, author of the bestselling 'The Beermat Entrepreneur', is to host the summit, which will feature speakers including North West Business Insider Editor Chris Maguire and the Federation's National Chairman John Allan, who lives in Southport and remains Chairman of the FSB's Sefton and Ormskirk branch.

During the afternoon there will be a 'question time' session featuring panellists including Dan Atkinson, former Economics Editor of the Mail on Sunday, the FSB's Trade and Industry Chairman Clive Davenport and Gary Millar, Lord Mayor of Liverpool.

The summit is being held as part of the legacy of Accelerate 2013 in Liverpool and will take place again during the International Festival for Business (IFB) 2014 alongside the FSB's National Council and Executive Board meetings. Max Steinberg, Chief Executive of Liverpool Vision, will speak about the IFB during the summit. Places are limited, but both FSB members and non-members are welcome. More information and booking details are available online.
Gary Barlow - Since I Saw You Last - The Tour 2014
FOLLOWING the announcement of the details of his 1st studio album in 14 years 'Since I Saw You Last', Gary Barlow confirmed that he will be embarking on a full solo tour in April 2014. Gary's new album 'Since I Saw you Last' will be released through Polydor Records on 25 November 2013, with the 1st single 'Let Me Go' being released the week before on 17 November 2013. Gary toured as a solo artist last year to acclaim from fans and critics alike, with demand being so great he could have sold it out more than 6 times over. The Since I Saw You Last Tour 2014 will see Gary play some of the biggest venues he has ever played as a solo artist, and includes a date at Echo Arena Liverpool on Friday, 11 April 2014. With Take That Gary has released eight number one albums that have collectively sold more than 30 million copies. He has also been party to fifteen No.1 singles, sold seven million concert tickets as well as being the proud recipient of 6 Ivor Novello Awards. He was awarded an OBE for his contribution to British music last year following the work he has done with BBC Children In Need and the hugely successful Queen's Diamond Jubilee Concert. Gary currently sits as a judge on the UK's No 1 show The X Factor for the 3rd year running. Gary's headline tour is preceded by BBC Children In Need Rocks 2013 where he will be bringing some of the biggest names from the music industry together in two concerts this November. The two concerts at London's Eventim Apollo which will feature the likes of Robbie Williams, Dizzee Rascal, Ellie Goulding, Little Mix and Rizzle Kicks will help to change the lives of disadvantaged children and young people across the UK. Please visit:- bbc.co.uk/pudsey for full details. Tickets go on sale on Friday, 11 October 2013, at 9:30am. To book tickets log on to:- echoarena.com or call the Echo Arena Box Office on:- 0844 8000 400.

Your vote can secure £3,000 for local children's charity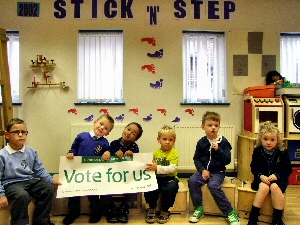 STICK 'n' Step, a children's charity based in the Wirral, has been shortlisted by Lloyds Bank for the chance to be awarded £3,000 from the Lloyds Community Fund 2013. The decision of which charities, across the UK, will receive the £3,000 grant for their area will be solely down to a public vote.

Stick 'n' Step was established in 2002 by a group of parents of children with cerebral palsy, who wanted to resolve the lack of support and development facilities available. The parents roped in the help of the whole community and together, they refurbished an empty space at St John's Parish Centre to create the first lowkey education centre. Nowadays, Stick 'n' Step resides in a purpose built educational centre based in Wallasey, furbished with specially designed equipment. It provides its service to over 70 children and their families from across the North West and North Wales.

There are 4 'local good causes' in Wirral hoping to receive the money assigned for this area, but the decision on who receives the grant fund will be solely down to a public vote. The 2 causes with the most votes in each local area will be awarded £3,000 each.

There are a small amount of conductive education centres in the UK but unlike many others, Stick 'n' Step prides itself on being able to provide this life-changing support service to children and their families for free. This would not be possible without the fundraising efforts of its community and big grant funds like this one.

Commented Sarah Smithson, Operations Manager at Stick 'n' Step:- "People often ask me, 'what do you do at Stick 'n' Step?' At Stick 'n' Step we teach children with cerebral palsy vital life skills, giving them more independence and freeing up a carer's time. Say for instance your arm doesn't move too well. Everyday tasks like putting on your school tie become less straightforward and your parent will normally have to do it for you. But when you still need your parents' help for tasks such as this aged 15, it can be pretty embarrassing! Doing a school tie, making a sandwich, or putting on your socks; we cover it all."

If successful, the £3,000 grant will allow Stick 'n' Step to create a mock-up home environment at the centre. The aim of this project is for the children to go about their everyday life, shadowed by the staff, to identify which areas they have most problems navigating. The staff will then teach them tips and tricks to ensure that they can still carry out the task themselves, regardless of each child's differing disability. This one off purchase of household goods will help all 70 children, aged 1 to 18 years, become more confident and independent.

Voting will take place from 9am on Monday, 23 September to 11.59pm on Friday, 1 November 2013, and is open to all of the UK public. You do not have to bank with Lloyds to cast a vote. There are 3 ways to vote; online, by txt or in person.

To vote for Stick 'n' Step, visit:- lloydsbank.com/communityfund, or txt Stick 'n' Step's unique voting code:- "VOTE CPXD", to:- 61119, or simply register a paper vote in a ballot box at a Lloyds branch. Stick 'n' Step will be promoted at the Bebington, Birkenhead, Bromborough, Heswall, Liscard, Moreton, New Ferry, Prenton, West Kirby and Hoylake and Wirral Upton Lloyds branches.

For further information about Stick 'n' Step visit:- sticknstep.org or alternatively contact the centre on:- 0151 6380888.
Law Society warns Justice Select Committee that criminal legal aid fee changes pose "significant risks"
ON 9 October 2013, the Law Society has warned the House of Commons Justice Select Committee about the damages that proposed changes to fees for criminal legal aid may cause. The Society has told MPs that the Ministry of Justice's proposed fee cuts pose a:- "significant risks" to the stability of the criminal justice system.

The warning comes in a draft iteration of the Society's response to the 'Transforming Legal Aid - Next Steps' consultation paper, which the Society has shared with the Justice Select Committee.

While noting that the Society and the Ministry are "in agreement over the proposed structure for procuring criminal legal aid in the future" the document makes clear that the Society "opposes planned fee cuts and reiterates warnings about the damage these may cause."

Law Society President Nicholas Fluck said:- "Following discussion between the MoJ and the Law Society over the summer, the Ministry put forward a fresh proposal for the tendering of criminal legal aid contracts on 5 September 2013. That revised model will see client choice retained, all firms able to undertake unlimited own-client work and duty solicitor contracts allocated according to capaCity and capability, not price and represents the best possible tendering structure for criminal legal aid. However, the fee changes proposed in the consultation are a cause for serious concern. Given the fragility of the legal aid market, starkly set out in evidence gathered by Otterburn Consulting for the Society as part of our response to the first consultation, a cut of 17.5% poses a significant risk to the future sustainability of the sector. Before taking the risk of proceeding with fee cuts, the Ministry must be very sure that the solicitors and their firms are on a robust enough financial footing to withstand this."

Explaining the Society's concerns about the proposed restructuring of fees, Nicholas Fluck added:- "We also set out in our draft response our concerns about the imposition of single national fixed fees and our deep unease at proposals to pay litigators the same fee whether or not a case goes to trial. The impact of a single national fixed fee will be vary considerably across different areas. This disparity; ranging from a small increase to a 47% cut; introduces new concerns about the viability of the cuts proposed, which will be even more acute in some areas than previous anticipated. Flat fees in the magistrates' court and the Crown Court - the same payment no matter whether the defendant pleads guilty, the trial cracks or there is a full trial - make us deeply uneasy. While solicitors will, of course, follow their professional obligation to ensure that a defendant is properly represented there is a serious risk that clients may ignore sensible advice is they perceive that it is being driven by financial considerations."